Chantelle Webb (Bridgetown, NS), 2015 Recipe Contest - Grand prize winner
Enthusiastic and upbeat, Chantelle's claim to fame among her family and social circle is being known as a natural motivator—a talent that has led to her helping three friends start businesses in Bridgetown.
Chantelle admits she's also known for being a bit of a klutz. Although she has had several broken bones and other injuries, none were kitchen-related until the night before she was to meet well known chef Michael Smith. While attending a cooking class at a local grocer, Chantelle cut her thumb open slicing a pan of squares, resulting in several stitches and a rather large bandage that made it appear that she was giving chef Smith a permanent thumb's up the entire time she was with him!
No stranger to business herself, Chantelle has turned her passion for cuisine into a home-based cooking enterprise. After an initial meeting to determine her client's food preferences and dietary needs, Chantelle gets busy making 30 home cooked meals, ready to go in the freezer.
When asked what motivated her to create her grand prize-winning dish, Chantelle says that she and her husband Gary love breakfast sandwiches and she wanted to invent one with a Maritime twist. The double-smoked bacon came from D'Aubin Family Meats in Bridgetown, a favourite spot, and the watercress was grown on her own property. Chantelle salts her own herbs and onions in the Acadian manner and even made the jelly herself. On a fun note, as much as Gary loves breakfast sandwiches, Chantelle has yet to make this one for him. At least now he has the recipe!
Chantelle grew up in a military family and was stationed at Cornwallis when she was younger; even though the family moved away Chantelle had such fond memories of the area she returned as an adult. Atlantic Canada has a way of doing that.
We should note that although salted onions are, as mentioned, an Acadian specialty, they may not be available everywhere. If you can't find them simply replace with diced green onion.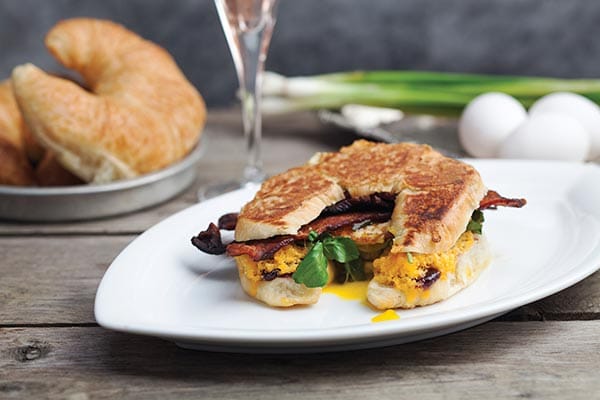 Recipe