Take comfort in your foods, and your health
For many of us, our food choices change with the season. Often we're more drawn to the warmth and comfort of hot dishes such as pastas, soups and casseroles. These meals can be heavy in starches and meats and lower in fruits and vegetables, potentially leading to higher calories and fat intake. Cutting them out is not realistic nor is it necessary. A little tweaking of recipes can go a long way.
'Healthy eating' is often interpreted as restricting and avoiding temptations—not typically a long-term or enjoyable approach. Focus instead on how to healthfully fit in the foods you love. Fruits and vegetables are supposed to make up the majority of the foods we eat but 69 per cent of Atlantic Canadians are eating less than the recommended five-a-day. A healthy plate simplifies this by emphasizing that half the plate be vegetables and fruits, and the other half divided between grains and starches, (rice, pasta, cereal, bread and typically includes potato) and meat and alternatives (meat, poultry, fish, eggs, dried beans and lentils). The same rule applies for mixed dishes like soups, pastas, and casseroles.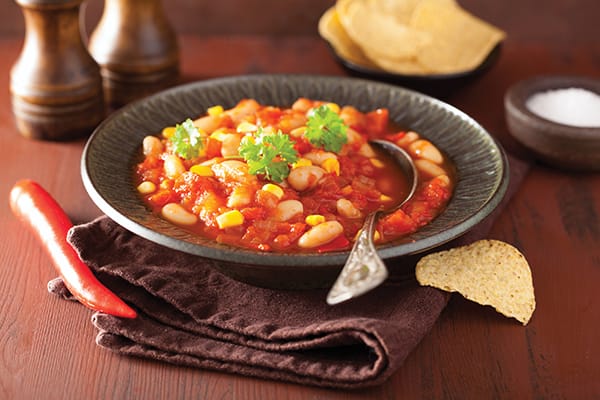 Focusing on more vegetables and fruit adds colour, nutrients and fibre, and decreases fat and calories. Research shows eating more fruits and vegetables lowers risk for heart disease, diabetes, high blood pressure and cancer, and helps with weight management. There are also other alterations you can do to decrease the fat and salt content. Even just a few changes can make a positive difference to your eating habits.
Mac and cheese
Replace regular breadcrumbs with panko, a Japanese breadcrumb sold at most grocery stores. It'll decrease the salt and provides a crispier topping. Panko is also great for breading meats and fish.
Add fibre and colour with canned tomatoes, red pepper, broccoli and spinach. Try mixing a small puréed/mashed butternut squash into the sauce to thicken it and add flavour. Once combined, taste the sauce as you add cheese; you may be able to use less. In place of white noodles choose whole grain or "smart" noodles.
Use stronger tasting cheeses, such as old cheddar or fresh Parmesan. Try substituting half the cheese in the sauce with light (blended) cottage cheese or ricotta cheese. It provides the creaminess with less calories and saturated fat. Substitute one or two per cent milk for cream or high fat milk.
Nutritional yeast is inactive yeast with a mild cheese-like or nutty flavour. It can be found in the health food section of the grocery store. Try cutting back on the cheese and add a quarter cup or more yeast to the sauce or on top. It'll lower calories and provides a source of vitamin B12. It's also tasty over pizza and popcorn.
Shepherd's pie
Decrease the meat and add more vegetables, including non-traditional vegetables, such as a layer of steamed broccoli.
Replace the potato with more nutritious mashed sweet potato or do a combination of both. To reduce calories, substitute potato with cooked puréed cauliflower seasoned with parsley and garlic. Cauliflower doesn't brown well so sprinkle the top with paprika and parsley flakes for colour.
Reduce the fat by choosing extra lean beef or ground turkey or chicken. Also, rinse cooked meat under hot water to wash away excess fat, return to the pan and add the rest of the ingredients.
Chili
Consider a vegetarian chili by doubling the amount and variety of beans, such as chickpeas, black beans and lentils. If you go with meat, choose a lean cut.
Reduce sodium by using no-added-salt canned tomatoes and beans.
For toppings, substitute low fat plain Greek yogurt for sour cream. Top with diced green onion and chili flakes for added bite. Opt for whole grain low fat crackers or toasted pita wedges in place of tortilla chips.
Make a healthier 'taco' salad by putting leftover chili on a bed of lettuce. Top with all the same fixings as for chili, plus a spoonful of salsa.
Spaghetti
Add more vegetables, such as zucchini, coloured peppers, grated carrot and eggplant. If needed, disguise veggies by puréeing the sauce before adding the meat.
Pasta often gets a bad rap for being 'fattening' but it can be a healthy choice by choosing whole grain noodles, being mindful of your portion size and the type of sauce. To limit the portion size, serve less pasta and more sauce, or serve the meal on a smaller plate or bowl. Studies show that reducing your plate from a 12-inch to a 10-inch can decrease calories by 22 per cent.
Try spaghetti squash for a lower calorie alternative to noodles. Cut squash in half lengthwise, scoop out seeds, place cut side down on a baking sheet and roast for 45-minutes to an hour at 400°F (205°C). Once cooked, use a fork to scrape the spaghetti-like strands. (Tip: to speed up cooking and soften it prior to cutting, poke holes in the squash and microwave for 4-5 minutes). Zucchini can also be substituted for pasta. Thinly slice, julienne style and sauté for a couple minutes with a little oil, garlic and herbs.
Cut back on meat and boost your fibre and protein by adding prepared or canned lentils to the sauce. Add towards the end so they don't overcook. You can also add other legumes by puréeing kidney beans, black beans or chickpeas into the sauce.
Cost-cutting tips
Put away the barbecue and bring out the slow cooker. In the morning throw in a roast or ingredients for a stew or soup and come home to a cooked meal. Use cheaper cuts of meats; the longer cooking time will tenderize and moisten the meat.
Invest in a hand mixer. This powerful little tool can be used to purée soups, smoothies and make hummus. It's more convenient than hauling out the food processor or blender, and an easy clean up too.
Prepping vegetables can be time consuming. Frozen veggies are perfect to add to dishes or as a side. Rinse canned vegetables well if they contain salt.
Try texturized vegetable protein. This soy product has a similar texture to ground meat and can be prepared in a snap by rehydrating with boiling water before adding to your recipe. It will take on the flavour of whatever you add it to, such as tomato sauces. Additionally, it's low in fat (especially saturated fat), cheap and has a long shelf life.
Set aside time to plan your meals. Try freezing individual portions in baggies, perfect for grab and go lunches and suppers.
Think simple and quick meals, such as tuna melts, omelet or grilled cheese sandwich, and add a salad. They all make finer choices than fast food or a frozen meal. If you're limited to a frozen pizza, top it with some extra vegetables. Add frozen vegetables to a microwave dinner or canned soups.
Ward off winter blues with your favourite healthy comfort foods and spring into the warmer months without the daunting challenge of getting back on track.
Maureen Tilley is a registered dietitian and author of Hold the Salt! and Hold that Hidden Salt!