10 steps to a flawless and memorable party.
Planning a party? Appetizers or hors d'oeuvres can make hosting easy, and with some planning and timely preparation you can pull off an entertaining evening with relatively little stress.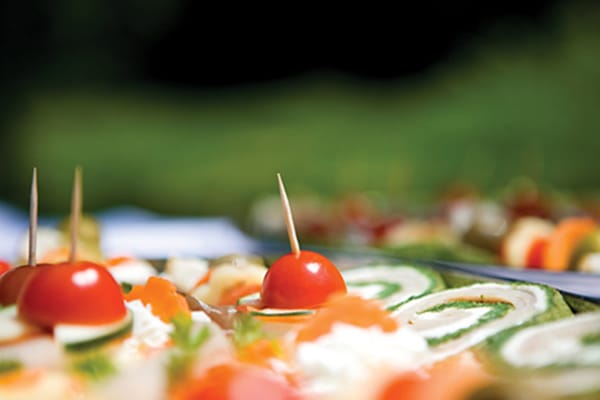 Here are 10 tips to help make your party perfect.
The big picture. Before beginning any preparation, ask yourself: How many guests will I have? What time they will arrive? Do they have any dietary restrictions? Will I be serving hot or cold appetizers, or a combination of both?
Mind the temp. Plan carefully so you can serve hot food hot, and cold food cold. That goes for the plates too; it's never a good idea to serve hot food on cold plates, or vice versa. An easy trick is to warm up your plates in the microwave for 30 seconds, or to place plates in the freezer for a few minutes before serving.
Keep it together. On that note, it's best to serve all of your hot appetizers together. This will ensure that you don't have to spend too much time in the kitchen, leaving you more time to spend with your guests. Consider serving warm dips at this point as well; even as they cool down they will still be enjoyable.
Best served cold. Cold appetizers can include finger sandwiches, cold dips and chips, mini canapés, sushi and charcuterie with accompaniments like mustard, pickles and bread.
Cheese, please. Cheese has become one of the trendiest courses to serve at an event. Try to select assorted cheeses (both local and imported) from different families: soft, semisoft, hard. Three or four types is just right for a small to medium-sized event.
Room temp. is best Pay attention to the temperature of the cheeses when you serve them. The general rule is to allow cheese to come to room temperature. Take care that crackers and breads complement the cheeses you have chosen.
Sweet finish. Mini desserts such as squares, cheesecakes, tarts, muffins and cupcakes make a great final course. Allow for more than one dessert for each guest; people are more likely to indulge and try several when the portion sizes are small.
Match your drinks. Drinks are an essential part of the evening; take care to pair the appropriate drinks with appetizer, cheese and dessert courses.
Portion control. When it comes to portion size and quantities, allow at least two or three portions of each appetizer for each person. This may seem like too little, but if you are serving seven or eight different appetizers, it can amount to quite a bit of food. If you are planning a full meal later, just allow one piece per person.
Consider presentation. Careful presentation of your food will take your event to the next level. Even the simplest foods can shine when they are dressed up a bit. A mirror, a bamboo cutting board, or a piece of slate or marble are great for presenting cheeses. An interactive component such as a fondue pot will keep your guests engaged and add an element of fun.