East Coast Bistro, Saint John, NB
Chefs Kimberley Steele and Tim Muehlbauer, the husband and wife team who own and run East Coast Bistro in Saint John, NB, grew up on opposite coasts, but both got their love of cooking from their maternal grandmothers. Tim's grandmother, Aina Petersen, instilled in him a love of Danish cooking and cake decorating. This early introduction to pastry would lead him to the Pan Pacific Vancouver, where he worked in the pastry department before getting a culinary diploma at the Vancouver Community College.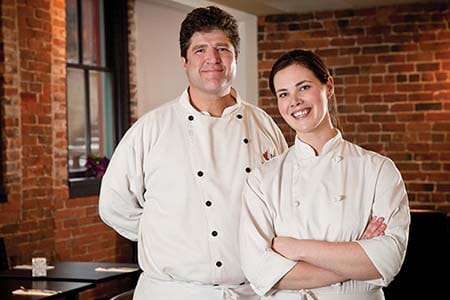 Next stop was Claridge's Hotel in London's Mayfair district, before moving to France, to work at the Château de la Rozelle. Returning to Canada, he worked at La Rua in Whistler, before becoming an instructor at the Art Institute of Vancouver-Dubrulle International Culinary Arts program. Little did he know that this path would also led him to Kim.
Kim grew up cooking and baking with her grandmother, Bertha Ewart, and by high school she was selling her cheesecakes out of the back of her dad's car. Combining her entrepreneurial spirit with kitchen skills, Kim ran a small catering business out of her apartment kitchen, while studying for her business degree at the University of New Brunswick. In 2004, she moved to Vancouver for culinary studies at Dubrulle, where she met Tim the following year.
Eager to hone her culinary skills, Kim returned home to New Brunswick, where she worked at The Algonquin Resort, St. Andrews, for a season, before heading back to Vancouver where she worked at several high-end restaurants, including Fraiche restaurant, as its pastry chef.
Kimberley and Tim were married on August 8th, 2012, two weeks before moving to Saint John, where they opened their very successful East Coast Bistro. They describe their menu as a contemporary take on familiar Maritime cuisine. "We roll and change with the seasons and keep a local focus as much as we can," says Kimberley. "We do a lot of preserving and take pride in making everything in-house."
Q What accomplishment are you most proud of?
A Kim: East Coast Bistro. I'm so proud it all came together; I have been working towards ownership for a very long time. It feels wonderful to finally be here.
Tim: It's a combination of being proud of little accomplishments along the way (Canadian Chef de Cuisine certification program, executive chef of La Rua at 32, competition work and being a chef-instructor) but mostly, it's putting all of those experiences and small accomplishments together and having the skill set to run our own successful restaurant.
Q What is your favourite ingredient to work with?
A Kim: Sugar. I love cooking as much as baking, but cookies, cakes and pastries come from the innermost part of my soul. I think about them when I'm not around them, I feel most at peace when I'm elbow deep in cookie dough.
Tim: I feel my most soulful when I'm butchering meat or filleting fish. It's an extension of my arms and hands and has always been both very natural and soothing for me. Taking those ingredients and making a dish out of the protein and subsequently building stocks and sauces from the bones and trim of the animal is a full circle preparation that I'll never tire of.
Q Do you have any cooking tips to share?
A Kim: Confidence. Don't be afraid to try a new ingredient, a new recipe, a new approach to an old task. You might just stumble on something really exciting or delicious!
Tim: Patience. Cooking is more about feel than anything else. Learn how your oven works, does it have any hotspots? How long does it take to boil water on your stove? Knowing your equipment makes cooking at home much easier, and more approachable.
Q What do you not like food wise?
A Kim: Not a fan of turnip, or celery (unless it is part of a mirepoix)
Tim: Turnip!
Q What do you refuse to cook?
A Kim: Shark or shark fin. If I wasn't a chef, I'd probably be a marine biologist. Sharks are my deal. I can't cook one.
Tim: Turnip!