The Reluctant Chef, St. John's, NL
It was meant to be. I was on the hunt for a Newfoundland-based chef to profile at the same time co-worker Jodi DeLong just happened to be visiting The Rock. When she started posting amazing food photos from The Reluctant Chef in St. John's, I knew I'd found our guy.
Meet chef Johnathan Schwartz.
Born in Cambridge, Ont, Jay (as he is best known) developed his passion for the culinary world at a young age in the heart of any commercial kitchen: the dish pit. The restaurant was at the Oviinbyrd golf club in Muskoka, Ont, and the next summer the chef offered Jay an introductory level cooking position. And so began his career; at age 16 he was cooking on the line at one of the country's most prestigious golf courses.
From there Jay went on to attend the Stratford Chefs School for formal training. And like many chefs after graduation, Jay headed out to broaden his horizons. His travels took him to Spain to work in a Michelin-starred restaurant, Hotel Ferrero, in addition to cooking with new foods he also found himself in a kitchen where the primary language was Spanish. He excelled.
Jay returned to Ontario where he stayed for three years until wanderlust called once again. He spent a few months touring Europe when he received a career-changing phone call. A friend from culinary school was about to vacate his position at The Reluctant Chef and thought Jay might be a perfect fit. Jay flew to Newfoundland, fell in love with the island and the restaurant. He has been happily running the kitchen there since March of this year, proving that he is anything but reluctant.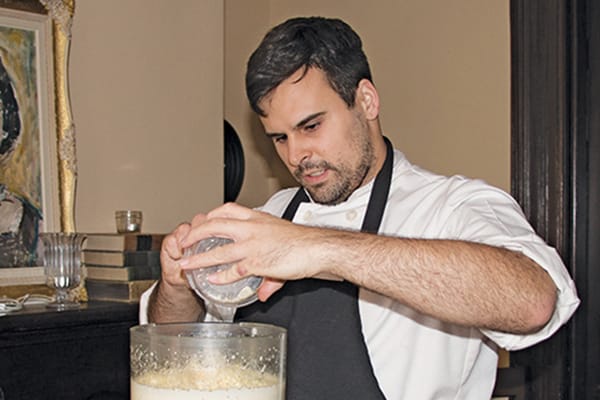 Q Who do you look up to?
A I look up to my peers. I have friends in the industry all around the world. We always challenge and support one another.
Q What accomplishment are you most proud of?
A I am most proud of my work at The Reluctant Chef. I feel as though I am just starting to find my culinary voice and I am proud of all the product myself and my team have put out.
Q What's your favorite ingredient to work with?
A At the moment my favourite ingredient would have to be any Newfoundland product. There are so many interesting products here. From partridgeberries (lingonberries), bakeapples (cloudberries) and crowberries, to seal, capelin and various beach greens, I love bringing my technical background to these ingredients and preparing them like they have never been done before.
Q What kitchen tools can you not live without?
A My thermapen (thermometer). It's accurate and quick; I use it for everything from checking meat, sugar and bread temperatures.
Q What is your favourite part of cooking?
A I love the creation process. It is a rare sensation to feel as though I have created something 100 per cent original. To catch those moments, one must always be creating.
Q What do you see as the upcoming trends in food?
A It is hard to say what the next trend is going to be in Canada. We are so diverse. All around the country chefs are putting out great product on all levels of cuisine. I think the use of more vegetables is what I would like to see.
Q Do you have any cooking tips you could share with us?
A It sounds cliché but salt, salt, salt.
Q Do you have a favourite cookbook?
A My favourite cookbook would have to be Bouchon Bakery (by Thomas Keller and Sebastien Rouxel). Everything is made with care and precision. It really shows the techniques behind it all.
Q What foods do you eat "in secret"?
A Cheese and salami.
Q What do you like to do when not in the kitchen?
A Paintball. I love the adrenaline rush.
Q If you could cook for any three people who would they be and why?
A Matt Choma and Brian Coles (they are like one unit), Jonathan Gushue and Ryan Brown. They are all former mentors. I would like them to see how far I have come. I would want them to feel proud.
Q What is the most embarrassing thing that as ever happened to you in the kitchen?
A There are too many embarrassing moments to recollect, it's all part of growing up in kitchens. But here's a quick one: When I was in chef school I accidentally steamed a tart shell. I mistook the steam timer for the oven timer. My chef instructor was standing right behind me to watch it all happen.
Q What do you not like food wise?
A Poorly made food. As time goes on, there are fewer and fewer ingredients I dislike. It is just a matter of preparation. Everything can be made well.
Q What do you refuse to cook?
A I refuse to cook Caesar salad with chicken, because it is not adventurous enough. I want people to broaden their palate, and smile when they taste something great for the first time.
That's it.