How a NS couple started with a greenhouse, only to discover the road to success is paved with chocolate
Nancy and Greg McTiernan have such a sweet spot for chocolate, they've made a very successful business out of making and selling everyone's favourite treat! It was, however, the McTiernans' green thumbs that led them to discover this sweet calling.
Originally Nancy and Greg were running a greenhouse and garden centre, which they had take over from Nancy's parents back in 1997, but as the business was lagging Nancy decided to make fudge as a way to increase sales. After working in the greenhouse all day Nancy would go home and make fudge. The fudge she was producing at night would sell out the next day so it became a continuous cycle; work all day, make fudge all evening.
There is a knack to making fudge, as it is a rather finicky process and Nancy was only having moderate success. She did some research and discovered a piece of equipment that could aid in the fudge making process. She located a distributor only to be informed that he refused to sell her the equipment! The seller told her she had to go to school to learn how to make fudge properly or she would just get frustrated and quit. Nancy says she wasn't happy with this response but after much thought, she and Greg decided to take his advice and enroll in a program to learn about making candy.
Looking back, they both heartily agree that it was the best decision they've ever made.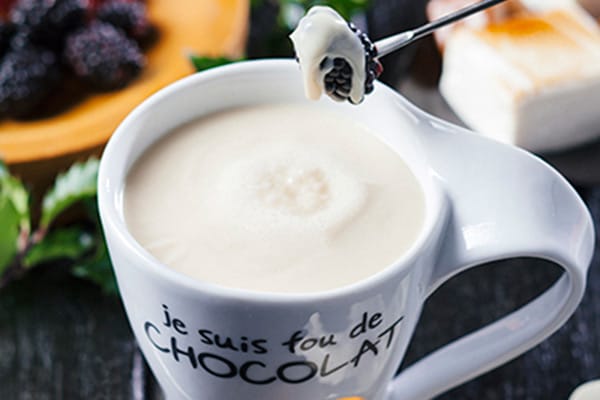 Hitting the sweet spot
In 2006, Sweet Spot Chocolate Shop was born and the McTiernans say it has surpassed anything they could have imagined during those late nights trying to master the art of making fudge. After all, says Nancy, who would have thought that a chocolate shop would survive in Elmsdale, NS, a small town with a population of just over 3,000.
Having grown up in Nine Mile River—a few minutes drive from Elmsdale— Nancy's roots are in rural Nova Scotia; Greg grew up in Halifax. The couple was determined to make their family business work—they loved where they lived and knew that the people in the community were great supporters of local businesses. It was just a matter of finding the right thing.
Chocolate is the sweet spot that brought it all together. In fact, the chocolate business grew so much they closed the greenhouse operation in 2008.
The sweet taste of success
The McTiernans started making chocolate in a 400-square-foot area but over time expanded the opeation to their present 3,000-square-foot facility, which includes a retail area and manufacturing space.They employee six people full time, two more during the busy holiday season. To date Sweet Spot has expanded three times and Nancy and Greg are looking at another expansion.
Currently Sweet Spot is producing more than 100 different items. Anything peanut butter, such as PB Cups, PB Patties and PB Bites are the top sellers. Caramel products are also very popular. Boxes of chocolates sell well as buyers can either purchase a pre-packaged box, or choose a selection themselves.
Expansion doesn't mean turning away from small batch production, Nancy says, as it is precisely that smaller-scale process that ensures the freshest possible products made with top quality ingredients. Also, because their goods are made in such small batches, Nancy and Greg don't use any additives or preservatives in the manufacturing process.
Residents of Elmsdale and area aren't the only ones who recognize and appreciate the sweet treats being produced by the McTiernans. They were showcased in the gift lounge at the 2015 Canadian Country Music Awards, held in Halifax recently, and have also appeared at the Atlantic Film Festival.
When asked what goes into deciding whether a new recipe is good enough to be included in their already stellar line up of candy, Nancy replied that all their formulas are thoroughly tested before becoming a finished product. She also said they use volunteer taste testers to give them honest feedback on new products.
Hmmm, I wonder how long the line up to submit applications for that position is?
In addition to their planned expansion, Sweet Spot Chocolate Shop also recently launched their online store.
"We never did buy a piece of equipment to make fudge," says Nancy, with a smile.
They certainly learned the proper techniques to make it.
Recipes