Smoked Grilled Cheese with Butter Lobster by Sally Huffman-Brown (Antigonish, NS)
Growing up, Sally had fond memories of sitting around a large family table enjoying her dad's favourite meal: grilled cheese sandwiches. It's a food that she continues to enjoy but, being a bit of a foodie, Sally knew she could improve on that original recipe. She made various versions over the years but when she moved to Nova Scotia in 2014, Sally took a recipe she had refined back in Ontario and added an East Coast flair. As a Cadillac grilled cheese, this version is an intense culinary experience.
Lobster replaces bacon in Sally's version of this classic. "Using the lobster allows me to provide my guests with a taste of Nova Scotia in my own kitchen, at a reasonable price per serving."
Sally moved to Antigonish to be closer to her daughter and two grandchildren. Interestingly, while still living in Ontario, Sally turned to the pages of Saltscapes to get a sense of what life in Atlantic Canada.
Now happily settled in her new community, she devotes her time to volunteering and is presently working with Antigonish Community Transit, an organization aimed at providing affordable transit to the folks of Antigonish.
The judges were greatly impressed with Sally's dish. As one judge said, "Original, very nice. Lobster with pesto and a hint of smoke. Delicious."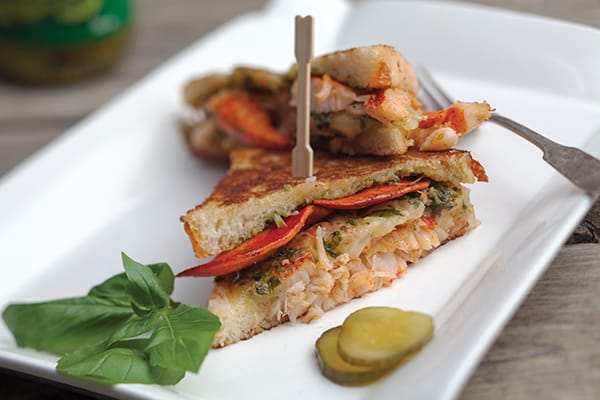 Recipe