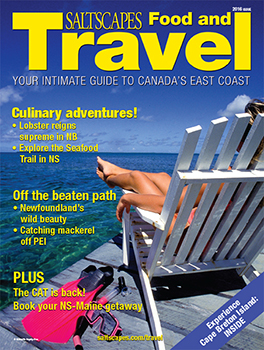 Click here for online digital edition
Food and Travel
Your Intimate Guide to Canada's East Coast
Culinary adventures!
Lobster reigns supreme in NB
Explore the Seafood Trail in NS
Off the beaten path
Newfoundland's wild beauty
Catching mackerel off PEI
PLUS
The CAT is back!
Book your NS-Maine getaway
---
Vacation bliss

All you can eat PEI potatoes There are no potatoes left on Prince Edward Island. I think I must...

ADVERTISING

Seaside Experiences

As you leave the long sandy beaches of Nova Scotia and head out into the waters of the...

---

The CAT comes back…

2016 marks an exciting year for Bay Ferries Limited and for vacationers in both Canada and the...

Love on the rock

Romancing Newfoundland's Baccalieu Trail If love begins with Cupid, then a couple's getaway to...

---

---

Farm Fresh Scallops

Delicious Îles de la Madeleine Scallops grown here are sweet," says Melanie Bourgeois as she pulls a...

Come cook with us

Great culinary tours The foodie culture is alive and well in all four Atlantic Provinces and...

---

Tasty trails

Exploring the Island one bite at a time Water streams out of the wire baskets as I bring my haul...

Catch and Cook yer own

Fish doesn't come any fresher than this They can reach three pounds," says Captain Perry Gotell of...

---

Ride on!

Explore Prince Edward Island by bicycle I lean my bicycle against a wooden railing, sink to my...

Relax!

Great spa getaways across Atlantic Canada Atlantic spas are charting a new course for travellers...

---

A big adventure

New Brunswick's Grand Falls/Grand-Sault In Grand Falls/Grand-Sault, New Brunswick, the Saint John...

Renaissance city

New ideas and history mix well in Saint John The proof isn't so much in the pudding, as the saying...

---

Fun and free

Fredericton offers plenty of no-cost options I fell in love the first time I visited...

---

For the love of lobster

Southeast New Brunswick celebrates our favourite large crustacean Like cake at weddings or turkey...

On the rise

Moncton's Resurgo Place, where the past meets the future Resurgo is the Latin motto of the City of...

---

Your "Maine" must-do list

Fun fairs and festivals you won't want to miss Summer is a great time to visit Maine and to check...

---

Take a hike

It's easy with the great network of trails in and around Halifax area Less than ten minutes of...

---

A bicycle and a view

Cape Breton's coastal shores I'm cruising past beaver dams and apple trees, little ponds and...

---

Cheers

Drink in the best of Nova Scotia on the Good Cheer Trail Vineyard tours, craft beer, even rum...

A gezellig good time

Each year, someone with a sense of humour creates this beach art between ocean and the chapel at...

---

Pleasure islands

There's lots of fun to be had exploring our islands in the sun It's a balmy August day. Four...
---