12 unique adventures you can have in Atlantic Canada.
Looking for an out-of-the-ordinary experience in Atlantic Canada? We've got plenty of great ideas.
1. Feel the fresh air
Picture yourself in a motorcycle sidecar with an experienced guide in the driver's seat as you head down the highway to one of Canada's most scenic fishing villages. That's exactly what Bluenose Sidecar Tours offers: a chance to ride in a Russian-built Ural motorcycle sidecar to Nova Scotia's famed Peggy's Cove. The Halifax-based business also offers sightseeing trips around the city, a day trip to Lunenburg, returning via the South Shore, or a customized experience. "You're seeing Nova Scotia sideways, and that means you're feeling the breeze off the water, smelling the salt air, hearing the cry of the gulls overhead, and getting a personalized tour of our little corner of Nova Scotia,".
2. Fish for sharks
Visitors to Lunenburg, NS, can steam into the North Atlantic aboard Lunenburg Ocean Adventures 42-foot fiberglass boat and spend a full day hook-and-release fishing for sharks, while the accommodating crew "chums" the waters to attract the cuddly creatures. Blue, porbeagle and mako sharks are most commonly encountered, ranging in size from 40 to 300 pounds. The company also offers diving expeditions to a world-class wreck site, the HMCS Saguenay. lunenburgoceanadventures.com.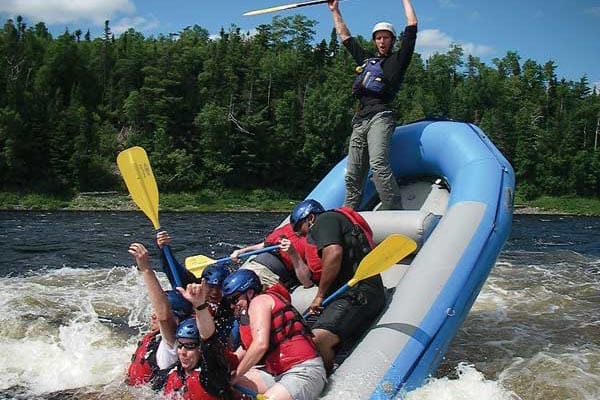 3. Put your best face forward
If you enjoy a good adrenaline rush, here's the perfect opportunity. Open Sky Adventures, in Drummond, near Grand Falls, NB, offers not just ziplining, kayaking and rock-climbing adventures, but "deepelling"—which is actually rappelling, face first, down a 135-foot rock wall into the Grand Falls Gorge. Face first. Not for the faint of heart. openskyadventures.com.
4. Relax on an island in the stream
Longing for the splendid isolation of a community accessible only by ferry? In central Newfoundland, take a 20-minute cruise from Farewell to Change Islands, and savour everything that makes outport Newfoundland so irresistible: salt box houses, red ochre fishing stages, quiet coves, and a rich artistic tradition. Visit the Newfoundland Pony Refuge (established to carry out a breeding program to raise the numbers of the critically endangered Newfoundland Pony) and lunch at the Burgundy Squid Café and Craft Shoppe. changeislands.ca.
5. Raft on the river
Rafting Newfoundland, based on the Exploits River in the Grand Falls-Windsor area, is an unforgettable whitewater rafting experience that offers thrills for first-timers and experienced rafters. During the "Badger Chute Swim," you can jump off the rocks and be pushed downstream; a recirculating current then carries you right back to where you jumped in. Packages can include an overnight stay at the Riverfront Chalets. riverfrontchalets.ca.
6. Rock the geological wonders
A "geopark" is an area recognized by the Global Geopark Network to have exceptional geological heritage: the natural landscape is good for education, has a significant scientific value, is particularly rare or is simply beautiful. Southern New Brunswick's Stonehammer Geopark, at the mouth of the St. John River, is the first such geopark in North America—and offers hands-on fun like rock climbing on a 500-million-year-old rock wall. stonehammergeopark.com.
7. Dig for dinner
You've got a spade, the tide is out, and you've partnered with a PEI expert who will not only help you go clamming, he'll cook up your catch for dinner. It's all part of Experience PEI, a Bedeque-based company that offers a series of adventures designed to get visitors away from the typical tourist routes to have an authentic, hands-on experience. experiencepei.ca.
8. Join a conservation effort
The Blanding's turtle is a semi-aquatic turtle that is endangered in Nova Scotia. If you're camping in Kejimkujik National Park in Southwestern Nova Scotia, check in with the staff there about the volunteer nest protection program for this species; you may be able to join volunteers to help protect the turtle nests and eggs.
9. Redefine saddle sores
We bet you've never been mountain biking in a kilt—until now. That's the one-of-a-kind activity offered by the Off-Kilter gang at Ripple Fitness in St. Andrews, NB. The group offers kilted rides on the cliffside trails of Grand Manan Island, as well as a gentle bike ride across the ocean floor to Ministers Island. Why? "If you have to ask, you just don't get it," says tour guide Kurt Gumushel. offkilterbike.com.
10. Dive for shipwrecks
There are thought to be about 8,000 shipwrecks on the sea floor off Newfoundland and Labrador; four of those unlucky vessels were victims of German U-boats during the Second World War. Book a five-day dive tour of those wrecks—the SS Lord Strathcona, the PLM-27, the Saganaga and the Rose Castle—with Ocean Quest Adventure Resort in Conception Bay South, near Bell Island, NL. All four wrecks are more than 400 feet long, intact and upright on the bottom; dive depths and levels of challenge vary. Optional bonus: be screeched-in as an honorary Newfoundlander on your trip. oceanquestadventures.com.
11. Jet the Reversing Falls rapids (or zip beside them)
The Reversing Falls' Jet Boat in Saint John, NB, offers wet and wild rides through the rapids (where the Bay of Fundy and the St. John River meet, and the tides push the river backwards, creating swirling waters, twice a day). jetboatrides.com. If you'd prefer to stay high and dry, Saint John Adventures offers a series of ziplines that run beside the Reversing Falls, from which you'll have amazing views. The last leg is a dual line—you can race with a friend to the finish. saintjohnadventures.ca.
12. Race across the ocean floor
When the mighty Bay of Fundy tides recede from Nova Scotia's Minas Basin, they leave a sandy, rocky and goopy mud path—perfect for running, of course. The "Not Since Moses" race has mud-lovers dash onto this exposed sea floor where, hours before, 30 feet of water flowed. This wildly popular annual event attracts hundreds of participants to rugged, beautiful Five Islands, NS, for an event of "biblical" order (briefly opened sea, anyone?).
Adults can slosh their way through a five-kilometre course across the tidal river and sea bed, next to cliffs normally seen only by boat. There's also a 10-kilometre run, past shorebirds and sea creatures, from Soley Cove to Sand Point. Runners have to keep in mind that there's no dilly-dallying—the tide is on its way back in, as they dash through the shoe-sucking muck.
The Basket Run gives kids a chance to race in sight of parents. Live music, hot food, and runner/poet recitations round out the day. The 2012 run takes place July 22. notsincemoses.com.