Fun for all ages; the simple tools of the trade; sand castle competitions around the Maritimes draw thousands.
Art you can really dig
It's a balmy September morning in Prince Edward Island. I'm with a group of friends and colleagues—all over 30; some of us twice that age. We've split into teams and are building sand sculptures at Brackley Beach. We're scooting around, making mounds, forming shapes, and giggling like school kids. Maurice Bernard, sand castle sculptor extraordinaire, gives us some tips while doling out encouragement. We add a little wet sand here… pat down the sides there.
Maurice has had a lifelong connection to sand and the joys of building sand castles at the beach. Growing up, his family often moved from one Canadian military base to base to another, but they always spent summers at his grandfather's cottage in PEI. "I remember digging sand, piling it up, and making cars, walls, buildings and trains, he says. "To me it looked like cities and superhighways."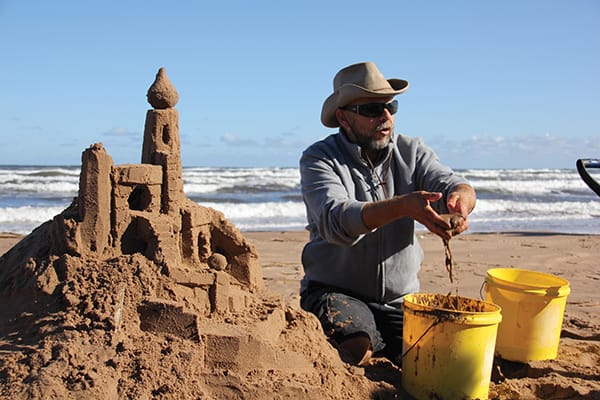 Some days, his imagination veered off into other worlds. Kingdoms rose out of wet blobs of sand; dragons and wizards came to life. "When the tide started back in, we'd build outer walls to protect our kingdoms, but the water always won."
As an adult, Maurice started building sand castles with family and friends. His passion for building them grew and grew. After he became a professional artist, he held summer day camps for art students. "We'd paint in the morning at the beach," says the 53-year-old, "then create a large sand castle in the afternoon." His reputation, both as an artist and as an expert builder of sandcastles, spread far and wide. Although the painter has a studio located at the Lefurgey Cultural Centre in Summerside, he says with a grin, "My summer office is the beach."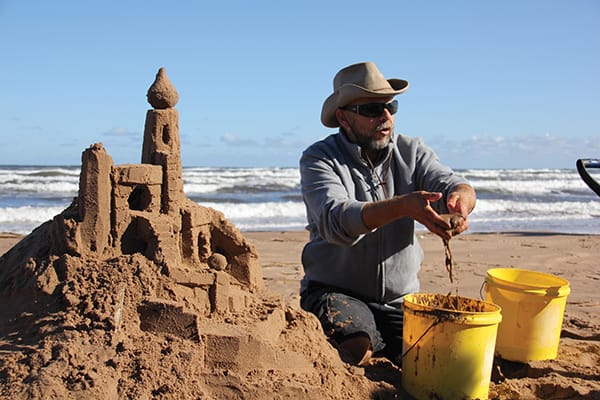 Maurice is Parks Canada's grand poohbah of sand castles every summer. You'll see him roaming around helping kids (and big folks) by giving tips and lending a hand—Mondays at Cavendish Beach and Wednesdays at Brackley Beach. What if it rains? No problem. Maurice will take you to Cove Head where you can make sand sculptures under the bridge. And should you want to fine-tune your skills, Maurice gives private lessons—at a beach of your choice—through Experience PEI.
That brings me back to the competition we had back in September. You guessed it. My team won! We built a mermaid replete with flowing hair made out of seaweed. Alas, we were so busy creating our masterpiece that no one thought about taking photos. But I have the prize to show for it: my own yellow bucket including a shovel, ruler and other tools to make sand sculptures. I'll be bringing it with me when I go back to PEI this summer for our family vacation.