Getting to know my home island from a visitor's perspective
What's it like to sleep in an 18th century fortress; cook and crack into lobster fresh from the sea on a beach over the Gulf of St. Lawrence; hike the iconic Skyline Trail (maybe spot a moose and pilot whales) and surf at Point Michaud Beach? Cape Breton Island native Shelley Cameron-McCarron discovers her home island like never before.
I am going to let you in on a secret. An impromptu square dance can happen any time on Cape Breton Island. I know because it happened to me: and I loved it.
Last June, on summer solstice, I was standing with friends at an oceanside campground in Corney Brook, near the Acadian fishing village of Cheticamp, fresh off a glorious day hiking in Cape Breton Highlands National Park. Tired, but keen, we'd gathered to try Le Bloc, a new seaside lobster boil program offered by Parks Canada.
We'd come up from the cobble beach where the group gathered seawater for our pots and sat on driftwood logs learning about the local lobster industry. In the parking lot, someone shouted for dancers. A Parks interpreter started calling sets, and before I knew it, the sun was sinking over the Gulf of St. Lawrence and I was promenading in the breeze, swinging my partner, and grinning wildly, certain that I'd made the right decision to spend a week hiking, biking, paddling and exploring Cape Breton Island's adventures.
You see, the week had it all—camping at an 18th century French stronghold (super fun) to stand-up paddle boarding (yes, I fell in). And like the unexpected call to dance, this island, majestically flung near the edge of the continent, delivered so much: days spent biking back roads off the Cabot Trail, wading into the famous fly-fishing waters of the heritage Margaree River, and nights gathered in small circles to listen spellbound to a soulful balladeer.
Here's how to plan your own adventure: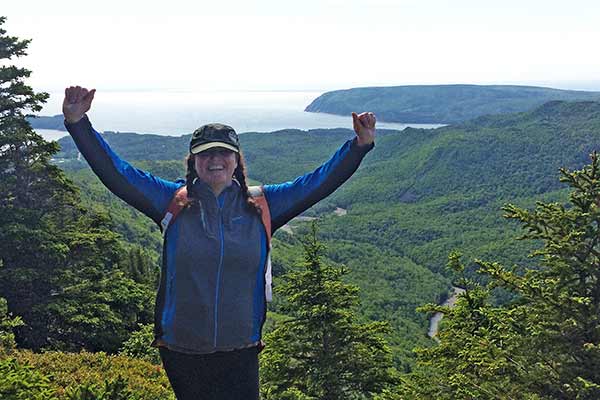 Hike the highlands
There are 26 jaw-dropping trails in Cape Breton Highlands National Park, and I'm following a poet up one of them. My guide on Franey Mountain encourages me to be present, to notice things. "The wind whistling through the trees, the sun in the open spots, it's my favourite trail," says Parks interpreter Amy Donovan who stops often to see where moose browsed on sugar maple, to admire a large patch of endangered lady slipper.
I welcome the poetic turns—and the stops. Conquering Franey is not easy for me. We go up, up and up again—it has a 335-metre gain in altitude, and in places there are terraced steps up the mountain. I stop several times to catch my breath...
But man, at the top, the payoff is wild, a view some call the jewel of the park with its panorama vistas of Atlantic coastline, the Middle Head peninsula and Clyburn Valley. "The point of this trail is to see the view," says Donovan. Blessedly, we loop back via an old access road, an easy amble back to the parking lot. Following Franey, we set sites on the park's signature hike, the Skyline Trail, and drive toward Cheticamp. This level trail, looping 7.5 km or 9.2 kilometres depending on route, is accessible to all, known for moose sightings, and ends dramatically with viewing platforms and winding steps down a headland where hikers may spot fishing boats and whales bobbing in the Gulf of St. Lawrence below and gaze onto the marvel of the world-renowned Cabot Trail making its way up the opposing cliffside.
Perfect picnic
Not made of steel, we fueled up between hikes with a packed picnic, pre-ordered through a nifty Parks Canada program that lets people order lunch and then choose their own take-out dining space within the park-be it beachside, by a waterfall, or maybe the end of a trail. We spread the picnic blanket at Black Brook Beach, one of the park's favourite swimming spots, to munch in the sunshine on roast chicken sandwiches, a green salad, cheese and crackers, and an orange, all polished off with a slice of carrot cake and Keltic Lodge chocolate truffles!
Bike the back roads
In Cheticamp, we retreat to the elegant Maison Fiset House (maisonfisethouse.com), an eight-room inn on the town's main street, built in 1895 by Father Pierre Fiset for his brother Napoleon, the town's first doctor, We pedal our bikes out from the inn's driveway just a short distance d.wn the sidewalk to explore a fascinating connection to inn history. Father Fiset, parish priest, championed the building of the gorgeous sandstone St. Peter's Church, which dominates the Cheticamp skyline. After a stop inside to admire the amazing architecture, it's back on the bikes to loop down the backroads, sailing along until we eventually hit dirt trails running through a gypsum quarry that leads to a secret swimming spot.
Surf's up
It's June and the weather's been warm, but the ocean water is still ch-ch-chilly as we don wet suits and wade into the waters of Point Michaud Beach, a two-kilometre stretch of sand on the island's eastern end making waves as Cape Breton's cold water surfing capital. Come summer, Richmond County Tourism offers surf rentals and lessons. It's the perfect place to find zen and breathe in the peacefulness of quiet ocean landscape.
"It's the hardest thing I've ever done in my life, but the most rewarding. There's nothing that compares to catching a wave," says local surfer Chris Tighe. He tells us there are some rules to surfing and one of them is not to get frustrated, to have fun. After a beachside lesson, we grab our boards and paddle into the surf, grinning like kids, and yes, having fun, as we try to master a new skill.
Wake up in the past
It's exciting, and nerve-wracking, to wake up in 1744 New France. That's how my nine-year-old feels as we drive toward Fortress of Louisbourg National Historic Site on the island's eastern end to participate in a Parks Canada program that from June to September lets visitors sleep inside its stone walls, in an 18th century equipped tent or a successful merchant's home.
"I'm nervous," my youngest child says as we drive past crashing Atlantic waves, where the British camped in swamps for six weeks before their final siege. "People died in there. They lost!" she says. Fears, though, are quickly assuaged as we explore the fantastic fortified seaport in the hours before it turns into our campground.
"After 5 p.m., you'll have the place all to yourself," staff enthuse. "If it's a clear night, you can see every star in the sky." Another whispers to my ghost story-loving teen, "When the thick black fog rolls in, you can imagine the headless horseman riding in." We light a campfire to cook supper. Bells toll hourly—a sound I hadn't noticed before.
We spot birds' nests in the overhangs. Come twilight, we wander with period lanterns. "I like history and this is history and I get to be in it, and that's cool," my daughter says.
What's up
On the shores of the Bras d'Or Lakes, Canada's largest inland sea, in the charming resort town of Baddeck, gateway to the Cabot Trail and a village that Mabel and Alexander Graham Bell once called home, Colin MacInnis gives visitors a chance to find balance, literally, at SUP Baddeck, with stand up paddle board lessons.
He's a companionable, ever-patient guide. Not many fall in the drink. I do. Surprisingly though my dip into the depths was invigorating and helped me relax. MacInnis shows me how to get back on the board from the water, and, ever encouraging, tells me, "You know how to do something they don't," he says of my upright friends.
Kayak the coast
For a grand day on the water, exploring the nooks and crannies of Cape Breton coastline, North River Kayak Tours, a veteran operation run by Angelo Spinazzola (he's a singer-songwriter too!) offers fun and knowledgeable sea kayaking tours and packages that range from full moon paddles to half day to five day adventures
We paddle around Kidston Island, a small uninhabited island just offshore in the Bras d'Or Lakes in Baddeck. In tandem kayaks, we paddle past the island's lighthouse and pull up on a small crescent beach. Spinazzola pulls out a picnic blanket, Earl Grey tea, and a gourmet lunch where we take a minute to toast our good fortune before our paddle back to shore.
Fly fish
Time on the river is never wasted and this is especially true on the heritage Margaree River. Fishing guides are available locally. Pulling on waders, we space out on a quiet pool, learning to cast, a hypnotic movement where time seems to all at once still and go by far too fast, just like our time on the island itself.