Dine around Charlottetown, your taste buds will thank you!
Country musician Stompin' Tom Connors may have made PEI famous for potatoes with songs like "Bud the Spud," but on the Island variously dubbed "The Garden of the Gulf" and "The Million-Acre Farm," there is no shortage of homegrown ingredients. As Charlottetown chefs discover the potential of local island foods, they are placing this small city of 35,000 among the culinary capitals of Canada.
Take the smoked meat sandwich at Terre Rouge bistro marché on Queen Street—it's both reminiscent of Montreal's finest and a departure from it. The PEI beef is smoked and seasoned in house. The bread and pickles, even the mustards are made here. The gouda is by Glen Glasgow, a cheese maker a few kilometres out of town.
Downtown Charlottetown's combination restaurant and market takes the 100-mile approach to presenting a French-inspired menu, and in Canada's smallest province, 100 miles includes literally the whole island. Most of the Terre Rouge menu—from oysters and blue fin tuna to tomato jam and strawberry vinaigrette to chicken thighs and the ground brisket in the burger—are island grown or caught.
The multiple award winning farm-and-sea-to-table Terre Rouge is at the heart of the island's culinary coming of age. Canada's 100 Best Restaurants 2016 placed Terre Rouge at 86 on their list, the only PEI eatery to make the cut. Co-owner and chef Dave Mottershall calls it a true 360-degree restaurant. His business partner and chef John Pritchard explains that the cured meats, sauces and pickles sold at the market in the front half of their space are used in dishes they create for the 40-seat restaurant in the back, while things made in the kitchen for the restaurant are also sold in the retail market at the front. The chorizo and the gelato are as popular on the bistro menu as they are in the marché.
TV chef Michael Smith and his restaurant at The Inn at Bay Fortune on the eastern edge of the island have most certainly contributed to Charlottetown's rise as a culinary capital. So have events like PEI Fall Flavours and the PEI Shellfish Festival, along with the culinary arts program at Charlottetown's Holland College, the presence of a young and worldly demographic because of the University of PEI and the role of the city's popular farmers market near the university. Here, students and other customers roam the grounds clutching cloth bags stuffed with multi-coloured carrots, free range duck eggs and German pretzels and slurp PEI raw oysters or munch warm, homemade Indian samosas and Mexican burritos.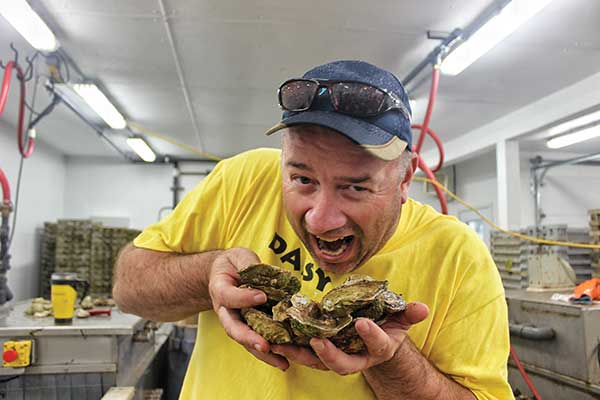 Just as important as these influences might be the role of the creative class in bringing worldly inspirations to local ingredients. The Confederation Centre for the Arts is home to live performances by major national and international artists year round, but also to a dynamic and sizeable Young Company that gives historic walking tours in character and puts on free, exhilarating cultural performances daily in the Centre's outside auditorium.
The Centre is also home to Mavor's, a chic gallery restaurant with an outdoor patio for summer lunches and drinks where the menu comes in four parts—Opening Act, Matinee, Showtime and Encore. Local seafood and meats make the menu, but Mavor's is also the maker of the "Cheddar Lux," winner of last year's Great Island Grilled Cheese Competition. Four cheeses including cheese curds from the Island Artisan Cheesehouse and PEI cheddars appear in the sandwiches that are served with house cider tomato jam.
These influences are not to deny the importance of Charlottetown originals in establishing the city's culinary reputation. Cow's Ice Cream makes Avonlea Clothbound Cheddar, which placed first in the 2015 World Cheese Awards in England. At classic pubs like the Claddagh Oyster House, PEI Malpeque oysters star alongside Gulf of St. Lawrence halibut served with curry cream and mussels. Owner Liam Dolan—the middle of ten children—emigrated from Ireland to PEI and in 1985 started his first restaurant in Charlottetown, the Olde Dublin Pub where a pint and a pub lunch are still a good bet.
But it's restaurants like Terre Rouge and young chefs like Mottershall and Pritchard that are helping push PEI into the top echelon of the nation's best urban destinations for creative food made with local ingredients. As in Stompin' Tom's classic, the spuds are indeed from the bright red mud, but the island and this little city have broken far from those old clichés and are making their own mark using the bounty of the surrounding sea and this 100 acre farm.
Recommended stops
Drop by Up Street Brewing for a pint of craft beer and some great take out from Thai Pad, the food truck usually parked outside.
Indulge in some Anne of Green Gables Chocolates at their store on Queen Street.
Shop around the little buildings on the waterfront at Peake's Wharf for everything from cookware to jewelry, much of it island-made.
Tour the newly renovated Province House, a National Historic site, the current seat of provincial government and the location of the Charlottetown Conference of 1864 that led to the founding of Canada.
How to create a killer charcuterie board
Courtesy chef Lucy Morrow at Terre Rouge Bistro Marché
A good charcuterie needs texture. Provide a mix of spreads, nuts, crostini or crackers, toasted soft bread with a crunchy crust, even vegetable chips. "It's a drag when you have a soft charcuterie board," says Morrow. "You need a good crunch."
Spreads:
Add any combination of the following that complements the other ingredients: smooth mustard, grainy mustard, aioli, honey, jam—sweet and savoury—maple syrup, smoked maple syrup, soft butter, hummus, crème fraîche, pesto. "We go all over the board with spreads," says Morrow. "The possibilities are endless. If you can spread it, add it."
Charcuterie:
While Terre Rouge makes most of their cured meats in house and finds most of their cheeses on the island, Morrow recommends searching in local markets, even grocery stores. She says, "A few favourites here are coffee cured duck, chorizo, prosciutto and rillettes. And don't forget about cheese. Variety is what we aim for. Try looking for a firm cheese, a soft cheese, and a blue."
Pickles:
The same with Terre Rouge pickles—most are made in house, but Morrow says, unlike with meats and cheeses, pickles can be made easily at home. "We pickle everything. Really. Apples, scallions, cucumbers, cauliflower, rutabaga, carrots. There's no going wrong when it comes to pickle selections."
Breads and crackers:
Add bread that's grilled or toasted like baguettes and other artisanal varieties. "Crostini and crackers are a crowd pleaser as well," says Morrow. "Vegetable chips are perfect for gluten-free charc eaters."
Toss on a little fresh fruit and vegetables, and you've got a killer charcuterie board.