Celebrate Canada 150 where it began: the Maritimes
Long before there were trains, planes, or automobiles, explorers and settlers to this land traveled by ocean from one locale to another. Start your own exploration of the Maritimes with a thrilling trip across the Gulf of Maine on The CAT, Bay Ferries' high-speed catamaran, from Portland, Maine, to Yarmouth, NS.
Meet the Maritime Provinces
Once you land on Nova Scotian soil, you're here in the Maritimes and have countless choices and adventures awaiting you. Tour around the province, exploring its city nightlife, its agricultural heartland, its seaside communities and its many beaches, not forgetting the Celtic heart of the province, Cape Breton Island.
Take a drive to Caribou, Pictou County, and catch a ride on one of the Northumberland Ferries vessels (Holiday Island or Confederation) across to Prince Edward Island. There's plenty to do for the active visitor, from enjoying the many golf courses to cycling across the Island on the Confederation Trail (part of the Trans Canada Trail).
Next, skip across the Confederation Bridge from PEI to New Brunswick, the well-named "picture province." Rich in both Acadian and English culture, with more cities than NS or PEI, and with glorious landscapes from the Appalachian route through to the mighty rivers that run to the sea, NB is a yearround feast for the senses.
When you're ready to start the journey homeward, cross the mighty Bay of Fundy from Saint John, NB to Digby, NS on board the Fundy Rose, then explore more of Nova Scotia before you head homeward again.
Hundreds of unique experiences await you in the Maritimes!
Maritime Discovery
Get to know about the Maritimes' life and soul, where the sea informs many aspects of life. Photography buffs will love the endless opportunities for snapping photos: breathtaking shorelines, charming seaside communities, fishing boats, lighthouses…bring extra cards memory cards!
2017 is Canada's 150 anniversary, making it an even more exciting time to visit the Maritimes. Don't miss the famous RCMP Musical Ride, making appearances in Fredericton, Halifax, and Charlottetown in mid-July.
If sailing ships are your fancy, Nova Scotia is hosting the Rendez-vous 2017 tall ship regatta, with the majestic vessels stopping in 10 different ports of call in the province. They'll be making stops in PEI and NB, too!
As part of Canada 150 celebrations this year, national parks and historic sites around the region are offering free Discovery Passes for day visits to places such as Grand-Pré, Louisbourg, Cavendish, Fort Beauséjour, and Fort Anne. If night photography is your thing, visit the Rocks of Hopewell Cape, or one of the Dark Sky Preserves at Kejimkujik, Kouchibouguac and Fundy National Parks.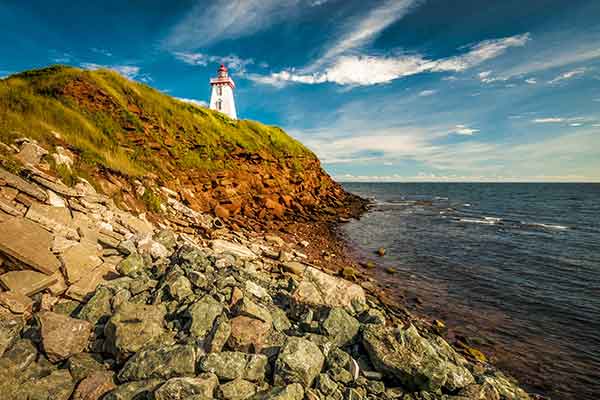 The heartbeat of Maritime culture
From great local food to live entertainment of all sorts, explore the vibrant and diverse cultures found throughout our region. Start out by enjoying a down-home style kitchen party, featuring local entertainers at select restaurants around the Yarmouth and Acadian shores, with Musique de la Baie (Music by the Sea).
The culture capital of Nova Scotia, Halifax beckons you with fine art and artisan shops, a thrilling nightlife featuring topnotch musicians, and of course, glorious food from fine dining to food trucks and cultural festivals.
In New Brunswick, get to know more about Acadian culture with great local cuisine, festivals and live entertainment including La Pays de la Sagouine in Bouctouche. Explore the delights of downtown Saint John including the historic City Market, and the historic beauty of Fredericton, with its bustling nightlife and host of great places to eat and explore.
PEI is home to famous author Lucy Maud Montgomery, whose Anne of Green Gables has become the cultural icon for the island province. The province hums with musical festivals all summer long, too!
Food, glorious food!
There's more to Maritime cuisine than fish and chips and donairs, but we have plenty of those for you to try as you tour around our region. You will never find fresher seafood, prepared in a dizzying number of ways, than right here in the Maritimes. Many of our restaurants have fully embraced the local-food way, purchasing as many products from local farmers and producers as they possibly can, and creating mouth-watering dishes for any type of dining experience you could want. There has been an explosion in the number of local breweries, wineries and distilleries in our region, too, so you may want to book a wine tour or have some 'hoppy travels' visiting a few of the great craft breweries.
Don't miss out…all these adventures and more are waiting for you along the Ferry Trail. Welcome aboard.
Sail the Bay of Fundy with us!
What could be nicer than relaxing on a sunlit deck while you speed across the Bay of Fundy? Come on board the sleek 400-foot Fundy Rose, which came into service in the summer of 2015, and you'll save hours of driving time between Digby, NS and Saint John, NB.
The Fundy Rose replaced the venerable Princess of Acadia, which served over 40 years, and the modern ferry takes just over 2 hours to travel between ports. All crossings are during the day, so you can enjoy the panoramas of land and sea, watch for seabirds, porpoises and dolphins, or just relax in the comfortable passenger cabin area or out on the sunny deck.
The Fundy Rose pays tribute to Rose Fortune (1774-1864), an African-Canadian woman who was born into slavery in Virginia. As a child, Rose escaped from that life and made her way to Annapolis Royal, NS. Rose developed a business transporting luggage from vessels to homes and inns in the community, and later became the first female police officer in Canada.
The mighty Bay of Fundy
Get to know a little about the Bay of Fundy, where twice a day the world's highest tides come in and go out. See the dramatic tidal action while exploring seaside communities on along the Bay. We have interpreters from the New Brunswick Museum on board throughout the summer months who are happy to talk about the marine life you could see. Bring your camera and your binoculars with you—whale sightings are common in summer.
Local flavours, local culture
Get a taste of Maritime culture during July and August, as Acadian musician Lisa Doucette entertains with toe-tapping fiddle music. Bay Ferries has invited Yarmouth and Acadian Shores Tourism Association (YASTA), South Shore Tourism Association, Digby Area Tourism Association, and Annapolis Valley Chamber of Commerce to help showcases great local cultural experiences onboard.
Whet your appetite for local flavours in food and drink by having a meal or snack at one of the four cafes and lounges on board the Fundy Rose, and check out great gift ideas from the Maritimes in our Fundy Treasures Gift Shop.
The Fundy Rose offers the Little Mates Quarters, a supervised children's program with plenty of activities including story time, arts and crafts, and plenty of toys to share. Or make it a family event by taking in one of the family-friendly movies we offer in our two movie lounges.
Arrive refreshed and ready to start your next adventure after sailing the Fundy Rose. Welcome aboard!
Sailing & savouring the Northumberland Strait
Seaside Experiences return
Not only is 2017 the 150th anniversary of Canada's founding as the nation we know and love today, Lonely Planet has named Canada as its destination of the year. The Maritimes is the place to begin your exploration of this great nation.
The Maritimes is a region surrounded by water, so why not explore it by sea? Northumberland Ferries takes you across the warm waters of the Northumberland Strait in a 75-minute trip from Caribou, NS to Wood Islands, PEI (and back again) so you can continue to explore all the region has to offer. Ferry time, whether you're on board the MV Holiday Island or the MV Confederation, is a time to relax, enjoy a little lively entertainment by local musicians, grab a quick bite to eat at one of our onboard cafés, and plan your further explorations and adventures once you come ashore.
Eating local is more popular than ever, and from July 1 through to the Labour Day weekend, you can sample some great local products for yourself. Great local chefs, together with local producers from PEI and NS, have created Seaside Experiences. Sample delectable locally-made foods and beverages and whet your appetite for more great delights once you land on shore.
Among the delightful products you could meet on your trip on the ferries are items from Acadian Maple, Chapel Cove Chocolate, Caldera Whisky, Sunny Cove Honey, and Ro Ro's Hot sauce. Look for local preserves, balsamic vinegar, fresh PEI mussels, (see the recipe for Mussels in Maple Curry Cream, page 88)… among other delights.
Want to learn more about cooking some of these great products? Join local chefs including PEI culinary ambassador Ilona Daniel, and the Kilted Chef, Alain Bossé, both of whom will be doing demonstrations on cooking with great PEI and NS products such as seafood, wild blueberries, and many other delights. They always have time to answer questions about the local culinary delights you can find in both provinces, and about suggestions for cooking with some of the great discoveries you'll sample on board—and on your travels.
Bring your appetite, your enthusiasms, and your camera, and welcome aboard!