Advice from East Coast flavour experts
Like so many Atlantic Canadians, I grew up in a fishing community, the son, grandson and nephew of fishermen. And yet, I was into adulthood before I ever tasted a mussel. The Latin name of the blue or common mussel confirms its edibility—Mytilus edulis—but I would have eaten—and did—a coffee can full of periwinkles picked and boiled up on the shore before I'd ever touch a mussel.
The orange fleshed mollusks grew in great abundance around wharves and rocks everywhere I went. In some places, colonies can cover kilometres of ocean floor. Perhaps it was this abundance that put me and other folks off—how could an animal as common as seaweed be good to eat? Perhaps it was their size—some covered the palm of my hand—which can be off-putting. Or perhaps it was the wild mussel's frustrating habit of growing tiny pearls, sometimes so many, it's like munching a mouthful of sand.
Then came cultivation. Once we learned how to grow mussels on "socks" in open water away from the grit that forced them to grow those irritating pearls, we could eat them without a thought to our dentist. They began appearing at home and in local restaurants. Tourists asked for them. And once mussels were free of pearls, easily harvested and of uniform, agreeable size, our chefs took over, creating what have become standard recipes.
Take the Blue Mussel Café. It might be off the beaten path in North Rustico Harbour, PEI, but it's next to one of the world's great seafood sources, the Gulf of St. Lawrence. "We always purchase all of our seafood locally from Doirons Fisheries," says co-owner, Steve Murphy. Their mussels are grown in the nearby and beautiful Malpeque Bay by Prince Edward Aqua Farms. And the location makes all the difference. Mussels are brought to the restaurant no more than an hour before each serving. "If you have access to mussels as fresh as we can get them, it's best to keep it simple."
Simple it is. Their signature Steamed Blue Mussels Jardinière includes just five ingredients: mussels, white wine, garlic, carrots and celery. "The term jardinière refers to the addition of fresh vegetables and the type of cut we do to island gown carrots and celery before adding to the steamed mussels," explains Murphy.
While his Red Seal chef, Jamie Power, prepares the mussels, Murphy says the recipe has been around since 1994 when previous owner Mike Doyle opened the café, though it's hard to say where he got it. "We still use some of Mike's recipes today, and the Steamed Blue Mussels Jardinière was one we inherited from him. They tasted so good, we didn't dare change that recipe."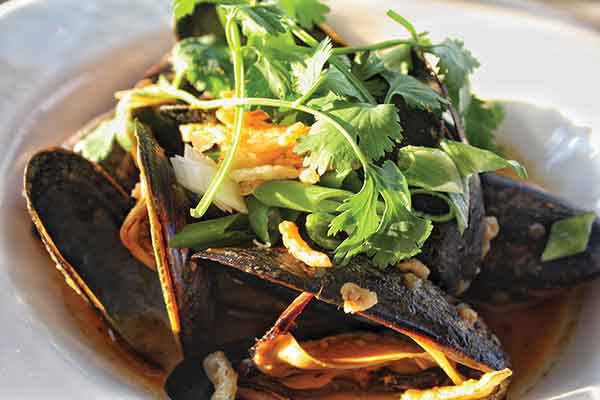 Others prefer more complex preparations that bring exotic flavours to the Common Mussel. Ron Kneabone, executive chef at the Algonquin Resort in Saint Andrews, New Brunswick, created his own curry sauce for the PEI mussels he serves. He says he likes his Madras Curry Coconut Cream Sauce because "it is a perfect mix of local and exotic that pleases a lot of our resort guests. They enjoy the sauce as a soup after all the mussels are gone" Still, he personally prefers a variation on the recipe that has become the standard. "My favourite way is garlic, white wine and herbs with a fresh French baguette," he says. "Keep it simple and accentuate the mussels rather than cover them up."
Chefs and cooks are still innovating. At Capt. Kat's Lobster Shack in Barrington—named the 2014 Restaurant of the Year by Taste of Nova Scotia—they've come up with a version they say "is not your momma's mussels." It's hard to get any more Canadian than their Creamy Bacon Maple bowl of mussels. But even here, they offer classic mussels in white wine and garlic as an alternative to this rich dish.
Some, like Brian Murphy, not only prefer simple recipes, they have returned to old ways, collecting them wild and cooking them over a campfire. Brian runs a wild mussel collecting tour from his Murphy's Camping on the Ocean on Nova Scotia's Eastern Shore. In the evening after a tour, Brian and his wife Marilyn prepare and serve the harvest.
Brian says his recipes vary, depending on his guests. "If I am on a mussel tour," says Brian, "I sometimes offer all those who endured the cold water a swig of whisky as a form of a thank you. The rest I pour over the mussels." Brian isn't past this kind of showmanship to keep his tours entertaining, but he does build flavour in the pot. He starts by pouring just a half inch of sea water or water with sea salt into the pot. "I sometimes add one or more of black pepper, beer, wine, garlic, and sometimes I bring out a tray full of various ingredients for everyone to try." He brings the pot to a quick boil over the campfire. "Some fires burn a little hotter than others," says Brian, "so I often say they will be done in seven minutes or when the cover falls off."
In the end, most cooks agree that it isn't just ingredients that make for good mussels. Ron Kneabone at Algonquin says the real reasons that mussels are so enjoyable are as much social as they are culinary. What he likes is the, "convivial feeling of eating with your hands and sharing a large platter amongst friends."
Steve Murphy says enjoying mussels is as much about location as anything. He says visitors who have never tried them before are nervous about ordering and eating them. He hears conversations at tables, debating whether or not to order them. "Maybe it's the pink sky sunset in the background or the smell of the beach just steps away, but I've not yet had a guest say they didn't like them," says Murphy. "Your vacation would not be complete without enjoying fresh mussels on a patio on the water with a nice cold beverage."
Brian Murphy concludes, "I guess my favourite recipe is not so much what is added on the inside of the pot, but more the outside. It is just to have people enjoy themselves and get a good laugh for everyone." And if it's a personal connection to fresh, sustainable seafood enjoyed in good company when spirits are high, there can't be anything more delicious than wild mussels collected by hand and cooked over a campfire, pearls or no pearls.
CAUTION
If you do decide to collect wild mussels, be alert to shellfish harvesting bans issued for safety reasons from time to time by the Department of Fisheries and Oceans. Visit their website to find out about bans in the area you intend to collect.
Recipes in this article