Touring historic Saint John
"On this site in 1897 nothing happened," reads a weathered plaque on a red brick wall in downtown Saint John, New Brunswick. This is such a storied city with a past of equal parts tragedy and perseverance that finding a location where nothing happened is worthy of its own marker. From the ashes of the most epic of those stories rose the Saint John of today.
In 1877, The Great Fire of Saint John leveled two-fifths of the city. On the afternoon of June 20 following a month of warm weather and little rain, a spark fell into a mound of hay in a storehouse near what is Market Square today. Nine hours later, a fire so intense that some buildings burst into flame without actual contact with the fire had raged across 200-acres, destroying 1,612 structures and killing 19 people. By dark that evening, Saint John had lost nearly all its public buildings, most of the retail shops, eight churches, six banks, 14 hotels and 11 schooners.
In the desperate days that followed, some simply left the city for good, choosing Portland, Maine as their haven, an odd choice given that 11 years earlier that city suffered a similar disaster. But perhaps those refugees made a deliberate choice. After its great fire, the people of Portland decided to rebuild mostly in brick and stone. Saint John leaders came to the same conclusion. Various levels of government built a new City Hall, post office, fire and police departments and other public structures. Merchants drew up reconstruction plans before the rubble was cleared, which took only four weeks. Most of these structures were built of brick and stone with more stringent fire regulations attached. Within a year, Saint John looked newborn with 1,300 buildings erected in that time.
The Saint John City Market, completed the year before the fire, escaped the fate of the many wooden buildings. In continuous use since, it thrives today, standing as an extraordinary example of a Second Empire 19th century city market with shops on the ground level off a long central market hall filled with fresh fruits, vegetables, fish, meats and other goods. Cast iron columns support exposed timber framing. The floor slopes with the landscape toward the harbour.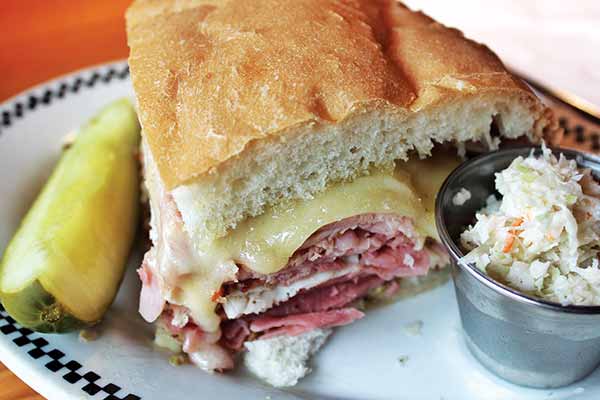 Walking around Saint John
It's here that my walkabout of this historic city begins with guide Anna Stackhouse of Uncorked Tours. We sample New Brunswick wines at Winegarden Estates and some of the 300 pounds of salmon that's cold smoked, hot smoked and candied at North Market Seafood each day.
From the market, Anna leads my group down King Street to Market Square at the harbour's edge where the brick facades of former warehouses built right after the fire are home to Canada's first public library, the New Brunswick Museum, shops and some of Saint John's finest bars and restaurants. Dining and nightlife spill onto the old square to tables with a view of a makeshift stage that hosts live outdoor entertainment. Inside the Saint John Ale House, a wall of rough barn boards holds three dozen beer taps. Over a plate of snacks that includes steamed periwinkles, we sample flights of SJAH craft beers.
Outside, we head down Prince William Street, Canada's first streetscape designated of national historic and architectural significance by the Historic Sites and Monuments Board of Canada. Most of the buildings on these six blocks were built after The Great Fire, including the Post Office and the former City Hall, and are now considered among the finest examples of 19th century commercial facades anywhere in Canada. Atop Corinthian columns and other stone artistry, we spot grimacing gargoyles, floral designs, carved heads and at the Palantine Building—built by the Bank of Nova Scotia—the carved face of a man spitting coins. Inside the East Coast Bistro—among the very best restaurants in the city—one entire wall is exposed brick. We couldn't stay, but the menu looked so inviting, I had to return the next day for smoked salmon and one of their imaginative salads.
We turn onto Grannan Street for lunch at Port City Royal, which achieves style and comfort with a luxurious horseshoe-shaped leather sofa on a Persian carpet set against exposed brick and concrete, the walls illuminated with spotlights. Beneath the old wooden beams, the atmosphere is cosy, the menu creative. Their motto is "Interpreting the old in a new way." PCR's fresh take on the traditional lobster roll is a generous mix of lobster, mint and green onion with buttery little rosettes of salanova lettuce in a crusty bun.
A block away, Princess Street is home to a second centre of Saint John nightlife and dining with five bars in a single block set amid brick and stone buildings dating from just after The Great Fire. At Britt's Pub and Eatery, the brick arches over the windows and the sandblasted sign at the entry painted with a pipe-smoking man in a hat and overcoat are preludes to the working class atmosphere inside this British-style pub. For those who prefer brew pubs, the Big Tide Brewing Company is just across the street in a building that once housed the law school. Thomas Franley, one of three brewers, leads us through a tasting of Big Tide regular and special brews named to celebrate the heritage of the Bay of Fundy's only city—Tidal Wave Double IPA, Fogbound Hemp Ale and Sandpiper Pilsner.
Happinez Wine Bar takes an approach similar to Port City Royal, creating atmosphere by exposing historic architectural features, which starts at the low door cut through a great stone foundation. The low, vaulted ceiling at the entry is brick, as are the walls inside. It's a fun place designed to make it easy for people to meet where wine is served on a board that floats over a layer of marbles on a glass top table next to the "come closer" bench. We end our tour in the company of new friends made over a selection of fine wines and charcuterie snacks, immersed in historic Saint John ambiance forged by fire.
Recipes in this article