Your foodie soul will delight in the annual feast of regional food fests
Miles is proudly posing before a sign that reads "Beef n' Blues" in his "Meatatarian" t-shirt. He's my son, a teenager who has never followed the crowd. While his friends are either junk food addicts or vegetarian converts, Miles has remained dedicated to well-prepared meat since he tasted his first barbecued rib when still in a highchair. I couldn't have found a better combination for him than Beef n' Blues, held at Summerside's Credit Union Place. It's just one event at PEI's month-long Fall Flavours Festival taking place across Prince Edward Island, where local and guest chefs have at their disposal a cornucopia of fresh island ingredients.
At the sold-out event, Miles heads straight for PEI chef John Pritchard's station where he's dishing up beef tartare. Too late, the parent in me wonders if my son should be eating raw meat. Miles is digging in. We make the rounds from station to station, sampling the creative and delicious mini dishes chefs are creating right in front of us: beef on a bun with lobster salad, bacon-wrapped beef tenderloin stuffed with blue cheese, braised brisket corn dogs with butternut squash mustard. My meatatarian is in heaven.
We back away from the tables at last, but not because Miles has satisfied his hunger. The chefs are packing up just as a hot blues band takes the stage. They rock the house under a colourful light show. Miles is loving it, as much a maverick among his peers for his musical tastes as for his grown up food preferences. Beef and blues—a perfect night for a teenager who knows what he likes.
Year-round decadence
On the East Coast, food festivals like Fall Flavours and their component events like Beef n' Blues are popping up everywhere and in all seasons. Winter-weary Haligonians now enjoy a series of reprieves throughout February at the Savour Food and Wine Festival, which consists of six individual events, starting with—what else?—cocktails at Inbibe. My favourite is Decadence because it lives up to its name – wine with both sweet and savoury creations by culinary students showing off their new skills. The closing event, the Craft Beer Party, is a close second. The whole festival actually goes most of the winter because a city-wide dine-around promotion runs from mid January to mid March.
No province distributes festival food fun more evenly than New Brunswick. Chop Chop Winter in Saint John is an encore of their Chop Chop Fall Festival. During both, restaurants across the city offer dishes at three set prices for a full week. When the sap flows each spring, Saint-Quentin hosts the Maple Capital of Atlantic Canada festival, where maple syrup makes its way into foods of all kinds. St. Stephen hosts Chocolate Fest partly to commemorate the town's 145-year-old Ganong candy company, Canada's oldest. In nearby St. Andrews, the festival known as Indulge heads inside every October for cocktail night, afternoon wine trials and a harvest feast of local ingredients by the region's best chefs.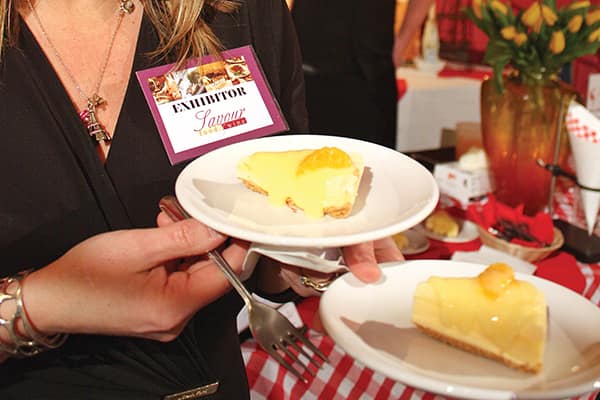 The reason for the season
Festivals that celebrate distinctly East Coast foods like seafood, berries and maple syrup are specific to their season. Lobster festivals, tend to take place at the end of the fishing season. In Shelburne County on Nova Scotia's South shore where they claim to land more lobster than anywhere else in Canada, that's the first of June. The 84-year-old Pictou Lobster Carnival at the other end of Nova Scotia's mainland takes place about a month later because the lobster season ends there in early July. The Cow Head Lobster Festival in western Newfoundland takes place around the same time in one of the world's most dramatic settings, Gros Morne National Park.
Home of the three-foot wild blueberry pie, Brigus, on the Avalon Peninsula about 85 kilometres west of St. John's, celebrates berry season in mid-August by hosting a festival for the humble wild blueberry. Because it's Newfoundland, a scoff of moose burgers is the main course before wild blueberry pie. The wild blueberry is so important to the economy and culture of northern Nova Scotia, the Wild Blueberry Harvest Festival fills the last two weeks of August at over 60 events in 25 communities across the region. You'll probably have to throw away your shirt—that is, if you enter the messy blueberry pie eating contest.
One of the most unusual and successful East Coast food festivals takes place every October in Nova Scotia's Annapolis Valley. Devour! The Food Film Fest is as much about food and wine movies as it is about, well, food and wine. The last time I attended, I watched a surprisingly engrossing feature film about beef around the world. Who knew there was such a variety of beef farming methods, preferences and cultural influences? The film experience was matched by an exquisite dinner in the ornate dining room of the Victorian-period Blomidon Inn.
Big barbecue festivals have found their way to the East Coast, too. Ribfest has hit the Halifax waterfront the past couple of summers with its wall of tall promotional billboards and slick sales teams. While these kinds of travelling food festivals aren't about showcasing local foods or even local culinary talent, they are all about ribs. That's why my son Miles was eager to go. As I sat at a picnic table with plates full of barbecued ribs and fixings between us, I imagined him again as a toddler, gnawing on a bone and looking for seconds, his face smeared ear to ear with sauce. I could hear his little boy voice once again, "Uh huh mo." Translation—I want some more!
Recipe