Savour great food and drink all day and well into the evening
The road next to Moxon's Country Pumpkin farm market looks as if a dump truck had backed up and deposited a pumpkin pile there. Signs of a plentiful harvest are everywhere as I approach Fredericton, New Brunswick's capital, on Route 105, the River Valley Scenic Drive. Here, 15 kilometres outside the city centre, a 10-foot tall potato sporting a top hat and a kooky grin and surrounded by a ring of pumpkins, greets passersby. The potato man, all those pumpkins and a sign that reads, "Grown on the farm, veggie specials every day" lure me in. The bounty inside, harvested from the Moxon's fourth generation farm, hint at the fresh, local ingredients I'll find at restaurants across the city.
Decisions, decisions
By the time I extract myself from Moxon's and reach Fredericton, it's time for lunch. In downtown Fredericton alone, it seems I'm faced with half a dozen choices in every block. I could go ethnic at Caribbean Flavas or an old favourite like Park's Noodle and Sushi or immerse myself in Canadiana cuisine at Smoke's Poutinerie. In the end, I opt for creative contemporary at 540 Kitchen and Bar, a casual neighbourhood gastro pub with a creative menu where I tuck into smoked fishcakes with greens and dill pickle mayo.
After lunch, I head to the Beaverbrook Art Gallery to see the results of a $30 million expansion. From my last visit to Fredericton, I recall fondly one of the most moving art gallery moments I've ever experienced. A docent instructed me to lie on the floor in front of the striking Santiago El Grande, a four-metre tall painting by the great Spanish artist Salvador Dali. It's of Saint James, the patron saint of Spain, riding a white steed rearing up on its hind legs. From the floor beneath the horse, the perspective of the painting is exaggerated, making the viewing of it an even more powerful experience than it already was.
Following the expansion, the Beaverbrook reopened in 2017 with new galleries and a sidewalk café. Most exciting, however, is the new location for its prize work by Dali. Designers created an alcove with natural light that Bernard Riordon, the interim director of the gallery, calls a shrine for the famous work.
After the cerebral art experience at the Beaverbrook, it's time for a late afternoon mental break. In other words, it's time for a beer. Graystone Brewing calls itself "downtown Fredericton's brewery and taphouse experience." They make a dozen or so of their own craft beers on the premises, but it's the combination of their brews with the best from other Fredericton breweries and cideries that pulls me in every time. Today, 22 beers and ciders are on tap from ten small companies. I choose a Dunder, an Australian-style pale ale from Trailway Brewing Company just across the Saint John River. I find a seat outside and sip my citrusy brew.
Evening delights and nightcaps
The ale has roused my appetite. The problem in Fredericton when it comes to finding a restaurant is making a decision. As the provincial capital and a university town, there's a lot of dining out in Fredericton. On this return trip to the capital city, my memory steers me to BrewBakers. The last time I dined here, this most popular of casual fine dining spots wowed me with four courses, each incorporating chocolate in some creative way, course each paired with a local craft beer. I can still taste the baked haddock with white chocolate risotto. Tonight, I'm going for East Coast classic with the PEI mussel and clam linguine flavoured with smoked bacon and asiago cheese.
It's time for a nightcap. The whisky menu at the Lunar Rogue is Frank Scott's masterpiece. With almost 650 single malts and blends, he has succeeded in creating the best whisky menu in Canada. Scott also founded the New Brunswick Spirits Festival in 1995, the first of its kind in the country. A couple hundred people attended the first festival. Today, it attracts thousands. Scott has built Fredericton into a whisky lovers' destination and the Lunar Rogue into what Whisky Magazine once named one of the great whisky bars of the world.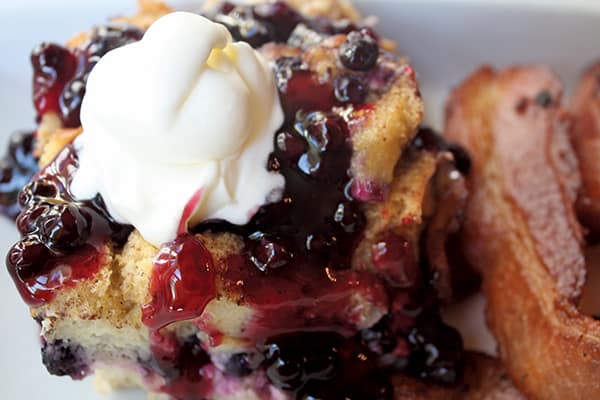 The morning after
Locals say that the Sunshine Diner and the Cabin Restaurant both serve up Fredericton's best hearty, homestyle food, including generous bacon and egg breakfasts. But I've also heard that the breakfast at my accommodations, the five-star Quartermain House B&B, is legendary. It's one of the reasons Booking.com once named Quartermain the number one B&B in North America. The house is a gorgeous Gothic revival-style heritage property with a view of the river and within walking distance of the Beaverbrook Art Gallery and the rest of downtown. I'm staying put.
Downstairs in the ornate dining room, Debra Quartermain serves me breakfast at a sun-drenched table. The first course—who knew breakfast came in courses—is braised pears in maple syrup and strawberries dusted with cinnamon. The second course is a thick blueberry cake topped with stewed blueberries and whipped cream and a generous slice of smoky, thick-cut bacon.
Berries, bacon and maple syrup: with an all-local, hearty breakfast like this, I'm ready for the road. There's just one more stop I want to make, the Boyce Farmers Market. Once there, my cloth shopping bag is soon groaning with the weight of fresh produce from some of the 250 or so vendors. I head for the car, already looking forward to enjoying the tastes of Fredericton, even after returning home.
How to enjoy a wee dram of scotch
Even the experts disagree when it comes to the best way to drink whisky. Some say neat. Some enjoy it on the rocks. Most say that adding a few drops of water actually opens up the flavours, especially in a rare single malt. Most agree that it should be served in a tulip-shaped whisky glass, which helps with nosing the drink before sipping it to enjoy its nuanced notes. First, gently inhale through your mouth with the rim of the glass resting on your chin. Then, hold the glass near your nose, dip in and inhale. Do this repeatedly before taking the first sip. When taking that sip, hold it for as long as possible while additional flavour notes reveal themselves.