Pack your camera kit and head off on a visually stunning road trip
Listen up photographers: there's a sweet stretch of land on Nova Scotia's Eastern Shore, an untapped landscape filled with white sand beaches, surfers on ocean swells, foggy coastline, back-in-time museums, dreamy cafés, backcountry hiking—and 100 Wild Islands—providing a spectacular backdrop for a road trip.
Bookmark three or four days to meander the some 325 kilometres from Cole Harbour, just outside Halifax, to Mulgrave, in sight of the Canso Causeway to Cape Breton Island.
"The whole of the Eastern Shore has significant natural and cultural history photo opportunities," says resident Thea Wilson-Hammond. The region is special to her because she grew up here, but also because of its authentic, off-the-beaten-track experiences and its rugged mystery, like a rough beach stone that shines when wet.
"You need to spend time here to fully appreciate the diversity of its landscapes, from white sand beaches and rugged coastline, to the interior wilderness of its lakes and woodlands," she says."Many people do not understand fog either, but it adds to the mystery of this landscape. I grew up in Clam Harbour, where the fog can advance and retreat all day long! When I try to explain the Eastern Shore, I like to hold my hand up sideways and spread my fingers. The fingers represent the peninsulas of land, and the spaces between my fingers are the harbours. The Number 7 highway runs straight along the beginning of your palm, where the fingers connect. If you don't turn down all the side roads, you will never see the real Eastern Shore.
"Historically, communities built along these harbour shorelines, travelling by boat across the harbours, so that is where there are churches, wharves, and homes. If you just travel the highway, you won't get the full experience."
Thea's photo hot spots include the hiking trails at Clam Harbour Beach and Taylor Head Provincial Park, as well as Admiral Lake Loop off the Musquodoboit Rail Trail. But her top spot? That's the hike out to Devil's Oven, a crevice in the rocks where the water rushes in and out, in Clam Harbour.
"The hike follows the main beach to the many smaller coves that are separated by small headlands covered in crowberry, which makes these headlands smell so good and are so nice to lie down on," Thea says. "When you get out to the oven, there are amazing views of Egg Island light, as well as the other islands that form the beginning of the 100 Wild Islands nature reserve."
There's great hiking too on the Musquodoboit Trail, where photographers find beautiful look-offs from the wilderness trails, which aren't too extreme.
Further down the shore, Thea always stops at the falls in Sheet Harbour and Liscomb, breathtaking after a rain, and follows her passion for heritage, seeking out old churches and graveyards in small communities. "Many of these little churches have spectacular views and the gravestones tell so many stories," she says. "Many people never take the "Loop" road from Lake Charlotte, through Clam Bay, Clam Harbour, Owls Head and Ship Harbour. This is a beautiful, quiet road to cycle and there are several active fishing communities, so I like stopping at the Owls Head and Little Harbour wharves to see the boats and look out at the islands."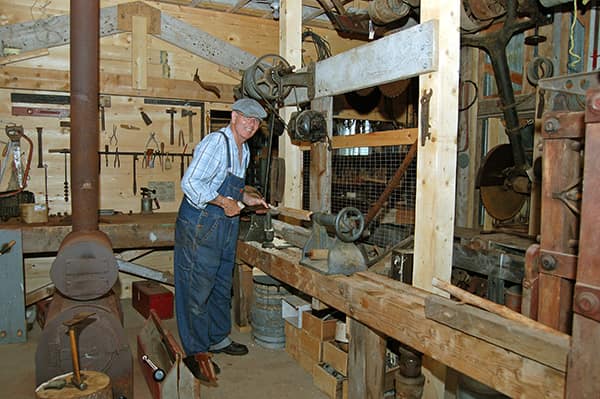 Topping Thea's list of special place though is Memory Lane Heritage Village, where she works as executive director. It's a top spot for photographers. They've hosted many amateur photo groups, and many visitors spend considerable time photographing this tribute to the 1940s. "It's not just that I work there, but it is where I meet my community," she says, "the volunteers who have created and kept this community museum which depicts coastal living in the 1940s.
"Visitors enjoy us because they are free to wander and experience the village without barriers, at their own pace. Photographers especially like that we are dedicated to authentic spaces, there are no labels or signs, and so many vintage artifacts. Certainly our bright red 1948 International pick-up truck is the most photographed object in the village, but I find photographers also like the stressed wood and faded paint on our buildings, the little details like door handles and hinges, and of course the sheep and kittens."
The pristine feeling of the Eastern Shore also appeals to resident and business owner Emma Kiley, who runs Uprooted Market & Café in Musquodoboit Harbour, a popular spot to stop to grab a coffee, picnic ingredients, and locally sourced goods.
"What makes the Eastern Shore special is that the wilderness is untouched, making it feel like you are discovering something brand new," she says.
Top spots for shutterbugs
The Eastern Shore has many beautiful white sand beaches including Martinique Beach (the longest sandy beach in Nova Scotia), Clam Harbour and Taylor Head as well as lots of hiking opportunities, and is only a short drive from downtown Halifax.
"There's no better way to experience the beauty of the Eastern Shore than from the water," Emma says. "Whether you're looking for something a little more hands off like a boat tour from Murphy's Camping on the Ocean, or something more physically demanding like kayaking with Coastal Adventures, you're sure to see wildlife, pristine white sand beaches and rugged shorelines."
Top spots include the 100 Wild Islands, which have gained much recognition in recent years due to ongoing conservation efforts by the Nova Scotia Nature Trust."
These wild islands, stretching from roughly Musquodoboit Harbour to Sherbrooke, are expected to generate even more buzz in future as local organizations work to preserve the untouched landscapes, some of which have rainforest type of plant life.
"I like to call it the untouched jewel, it has a unique beauty. The very rare, raw beauty that our land in Nova Scotia has to offer," says Karen Wenaus, Liscombe Lodge's general manager who frequently drives these roads, to clear her head and rejuvenate.
"The beautiful ocean is right there as you drive along. Starting from the outskirts of Dartmouth you have beach after beach after beach, you could have 25 people on that beach on a sunny day," she says.
"It's not only that, the rare beauty of the little villages you wander upon…here's a wharf selling lobster or fish, it's a very unique scene to see that.
"You don't realize how much is on the Eastern Shore."
If you start the road trip from the Dartmouth end, have cameras ready to capture surfers riding the swells on Lawrencetown and Martinique beaches, beautiful stretches where most of the Eastern Shore surfing takes place.
There's good birding, and piping plovers, on Martinique, while Taylor Head is also a great birding destination, and home to guided hikes every month, including a mushroom hike—so many opportunitues for unique photos.
Quaint museums provide excellent photo opportunities, including the well known Sherbrooke Village in Sherbrooke, where you can dress in period costume and be part of the 1860s, talk to gold miners, have Victorian tea and even learn to fish. Cole Harbour Heritage Museum, a farm in the middle of the city, has a cute tea room and livestock to photograph.
Cafés en route provide fuel for photos and fuel for body and soul. Stop into the Acadian House Museum and Restaurant in Chezzetcook for homestyle meals; the Rose and Rooster in Grand Desert for coffee and treats; and local Sober Island Brewing Company taps in the Henley House Pub in Sheet Harbour.
Continuing along you find Liscombe Lodge, one of the region's larger accommodations. After feasting on the restaurant's planked salmon, work off any goodies by taking your camera as you hike the Liscomb River Trail System.
In Larry's River, photographers will want to stop at the park where rocks are painted to depict the area's Acadian history.
In Charlos Cove, Seawind Landing Country Inn is in a picturesque area, has a good restaurant and holds concerts throughout the year, all perfect for photos.
Pop into the Old Court House Museum for a few photos (you can see the judge's bench) and area information—it houses the Visitor Information Centre. They'll help with genealogy too.
Photo opportunities abound as you drive into Canso. Take a small boat trip over to Canso Islands National Historic Site or visit Whitman House Museum to climb to the rooftop widow's walk to take photos overlooking the water and all Canso.
Back up the shore towards Mulgrave, Port Shoreman Beach Provincial Park is worth a stop, and the Mulgrave Heritage Centre, a building modelled after the Scotia II train ferry, is an interesting photo stop, giving the history of when people had to take a boat over to Cape Breton instead of driving the Canso Causeway.