Exploring the seafood delights to be found on Cape Breton Island
There's only two ways to shell crab," says our jovial host, Derrick Kennedy. "My way and the wrong way, so I'm going to show you my way." Derrick is the manager at Louisbourg Seafoods on Cape Breton Island, where he offers tours of this snow crab plant and a hands-on demonstration of how to shell freshly cooked crab. The demonstration includes a generous sampling of crab and Derrick's stand-up sense of humour.
"See this part?" says Derrick, pointing to a piece of meat he has deftly flipped from the body of the crab. "Don't eat this." He then pops it into his mouth, rolls his eyes and moans, "I love crab."
Between bites, Derrick says this is one of only four plants in the world that prepares crab by steam-cooking them. The crab legs are then frozen in a 92 per cent salt brine kept at -20ºC (-4ºF). Next, they're dipped in fresh water to give them a thin glaze, a trick that triples their shelf life. As he talks, each of us follows his lead, savouring the sweet, delicate crab meat as soon as we coax it from the shell. While there are no official tours, Derrick welcomes anyone to Louisbourg Seafoods during the season, which runs from April through October. Each year, five million pounds of crab is processed here. Derrick says he's more than happy to give a visitor a taste.
History of Cape Breton seafood
At Fortress Louisbourg, just across the harbour from the crab plant, I learn about Cape Breton Island's centuries old relationship with seafood during a four-course, 18th-century-style meal. Our interpreter Sheila Reid—she refers to herself as a servant wench—has over 20 years experience here at Louisbourg and is a rich source of stories and information. Cookbooks of the past contain several recipes for each of many marine species. Mussels and clams were the food of the lower classes. Those with status and means preferred oysters. The upper classes ate rice with their fish. Others had bread. At the time, potatoes were still assumed to be poisonous.
Sheila says we are about to experience 18th century-style fine dining. She begins by explaining that the head of the household or the highest ranking person in the room would serve the food. Feeling more democratic than our predecessors, we elect our server. When our servant wench brings a tureen of soup, our server dishes it up into shallow bowls and passes it around. Later, he divvies up fried cod.
At one time, Sheila says, a man named Jean LeRant owned and operated this building as an inn and restaurant. Whenever he went to sea, his wife ran the inn as a cabaret for soldiers and sailors. Reid says up to 5,000 people might disembark from ships here on a single day. I imagine a room full of raucous, ruddy, seasoned and no doubt smelly men, chowing down on LeRant's seafood dishes.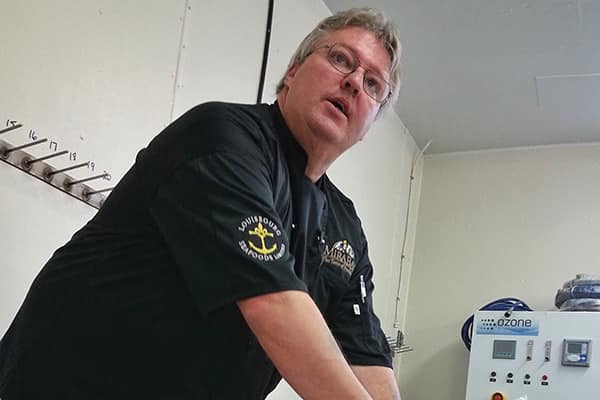 Seafood today
Today, Cape Breton seafood is just as important as it was in the 18th century. An island off an island, Isle Madame is separated from Cape Breton by more than the thin strip of water called Lennox Passage. This French-speaking area has its own culture and traditions, and a long relationship with seafood. The variety of fresh, frozen, dried and pickled seafood at the Arichat Seafood Market and Café competes for my attention with the grab-and-go café menu. I decide on seafood lasagna. It's stuffed with layers of creamy lobster, shrimp and haddock. The place is hopping. Even as I feast, shoppers tote away sacks of fresh lobster and oysters, pickled herring, smoked salmon and mackerel.
With so much seafood available, island restaurants get very creative. At Governors Pub and Eatery in Sydney, chef Ardon Mofford prepares a special ten-item tasting menu just for our group, including North Atlantic shrimp tempura, snow crab crostini with jalapeno, lobster sliders on brioche buns, buttered poached lobster claws, deep-fried halibut bites served on ripple potato chips, Englishtown mussels in butter and Nova Scotia wine, and Mabou oysters served naked. When Mofford sets the final samples before us, we burst into applause. He says each sample is available in full sizes from the restaurant menu, which plates 800 to 1,000 meals a day.
From retired school buses converted into roadside takeouts to full service restaurants, fish is the main dish. In fact, while seafood chowder should be the official provincial dish in Nova Scotia, I prefer seeking new takes on our best fresh ingredients from the Atlantic. Travelling from Baddeck on winding mountain roads, I arrive at The Bite House. True to its name, the restaurant inside a renovated traditional Nova Scotia country home is where chef Bryan Picard presents a menu of bites. Tonight, the snack is cold-water shrimp served on spinach, sprinkled with chives and little blue borage flowers that taste like cucumber.
The unassuming Clove Hitch Bar and Bistro in Port Hood looks like nothing more than a roadside watering hole. Inside, the menu created by young chefs Jason Sampson and Kyle MacLeod is full of surprises. Of course, seafood chowder is on the menu along with regular pub fare, but so are lobster wontons, fish tacos with roasted corn and pineapple salsa, and shrimp aglio e olio (garlic and oil) with linguini. The lunch special I select—lobster sushi—is fresh and flavourful.
At the other end of the dining spectrum, the island's renowned golf courses are equipped with restaurants that specialize in seafood. Just north of Port Hood in Inverness, visitors to Cabot Links can dine at the Panorama Restaurant overlooking the 18th hole. There, scallops are seared with pork belly and gin, then garnished with lime-infused watermelon and shaved fennel. The house made pasta is lobster sorrentini topped with caviar.
Back at Louisbourg Seafoods, our tour is coming to an end. I hint to Derrick Kennedy that I could eat a second helping of crab. He quickly hands me another set of crab legs. As I snap, pinch, pull and pop, Derrick completes his demonstration by saying, "And yes, I am for hire."