Lighthouse hopping around Maine and Atlantic Canada
Lunar is the term that comes to mind as I drive to the tip of Point Riche, a rocky headland on Newfoundland's Great Northern Peninsula across the Gulf of St. Lawrence from Labrador. To the left, the rocks are swept bare of all but the toughest bits of vegetation. To the right is the famous Newfoundland tuckamore—scrubby copse of fir and spruce, severely stunted by wind and weather. Driving this desolate road, I wonder what brought Lorne Hull back here every time he returned to Newfoundland after moving away in 1980.
A passion for lighthouses
Lorne Hull was an amateur lighthouse collector who recorded his finds in a blog. At the end of the road is Point Riche lighthouse, a red lantern room atop a white tower, a structure in what is known as the "pepperpot" style. Since 1892, it's been warning fishermen away from this rocky shore. In his blog, Lorne Hull says of this place, "I have visited this lighthouse on each trip to Newfoundland since I left in 1980. I have always been fascinated by the lonely feeling I used to get being alone on the point, with nothing but the lighthouse and the sea birds."
"I have been called a nut, a fanatic, obsessed," Hull writes. "Actually, I am merely a person with a mission." And what a mission: to visit every lighthouse in North America. On one summer family holiday to the Atlantic provinces, he visited a whopping 64 lighthouses, including Point Riche. I'm no Lorne Hull, but I'm a lighthouse fan and seek them out whenever I can. Like him, I grew up around them, in fact within sight of two on Nova Scotia's South Shore. I understand his obsession, even if I can't equal his passion. Today, since Hull's last visit to Point Riche, something's been added to this lonely place, the key to unlocking eons of human history.
As I continue toward Point Riche, the lighthouse comes into view. So does a small structure in front of it, a low ring of flat, stacked stones with two tusk-shaped metal sculptures rising from opposite sides of the stone circle. When I pull over to take a look, I discover a new monument that marks this place as highly significant. This point was home to several different peoples over the past 7,500 years, including Archaic Indian, Dorset and Groswater Paleoeskimo Indians. So important is this place, it's now part of the Port au Choix National Historic Site. By those standards, the lighthouse is a modern structure and speaks of purely European history.
The Point Riche lighthouse marks the western limit of the section of Newfoundland's coast that the French were permitted to fish. The eastern limit is Cape Bonavista, where another lighthouse, this one squat with vertical red stripes, marks the end of what's called the French Shore. From 1843 to 1962, the light guided sailors to the entrances of Bonavista and Trinity bays. Today, it's a provincial museum recreating the life of a lighthouse keeper in the 1870s. Lorne Hull visited this one too on his epic summer of collecting. I'm sure he was as attracted to the historic importance of Bonavista Light as he was to its beauty.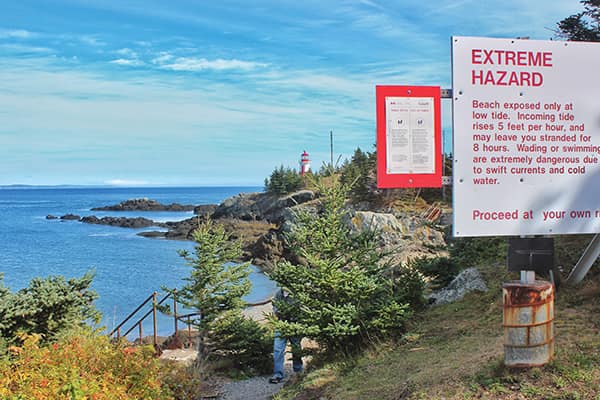 400 coastal sentinels
Sitting in a field of wild flowers nearly 1,800 kilometres south of Point Riche, I focus my camera on the famous Portland Head lighthouse and the red-roofed light keepers' house. It's perched on Cape Elizabeth, a rocky outcrop at the mouth of Portland Harbour on Maine's southern coast. Portland Head is Maine's oldest lighthouse, first lit in 1791 by 16 whale oil lamps. This beauty is just one of six within a 20-minute drive of the city. More than 60 others dot the state's shoreline all the way to the Canadian border.
Nearly on that international border at the tip of Campobello Island sits a lighthouse accessible only at low tide from a series of ladders and beaches. This is the Bay of Fundy where the tide rises five feet per hour, so it's easy to get trapped on the tiny island. The lighthouse itself is a treasure. Another "pepperpot" style, this white tower is painted with a red cross and is surrounded by a jumble of shorter buildings painted white with red roofs to match the lighthouse itself.
When I arrive at the kiosk to check the tides, I'm told that I'm just minutes too late to make the trip safely. Still, it's worth the scenic drive to see New Brunswick's second oldest lighthouse. It dates from 1829. Its younger American sister, the West Quoddy Light, shines from across the water in Lubec, Maine. From Maine's southern limits the road leads to hundreds more coastal sentinels in the Maritimes, Newfoundland and Labrador, some 400 in all. Nova Scotia tops Maine and all Canadian provinces with over 150, enough to keep collectors as nutty, obsessed and fanatical as Lorne Hull busy for many seasons.
Back in Newfoundland on my way from the Point Riche Lighthouse, there's sudden movement in the tuckamore. A moose raises its head and looks my way. I stop the car. A second moose moves into view from a thicket near the first. I lower the window and take a few photos of the foraging beasts. For me, this is what lighthouse collecting is all about. Sure, many are striking buildings in dramatic settings. Some are now important museums, retelling the stories of their keepers, of tragedy and of heroic rescue. Others are just themselves, now automated, but still lit. Their rugged beauty is endangered, so they feel ever more valuable to us. But for me, there's as much value in the wild places, and the deep and dramatic natural and human history they shed their lights upon.
Top 10 Lighthouses Worth Visiting in Maine and Atlantic Canada
Of the 400-some lighthouses in Maine and Atlantic Canada, these are my favourites, selected not only for their beauty, but for their level of interest.
Portland Head Lighthouse, Maine (The oldest in Maine in a gorgeous setting with a charming light keeper's house.)
Cape Neddick Lighthouse, Maine (A photo of it was launched into space to represent life on Earth to aliens.)
Swallowtail Lighthouse, Grand Manan Island (A nighttime showoff in a dramatic setting.)
Cape Enrage Lighthouse, New Brunswick (Startlingly dramatic location and a great restaurant.)
Cape d'Or Lighthouse, Nova Scotia (Like Cape Enrage, a dramatic setting. And you can sleep here.)
Peggy's Cove Lighthouse, Nova Scotia. (Every visitor just has to see Nova Scotia's most iconic lighthouse.)
East Point Lighthouse, PEI (Where the tides of Northumberland Strait and the Gulf of St. Lawrence meet.)
Wood Islands Lighthouse, PEI (See three lights from one location from the deck of the ferry from Nova Scotia and visit a rum-running museum.)
Point Amour, Labrador (The tallest lighthouse in Atlantic Canada.)
Cape Spear, Newfoundland (The continent's most easterly point.)