Devour! The food film fest
I'm sitting down to dinner in a former sea captain's mansion in Wolfville, NS, in the heart of the province's wine country, marveling at the woodwork and gilded mirrors in the Blomidon's Inn Victorian dining room, eager for my first Devour! feast to begin.
On this night, we've happily walked and talked our way back from a screening of Steak (R)evolution, a foodie documentary, held a few blocks away at the Al Whittle Theatre in the centre of this tiny university town, and we're here now to tuck into a five-course, wine-paired homage inspired by the film.
Buzz is that the two chefs involved have spent more than 100 hours prepping the meal that starts with a bone marrow and bread service and includes beef in every dish right down to the mincemeat tarts and Christmas pudding served with Blomidon's own vanilla ice cream.
This is November in Wolfville at Devour! The Film and Food Festival.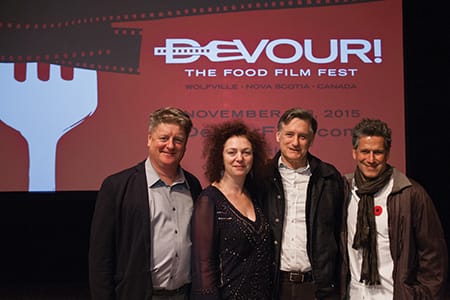 "I love to think of it as a culinary mash-up, with magical films making their Canadian and North American premieres," says Michael Howell, festival founder and celebrated Nova Scotia chef. "You can't get the experience anywhere else. We bring great chefs together to go nuts, to do beautiful food inspired by beautiful films.
"From 9am to midnight, it's food and film like you've never seen before."
Lights, camera…eat
Now entering its sixth year, festival organizers Howell and Lia Rinaldo have done a masterful job building Devour! into one of the most successful festivals in the region, attracting celebrities such as actors Jason Priestly and Bill Pullman and CNN's Anthony Bourdain as participants.
Since its 2009 debut, then titled the Slow Motion Food Film Fest, the November food, film and folks extravaganza has grown from small festival beginnings to the world's largest culinary film fest in terms of the breadth of offerings.
Last year, Devour! welcomed more than 9,000 guests. All major celebrity chef dinners sold out. They dished up more than 40 chefs, 20 workshops, 15 tasting tours, more than a dozen dinners, parties and events, and more than 75 new food and wine films from around the world. Over five days, the festival rocked with screenings of culinary inspired films, industry sessions, farmer's market events, wine tours, and chef demos.
"Everybody's fascinated by food. It has become a pastime, a way of sharing, people are drinking it in," says Howell.
Pairing food with films makes it a unique and unparalleled immersive experience, he says. People can see the food on the screen, and then they can actually taste it.
Take last year, where visitors watched five short films about cheese and then participated in a cheese tasting curated by judges from the Canadian Cheese Grand Prix. The festival is all about these connections.
Sense of place
Walkable, winsome Wolfville, at just under 4,500 people, is perhaps the ideal setting. The tree-lined town is intimate, and beyond its borders stretches the agricultural and vineyard heartland of the Annapolis Valley.
Visitors find camaraderie on the streets where they bump into people they've met at a film reception, or at a cocktail party, they talk with actors and chefs and filmmakers.
"Part of the beauty is exactly that, being here in Wolfville, seeing people day in and day out, sharing your experience. The magic of the town being so small is adding to the festival," Howell says.
The festival is not at all elitist, he says, noting the number of free and $5 events, the $50 film bracelets and $20 student bracelets, the range of events from food truck rallies to Michelin-starred chef events, from chowder competitions to cocktail events.
"We think it's fun. It's the world's largest film festival devoted to culinary."
A real perk for local residents and visitors is that the festival brings international chefs to Wolfville, bringing with them globally relevant cuisine and the chance to try many different offerings. The event showcases the talents of top Nova Scotia chefs and the fresh bounty available locally.
Organizers are increasingly taking their show on the road too, hosting events from Berlin to the Bahamas, all the while sharing the great news about Wolfville.
"We're taking Nova Scotia all over the world," Howell says.
This year, Devour! Film and Food Festival runs November 2-6.