Fish doesn't come any fresher than this
They can reach three pounds," says Captain Perry Gotell of Tranquility Cove Adventures as I hook yet another mackerel from my spot at the starboard gunwales while two other passengers reel in catches on the port side.
"And you're pretty well guaranteed a catch from June to October," adds our skipper. The fish struggles mightily, bending the rod into an arc as I raise the silver wriggling mackerel from the Northumberland Strait off PEI's eastern coast.
"That should be enough for a feed," says Perry, peering into a bucket of 20. Perry fished out of Georgetown, PEI for 30 years, catching lobster, crab, clams and mackerel on the same fishing grounds as his father and grandfather. With the deft hands of a lifelong fisherman, he quickly fillets the mackerel with a razor-sharp knife. Seagulls battle for the scraps that Perry chucks overboard as he works.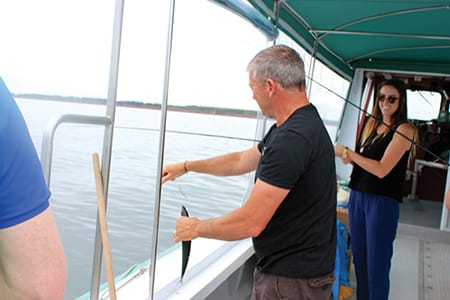 Our skipper lights the barbecue and places a piece of foil over the grate before laying out the mackerel, skin side down. This fish is so fresh, a light sprinkling of a salt and herb mixture is all that's needed for seasoning. Perry closes the lid. Soon the aroma of grilled fish stirs our appetites.
As we wait, we watch the gulls and enjoy the scenery. A rural community stretches along the far shore. A couple of other boats fish for mackerel nearby. In the other direction is an uninhabited island where Tranquility Cove takes guests to dig for giant bar clams. "This is the only place you can get all six shellfish native to PEI," says Perry. "Bar clams, razor clams, quahogs, steamers, oysters and wild mussels."
Just this year, Perry added a Starfish Hunt to his tours. He grows oysters, but starfish are eating them, cutting into his harvest. Guests collect the beautiful creatures, and Perry dries them to be taken home as keepsakes. Of his customers, Perry says, "People want to get off the bus. They want to do, not just see."
Perry lifts the barbecue lid to reveal 18 perfectly cooked mackerel fillets. He dishes them out on paper plates, two pieces each. Cooked quickly on the barbecue like this, the meat is flaky and moist. We devour the steaming hot treat with our fingers.
After our snack, it's time to get back to work. On the steam back to Georgetown, we pass a mussel farm and stop at a lobster trap Perry keeps to demonstrate how the prized crustacean is caught. His assistant snags a buoy with a gaff and hauls in a yellow wire trap. Inside is a lobster with a crusher claw twice the size of my hand. Perry's crew member shows us how to determine the gender of a lobster—the tail of a female is wider than that of a male to accommodate the eggs it carries beneath. Also, the last set of swimmers under the tail is feathery on a female and smooth on a male. We are shown how to measure a lobster and take turns at binding its claws with thick blue elastics.
We take a look at a mussel "sock" with mussels growing all over it. Then Perry tracks down his demonstration crab trap, a conical frame with green netting, and we learn how to hold a rock crab (by the two back legs) without getting pinched.
Fully satisfied with Skipper Perry's educational and delicious deep sea fishing tour, we land at the dock, which is stacked with thousands of lobster traps, a chance for a few more photos before returning to our lives as landlubbers.
Recipes