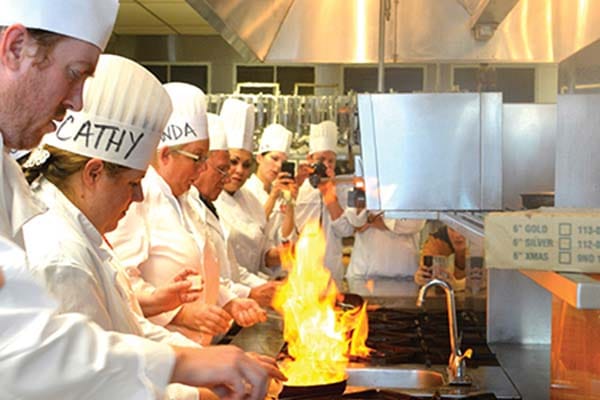 Great culinary tours
The foodie culture is alive and well in all four Atlantic Provinces and culinary tourism is now a recognized and viable business. Our chefs and food enthusiasts are proud to step outside of the kitchen to offer excellent cooking experiences, sharing the bounty and beauty of the four provinces—each with subtleties and nuances particular to the region in which they are found.
Enjoy elegant dinners in the most unexpected of places, hit the water and explore the beaches or trek the woods in search of delicacies and delights.
Here are a few of our favourites. Bon appetite!
NOVA SCOTIA
Dinner on the Sea Floor
Burntcoat Head Park has long been a favourite location for viewing the world's highest recorded tides. Now chef Chris Velden from the Flying Apron Inn & Cookery, located in Summerville, NS, is offering a once-in-a-lifetime opportunity to enjoy a four-course meal paired with wine and beer on the ocean floor in his elegant "pop-up" restaurant. In addition, before dinner you will receive a guided tour of the shoreline and close out the evening with a sunset bonfire on the cliffs as you watch the ocean's tide reclaim the site.
Flying Apron cooking classes offer a variety of experiences: watch a demo class, sample the items chef prepares and take home recipes to recreate in your own kitchen, or participate in a hands-on class—a three to four-hour session of preparation and cooking, followed by a meal to enjoy with fellow classmates. Information: This email address is being protected from spambots. You need JavaScript enabled to view it..
Beggar's Banquet
In the 1700s and 1800s a tradition existed in which the wealthy would hold a secret banquet for the poor. Visit Louisbourg on beautiful Cape Breton Island and experience what this would have been like by dressing in period costumes (provided) and dining in a replica of an 18th century tavern. While enjoying a delightful meal, listen to hostesses Sabine and Angélique as they sing traditional French and English ballads and tell tales of an era long since gone. Information: louisbourgpointofview.com/beggars-banquet.
Argyler Lodge
Chef/operator Jonathan Joseph at Argyler Lodge in Lower Argyle offers guests a unique opportunity that involves lobster, bonfires and beaches. How can you go wrong? The chef will explain everything you need to know about these tasty crustaceans, and then you will take your newfound knowledge down to the shore where you will boil your lobster over an open fire. Information: argyler.com.
PRINCE EDWARD ISLAND
Holland College's Culinary Boot Camps
The Culinary Institute of Canada, located at Charlottetown's Holland College, is the site of half-day, full-day and children's boot camps. Hosted by culinary instructors and chefs, these classes have 10 very distinct themes such as The Bootlegger's Experience and the popular Thrills on the Grill; Island Flavours and Seafood 101. The Kids R' Kookin' and Teens Taste of Adventure are four-day camps that totally immerse youth into the culinary world.
Demo classes tare also available throughout the summer as well. Information: hollandcollege.com/culinary_bootcamps.
Prince Edward Island Culinary Adventures
If you're interested in getting to the source of your food then chef Ross's Culinary Adventures are for you! Chef Ross offers six different experiences, four that will take you out on the water, one that combines land and sea, and one that will have you foraging from one end of the Island to the other. The experiences range from half-day to multiple days and offer a variety of packages. All include chef-inspired, locally sourced and prepared foods provided by chef Ross and his team. Information: peiculinaryadventures.ca/home.
The Table Culinary Studio
Set in a stunningly beautiful converted schoolhouse, owner/operator chef Derrick Hoare offers a variety of classes to choose from. In spring and summer, classes focus on seafoods, artisan breads and a chef's-choice class; in the fall turn your thoughts to pickles and jams. Throughout the summer guest chefs also host classes, each catering to their specialties. Information: thetablepei.ca.
NEWFOUNDLAND AND LABRADOR
Cod Sounds
Lori McCarthy is a foodies' foodie: her passion for the land, sea and kitchen inspired her to open Cod Sounds, a complete culinary adventure. Whether your interest lies in cod jigging, foraging, restaurant walking tours or cooking classes—either hands-on or demo—Lori is your gal! Explore the beauty and bounty of Newfoundland in the company of someone who knows the area inside and out. Information: codsounds.ca.
NEW BRUNSWICK
Lobster Tales: A Culinary Cruise
Who better to host a lobster adventure on the water than a retired lobster fisherman? Ron Cormier has 29 years experience pulling traps, and his wife Denise's father fished lobster for more than 50 years. Now Ron and Denise operate Shediac Bay Cruises and are eager to show you their region and introduce you to the king of the sea, focusing on the old-school fishing techniques that helped form the fishery that is still going strong in their region. Spend two and a half hours on the water; learn everything there is to know about lobster, followed by a true Maritime "feed" with all the accompaniments (non-seafood items available on request). Information: lobstertales.ca/packages_lobstertales.html.
Taste This!
Tammy Brideau has long been associated with the food and beverage industry. A designated sommelier as well, she's the perfect person to lead you on a three-hour walking tour of downtown Moncton, visiting restaurants and sampling of food and beverages along the way. Moncton's ethnic culture is alive and well and showcased on this tour. Information: tastetthis.com/#food-tours.