Delicious Îles de la Madeleine
Scallops grown here are sweet," says Melanie Bourgeois as she pulls a live three-year-old mollusc from an aquaculture net and slices it open with the shell of another. She carves off the round, meaty muscle and hands the half shell to me. I slurp the scallop meat and savour the briny flavour that is, as Melanie promised and as chefs have told her, notably sweeter than wild ones.
I've come here to Îles de la Madeleine, an archipelago of seven islands belonging to Quebec in the Gulf of St. Lawrence between Newfoundland and Prince Edward Island, to find out if scallop farming can work as well as it has for mussels and oysters. And here's the proof, aboard this flat-decked craft used by Melanie and three co-owners of their company Culti-Mer.
One of Melanie's partners operates a crane to raise a set of small pyramid shaped nets from the water. Melanie pulls out a handful of dollar-sized scallops. These young scallops will grow to full size in a larger set of nets, which they pull from the lagoon and lower into a huge fish box for processing. Culti-Mer can harvest up to 100,000 scallops a day, most of them bound for restaurants in Quebec.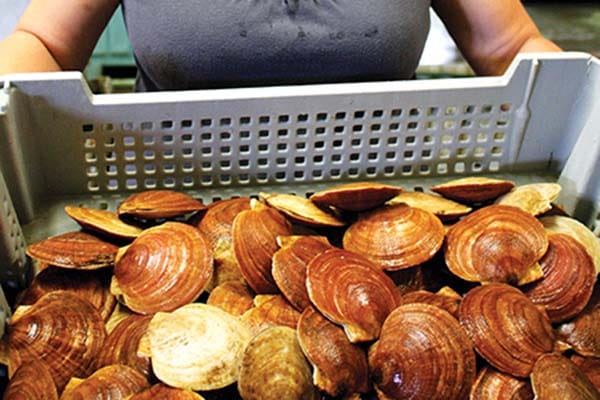 The day is overcast with gusts sweeping across the water, but in the big lagoon on Havre aux Maisons, the sea is relatively flat. Sandwiched between two long sand dunes, the 40-kilometre lagoon is home to Culti-Mer's 116-hectare farm, consisting of 30,000 small aquaculture nets on 450, 250-foot longlines. The lines are strung parallel to each other 40 feet apart.
The four Culti-Mer co-owners once worked at another seafood company that experimented with scallop farming. When it went under, they decided to start their own. Melanie has a graduate degree in oceanography, so with their combined experience and education, they believed they could make scallop farming a success.
To begin, they conducted intensive research, travelling to Japan in 1997 and New Zealand in 1999 to learn about the latest technology and equipment for growing shellfish.
Part of their success is due to demand. Many chefs and customers want farmed scallops for reasons other than the flavour—wild scallops are harvested using dragger technology that damages the ocean bottom. "I have a lot of fishermen in my family," says Melanie, "so I eat wild scallops, too. But farmed molluscs are more sustainable because you don't have to feed them and there's little waste."
Scallops filter the abundant algae from the warm, relatively still waters of this shallow lagoon—it gets no deeper than 10 metres. The tides here are among the smallest in the world. Melanie claims that some days, there is no visible tide change at all. For their scallop farming techniques, Culti-Mer received eco-certification from Ocean Wise, a project of the Vancouver Aquarium to educate consumers about sustainable seafood.
Back on shore inside Culti-Mer's small, immaculately clean processing plant, we sample a few more delicate farmed scallops. When Melanie opens one, I ask why the rest of the scallop is not eaten. "It is," she says. "When I was young, I ate more roe than meat because the meat was too expensive. The whole scallop is edible, but most of it degrades too quickly for commercial sale." On the other hand, Melanie explains, the shelf life of the part we call a scallop is 10 days.
In the small shop out front, I sample scallop spread made with cream cheese and herbs, confirming that sustainable seafood can equal delicious seafood.
Recipes