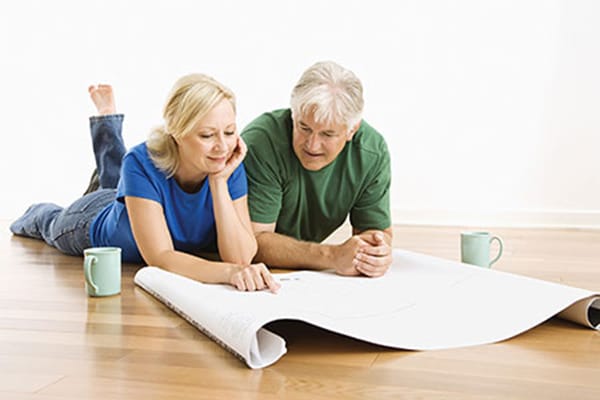 Turn a spare room into new living space
AN EMPTY-NESTER recently asked me for some advice on her son's freshly vacated bedroom. There seemed to be a distinct sense of urgency behind this query. She needed help fast. As it turned out, there was a storm a-brewin' over the remote control in their home. Her hubby was fully entrenched in a certain nice-guy-turned-to-a-life-of-crime-after-a-terminal-diagnosis television series that she thought was evaporating her brain cells with each and every episode. (I know, I know, that show has concluded now, but he has already moved onto another with its own bevy of viewer warnings.) Meanwhile, she was waiting for her turn to watch her beloved English-country-home-full-of-aristocratic-characters show. You know the one. Her husband, meanwhile, wanted nothing to do with these lace clad, hat donning, dramatic characters, and he could care less about who was to inherit the Edwardian country house. They needed a solution, and STAT, before the storm turned into an all out catastrophe.
Now, bear in mind the ex-occupant of the room in question had only just gone off to university and would be knocking at the door from time to time for a place to lay his head after stuffing himself on home cooking. Like many homeowners, this couple needed the extra bed in case of company but also wondered if there was a more practical use for their new-found extra space. One that would allow for blissful unabashed watching of personally preferred programming! Not that long ago, we were a single screen society. In each family home there was one television set. Channels were few and if one person was watching the news, well, then everyone was watching the news. Not so today. With the accessibility of flat screen TVs, laptop computers, tablets and smart phones, homeowners have many more viewing options available to them.
Now, I am not saying that you should never watch shows together. You should. Absolutely, please watch some shows together! But, there are a multitude of specialty channels available and people seem to be steered into watching specific types of show based on their lifestyle and interests. Programming has become more specialized. Because of this we have televisions in more rooms than ever before, and more families want the option to watch more than one show at the same time.
So was the case with my clients. The solution to their TV conundrum was as simple as switching up a few elements in the bedroom to make it work for their specific needs. The couple ended up living happily ever after with a beautiful multipurpose spare room, set up as a den for much of the time but easily converted into a sleeping area when needed.
These floor plans are based on this very same scenario. In the "before" floor plan you can see the original bedroom lay out. There is a bed, night stand, dresser and desk area. The three following floor plans re-imagine the same room on three separate budgets.
Money saver
In the first room, Option A, we have simply moved the bed to the other wall. We reused the same dresser and bedside table. A television was added to the dresser and the bedside table doubles as a place to rest a cup or book; either from the bed or the chair. To further stretch the budget, the chair and ottoman could be repurposed from another area of the home. If they are outdated, mismatched or tired looking, they can be revived easily with a slip cover in a fresh new fabric.
Flexible and comfy
In Option B, the existing furniture was removed from the room and a sofa bed was added. While it is flexible for overnight guests, it also provides a comfy sitting area across from the TV armoire. This piece would have doors to conceal the television when not in use. It would also provide enough storage for guests who are staying longer than a night or two. The storage ottoman can house linens when the bed is not in use. It slides easily aside or under the far window when someone is staying the night. An extra chair was brought in to provide additional seating and a low stool is a handy spot to rest your feet, or a glass on a tray.
Room re-do
In Option C, we spared no expense. A Murphy bed is a wallbed that folds up into a cabinet when not in use. It is a great way to maximize the use of a small space. In this layout we installed one where the desk originally sat. Wallbeds come in a variety of finishes and styles to match any manner of decor. We chose one with additional shelving to maximize the storage possibilities. To balance out the room, we included built in shelving, opposite the Murphy bed, in which to mount the television. This is a great way to display books and other personal items. To add more personality to this room, we included a gallery wall above a small console table. This can consist of framed photos, monogram letters, certificates or any other mountable and framable items that add character to the space. We chose club chairs and ottomans for this room—very comfortable but not too heavy. We want to be able to shift them aside when the bed is needed. One chair can go under the top right window and the other in the lower left corner when overnight guests arrive.
It may be easier than you think to carve out a TV nook from another room in your home. You really do not need much space. There are lots of options; a spare bedroom, an office or even some kitchens can house a comfortable viewing area so that you can end those TV show showdowns for good.
Kimberley Eddy owns Evolve Interior Decorating. Find her online at www.kimberleyeddyfineart.com