Page 1 of 2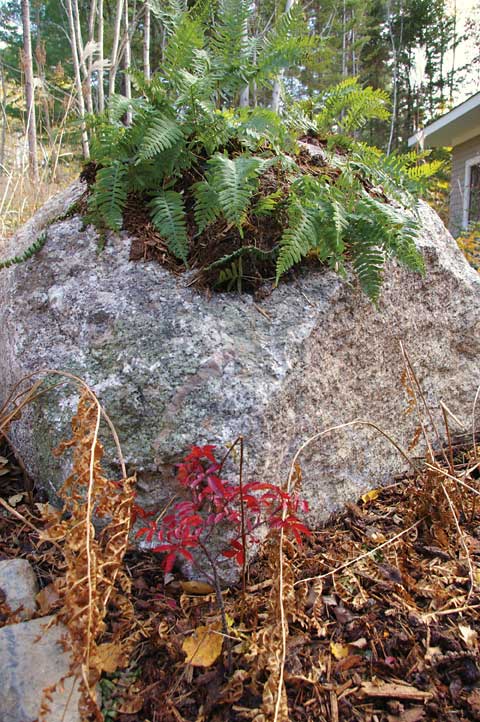 Wasting precious time mowing? Worried about pesticides? Don't like the water bill? Maybe there's a better way.

No matter how you cut it, grass is a problem-especially in the Maritimes where, with the exception of Nova Scotia, there are relatively more households with lawns than anywhere else in the country. Blame it on the fact that we have a higher percentage of single-detached houses than anywhere else in Canada, but Atlantic Canadians are doing more than their fair share of lawn maintenance.

Our quest for perfect turf fuels a billion-dollar lawn and garden industry. However, the more critical cost is to the environment. Chemical fertilizers contaminate our drinking water. Emissions from gas-powered lawn mowers and trimmers pollute our air. Pesticides pose such serious health hazards that a growing list of jurisdictions is banning most of them from cosmetic use on lawns, gardens, parks and school grounds.

The environmental burden of maintaining a monoculture of manicured, non-native grass has people like Melanie Priesnitz rethinking the very concept of lawns.

"Lawns are highly over-rated," says Priesnitz, a conservation horticulturalist at Acadia University's Harriet Irving Botanical Gardens-a green space devoted to plantings that are native to the Acadian Forest Region (an area that begins in New York and stretches through Vermont, New Hampshire and Maine to encompass all of New Brunswick, Nova Scotia and PEI).

Priesnitz is currently exchanging the grass in her own yard for a mix of vegetable gardens, stone pathways and a lush, zero-maintenance carpet of low-lying native groundcovers like Three-toothed Cinquefoil, Creeping Cranberry, Bearberry and Bunchberry. She says that there are many advantages to replacing conventional tracts of treated lawn with native species like these.

Native plants existed in the Acadian Forest Region before European settlement. Over the centuries, they have adapted to the climate and soils of this region. Because they belong here, they require only the water that nature provides. They're familiar attractions for birds and butterflies, and they provide suitable habitat for wildlife. As an added benefit, they have learned to co-exist with other native plants, so unlike alien species, they don't try to take over.

Ten years ago, Bill Freedman began replacing the grass on his downtown Halifax property with native plants and trees, sometimes pushing the definition of "native" to include the Eastern White Cedar, White Trilliums and Mayflower: species that are indigenous to Eastern North America. Six years ago he removed the last remnants of lawn from his yard. "The lawn is a stupid idea," says Freedman, an ecologist in the Biology Department at Dalhousie University. "I teach about environmental problems. Part of walking the talk was naturalizing my own property."

Some of the plants on Freedman's property came from the side of the road. Others came from the sites of environmental assessments he has conducted on areas of vegetation that are slated for destruction. Happily, the search for tough native plants doesn't require forays on roadsides and demolition sites. Although most garden centres specialize in imports, some have begun to expand their selection of native species. As well, there is a growing number of nurseries in Atlantic Canada that carry native trees, shrubs and other plants, (for listings see the website for the Harriet Irving Botanical Gardens).

The pursuit of native landscaping materials goes beyond plants like Lady's Slipper and trees like Larch. Bill Freedman has accented his collection of plants and trees with rocks and Halifax slate. He scatters seashells around the ground-not only for decoration, but also to provide calcium for the soil. The look of the yard is decidedly unconventional, but there have been no complaints from neighbours. "Ecologically my property is the best thing around. I'm in favour of pesticides where there is a benefit to produce food and to protect the environment. For the lawn they are unnecessary."

"Worse than that, they're harmful," says Richard Wetmore, "but many people are trying to replicate the landscapes they see in photos taken in places like Virginia and Kentucky and they don't believe that they can do this without using pesticides." Until recently, Wetmore ran an organic landscaping business in Woodstock, NB. He says that while pesticides make the lawn look healthy in the short term, they actually weaken it in the long term by disrupting the natural biology of the soil. "People don't understand the importance of soil. They think that it's just the dirt where you pour your chemicals in order to grow plants."