Small decorating changes make a big impact, just in time for the holidays
Variations in lighting and textures are a simple way to add both dimension and interest to your holiday décor.
IT'S NO SECRET we decorators love to switch things up. The change of season equals change of décor, especially with Christmas just around the bend. Don't kid yourself; it will be here before you know it, along with the holiday visits from friends and family. Wouldn't it feel great to welcome them into a home that's been spruced up and ready for the season? Doesn't sound like your place yet? Well, grab a comfy chair and mull some cider. Help is here.
Whether entertaining guests or relaxing at home, we spend more time indoors in the winter months. Two spaces that see heavier traffic during the holiday season are the living room and the dining area. Some small changes are all that is needed to get them ready to weather the winter.
Just as we need layers when we go outside to stay warm, layers work to make indoors feel cosier too.
Living room
Layers of textiles
Start with an area rug. Bare floors lead to cold toes, and nobody likes that. Make sure that your rug is ample in size. It should be large enough that, at least, the front legs of the main pieces of furniture sit on the rug. This also works wonders to define the seating area of an open concept living room.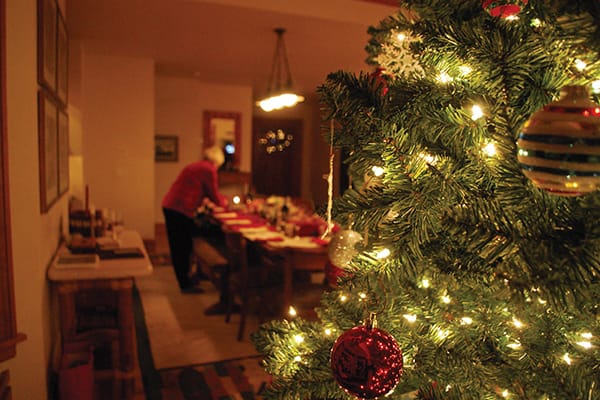 If your seating is worn or stained, consider a slip cover. A seamstress can stitch one up for you in a jiff. Of course, if you happen to be handy with a needle and thread then give it a try yourself on something small, like a footstool. It can save you from replacing the entire piece, or from hefty upholstery fees. This simple trick really makes an impact.
Next, pile on some plush accent blankets. Woolly throws and faux fur blankets add texture, and they are so comfy to snuggle under. Adding a lush sheepskin rug to a chair really makes it welcoming and is right on trend!
Add in some pillows. For a minimalist look, just a couple will do but if you want to embrace an eclectic or global style, don't be afraid to heap them on your sofa in a variety of patterns and rich colours.
Cushion covers are a great way to save on costs. If you can sew a straight line, you can make one out of some fabric remnants. If sewing is not your thing, there are numerous ready-made options at a fraction of the cost of replacing pillows.
Layers of light
If you have a ceiling light in your room, install a dimmer. This instantly allows you to adjust the mood of the space. You can turn it up all the way for a lively games night, or keep it low for an evening of cocktails and charcuterie.
Add a lamp or two or update a tired lamp with a crisp white lampshade—budget-friendly and effective. Position lamps to brighten up a reading space or a shadowy corner.
Nothing adds ambiance quite like candles. Make an impact by grouping them—gather up candles you have scattered throughout the house and bring them all to the living room. Whether you stick to an all-white arrangement or play with different colours, vary the heights for interest. You might want to assemble them on a heatproof tray to catch any drippy wax.
Of course, during the holidays, the extra layer of light created by your Christmas tree enhances the mood of the space and sets the holiday tone.
Layers of art
Sometimes we become art-blind in our own houses. If we leave the same pictures hanging on the same wall forever, we stop noticing them. Switching art pieces around can make them seem fresh and new. Have a look at the art on your walls and try moving a few pieces. Voila! Refreshed walls. Don't just leave art to the walls though. Add a few carefully selected pieces to bookshelves and tables also. Don't forget some items with sculptural appeal, as well as, artful family photos.
Consider leaning some paintings or pictures on a mantle or shelf in a vignette grouping. These add visual interest and are easily changed up.
Dining area
Layers of textiles
Rugs are not a necessity in a dining room, but they do a beautiful job of anchoring the space if they are large enough. Your chairs should still rest on the rug when pulled out from the table.
Slip covers also work well in the dining area as they amp up the sense of warmth and luxury. Increase your comfort with a simple cushion. Depending on your chair style, a little lumbar pillow might even work.
Choose the tablecloth carefully and don't skimp on size. It should drape nicely and complement your dinnerware and décor. Also, consider the fabric type. Easy laundering is important.
Add cloth napkins to your setting. Choose ones to complement your tablecloth but not match. This adds more dimension and interest to your table.
Layers of light
Be sure to replace any burned out bulbs in your chandelier. Dimmers on dining room lights set an elegant tone for a merry meal throughout the holidays, or at any time.
Group candles together in the centre of your table; place them on a platter and surround them with a few sprigs of evergreen for an inexpensive centerpiece with a warm glow. You can even pluck a few small boughs from your backyard, instead of getting them at the florist, and save even more. Although nothing beats the flicker of a real flame, there are some very convincing flameless candles now available. The good ones are battery operated, encased in real wax with a realistic flame, and offer a safer alternative if pets or small children are nearby.
Layers of art
Consider changing up the art in the dining area as was suggested for the living room. The dining room is the perfect space to display family photos. Add a gallery wall of black and white photos or a grouping with similar frames. There are guidelines for picture collections, but no set rules; be creative and have fun with it.
Your sideboard or bar table make a great perch for another leaning art vignette. Setting your art against the wall in this way is a very low commitment option that leaves plenty of room for frequent modifications to your display. Include items of varying heights and finishes in your vignette. This adds lots of visual interest and makes it look random, but still stylized.
A few simple low cost projects and you'll be all set to kick back this winter, sipping on some of that spiced cider with your loved ones admiring your fresh "new" rooms.
Kimberley Eddy owns Evolve Interior Decorating. Find her online at evolve.vpweb.ca.