Carpeting makes a comeback.
There are those who say that carpeting has gone the way of the dodo. Jeff Redden doesn't agree.
"It's true that most new builds are going with hard surfaces throughout," says Redden, a dealer-owner of a hardware and furniture store in Windsor, NS, "but carpeting still plays an important role in creating a comfortable, appealing space. In my industry, we work from the ground up, and flooring, including area rugs, is often the first step in a cohesive room design."
Colour and comfort
For Kentville, NS designer Deborah Maddock, there's a practical reason for predicating an interior design on what's underfoot. "There are lots of different fabrics available for furnishings and accessories," she says, "and paint now comes in any colour you'd like, but here in Atlantic Canada, we have a limited selection of carpeting and rugs."
Maddock enjoyed working with Jeff Redden and his wife, Joanne, on their new house in Wolfville. "They found an area rug for the living room that contrasts nicely with their dark wood floors," she says. "We built on that with fabric for the sofa and accent pillows."
Despite being in the home furnishings business himself, Jeff Redden was happy to turn to Maddock for professional help. "Don't try to do it yourself," he cautions. "The worst thing you can do is to purchase a rug that's the wrong size."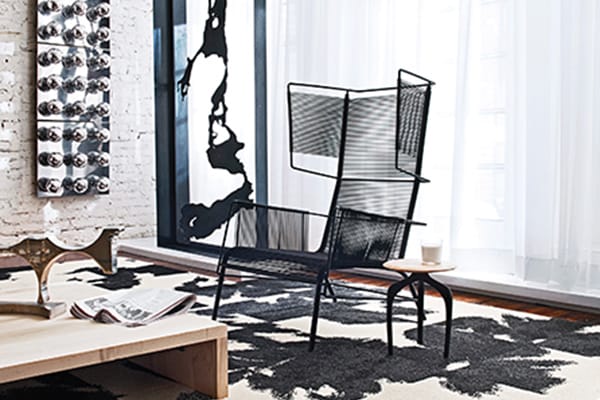 Size matters
As co-owner of a rug and home furnishings store in Halifax, Matina Kousoulis sells hundreds of area rugs each year and believes that any room with wooden or concrete floors requires an area rug. "A rug is like shoes," she explains. "You shouldn't dress up a room and leave it barefoot."
Like Redden, Kousoulis agrees that it's very important to size a rug appropriately.
"In order to anchor the furniture to the floor, a rug should be in proportion to the room," she says. "For most living rooms, look for a rug that's at least 8 feet by 10 or 11 feet. You can define a larger space by positioning furnishings either at the edge of the rug or on top of it, but keep in mind that your feet should be on the rug when you are seated on the sofa."
Kousoulis also offers some advice about the ideal size of a rug for the dining room. "The general rule," she says, "is to have about 18 to 24 inches of carpeting extend from all edges of the dining room table. This balances the table and keeps the chairs on the rug—even when they are pulled away from or up to the table."
Creative statement
With many area rug manufacturers providing the same rug in several standard sizes starting at about 7 feet by 9 feet, it's easier than it was in the past to find the right rug for any space. Once dimensions are decided, it's time for the fun part of buying a rug: choosing the colour and pattern.
"There are always hot trends in décor and design," says Kousoulis, "but our customers are usually influenced more by what they like. Colours and patterns resonate with some people and not with others. In a way, selling an area rug is a like selling a piece of art."
Eco-friendly FLOR carpet tiles capitalize on the idea of carpet as art, even putting the consumer in the artist's seat by providing an online tool that makes it easy to design your own area rug.
"We encourage customers to combine tiles of varying colours, textures, patterns and cuts," says Noel Houtteman, a design consultant with the Toronto FLOR store (the only Canadian retailer for this product). "The possibilities are endless and installation is easy. The only limit is your imagination."
Cosy and warm
In Houtteman's experience, the most popular area rug sizes are 8 feet by 10 feet (30 tiles) and 6.5 feet by 8 feet (20 tiles). Contrary to popular opinion, he also sees a steady demand for wall-to-wall carpeting. "The majority of our commercial sales are for wall-to-wall installations," he says, "and many people are going that way for residential as well. Homeowners are renovating their basements and attics to create home theatres, gyms, play rooms, man caves and extra bedrooms. Wall-to-wall carpeting creates a feeling of warmth and reduces the transmission of sounds to rooms above and below."
At a flooring and woodworking specialty store in Coldbrook, NS, owner Tony Newcombe has seen a decline in the sale of wall-to-wall carpeting for living rooms, but says it still accounts for about 50 per cent of the bedrooms he does. Only a decade ago, the majority of his carpet sales were low pile neutrals and oatmeal-coloured Berber, but current tastes run to Saxony twists in shades of brown and gray. "Noce (walnut) is the new beige," he says.
The other news in wall-to-wall carpeting, according to Newcombe, is a dramatic improvement in durability and stain resistance. "One product we carry comes with a double stain treatment," he says. "I can pour a cup of fruit juice on it and then dab it up with a cloth without leaving a mark."
Carpeting may be down, but it's clearly not out. And at the end of the day—which is the ideal time to lounge in front of the fire—there's no better reason than comfort for covering those trendy, hard-surface floors with carpeting and rugs. In the words of Matina Kousoulis, you can't sink your toes into concrete on a chilly evening.