There's a new math when it comes to kitchen appliances. The old formula included one refrigerator, one stove and one dishwasher, resulting in a geometric space called the work triangle. Lately there's a new point to the work triangle, thanks to multiple work areas, multiple cooks, and hot new appliances.
Anything that has the EnerGuide rating is selling well these days. Stainless steel, commercial-style appliances are today's top sellers, with professional-looking cooktops, ovens, ranges, refrigerators, dishwashers, microwaves, cabinet-mount warming drawers, and wine fridges creating a sleek, contemporary team.
If there's a captain on this team, it's the once-humble stove, an appliance that now rivals the hearth as the heart of the home. As entertaining spreads into the kitchen, the stove has emerged as a focal point, not only for food preparation, but for design, with looks that range from retro to minimalist and up-market accessories like stone and tile surrounds, pot-filler taps, and sculptural exhaust hoods.
Six-burner gas cooktops, and four-foot-wide ranges have a distinct appeal, but they take up more space, require more ventilation, and generally cost anywhere from twice as much to 10 times as much as their regular counterparts. The good news, however, is that standard cooking appliances have come a long way. No longer restricted to the traditional, freestanding range with a backsplash control panel, today's consumers can choose from drop-in and slide-in ranges. Drop-in models are installed (or dropped) into cabinets and rest on a kick plate. Slide-in offer the same built-in look, but because they slide in on their own base, installation is usually less expensive than drop-in models.
Until recently the wall oven and separate cooktop was the typical choice for anyone who wanted a gas cooktop and an electric oven, but new dual-fuel ranges pair gas cooktops with electric ovens for the ultimate in temperature control and efficiency. According to Bob Bond, a manager at Jordan's Home Furnishings in New Minas, NS, who has been with the store since 1989 and knows his appliances, professional chefs prefer gas cooktops. In many parts of Atlantic Canada, that translates into liquid propane.
Serious cooks are also enthusiastic about convection heat, which is now available in both gas and electric ovens. Unlike conventional ovens, convection ovens use a fan to circulate heated air throughout the oven cavity, cooking food faster and more evenly.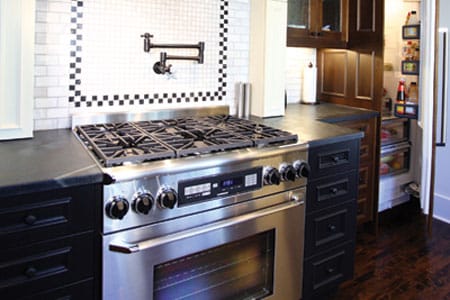 New induction cooktops are a further advance in quick, consistent cooking. In induction cooking, electricity runs through coils under the ceramic top, creating a magnetic field. When a cast iron or magnetic stainless steel pan is placed on the element, the current will pass through the pan, heating its contents. At both Jordan's and Sears, induction cooktops start at around $2,000, and, despite the steep price, Richard Greenough, an appliance specialist at Sears Canada on Chain Lake Drive in Halifax, thinks they just might catch on.
Like the stove, the refrigerator has seen some recent improvements: adjustable-height glass shelves; through-the-door ice and water dispensers; adjustable storage bins; glide-out baskets; multiple controls for temperature and humidity; and exterior drawers. Refrigerators run most efficiently when they're 75 per cent full. A 20 to 25-cubic-foot fridge makes a good choice for a family of four, but a single person or a couple may find that a more efficient apartment-sized fridge is adequate.
Because the newer fridges are so energy efficient, Bond is frustrated when a customer purchases a fridge but plans to keep the old one as an extra. "The energy costs for an older fridge are around $45 for each billing period," says Bond. Six billing periods amounts to $270 a year. "With a new refrigerator, it's closer to $45 for the entire year." Natural Resources Canada supports Bond's sentiment, with a quirky suggestion on its website that you don't plug an old appliance into your wall; you plug it into your wallet.
With new dishwashers, it's not necessary to pre-rinse dishes by hand, and they use up to 25 per cent less water than older models. Another feature that conserves water as well as electricity is the delay-start timer, which washes dishes when energy rates are lower. Other attractive options include multiple cycles, easier loading systems, and heaters that raise the temperature of the water - essential for clean dishes and glassware.
Quiet operation is also an attractive feature. "The old dishwashers were loud because you had a pressure washer going inside a box," says Bond. "The new ones spray a fine mist of hot, soapy water that coats the dishes and cleans them by soaking." According to Bond, the older dishwashers ran on a ¼-horsepower motor. He says that the newer models have motors that range between 1/24 and 1/32-horsepower. "In size, they aren't unlike the windshield-wiper motor in your car."
There is a staggering range of prices for regular residential dishwashers, with some starting as low as $250. "I call these the 'hole-pluggers," says Richard Greenough. He says that a cheap fridge will keep food cold, but don't expect a cheap dishwasher to clean your dishes thoroughly. The spraying systems are less effective, which calls for vigorous pre-rinsing. The good news, however, is that, like all major appliances, dishwashers have come down in price over the past few years. At Sears, the top-of-the-line Kenmore dishwasher sells for around $400, while higher-end units like Bosch start at about $800.
Lately microwave ovens have been on the move. With prices that are substantially lower than even a few years ago, many of the newer models no longer hog premium counter space. Instead, they make their homes either below the counter, in specially designed drawers, or above the stovetop, where they double as exhaust fans.
The microwave/exhaust fan combo is only one of the advances in range hoods. In fact, some of the newer range hoods look more like modernist sculptures than ventilation systems. However, even the arty types are there to do a dirty job: eliminate the grease and smoke that leaves a sticky film on cabinets, walls and work surfaces. Range hoods can be ducted to the outside or non-ducted. Their power is measured in CFMs (cubic feet per minute). Greenough recommends one CFM for every 100 BTUs of cooktop power. In other words, 40,000 BTUs of burner strength adds up to a 400 CFM range hood.
With so many choices in technology, design and energy efficiency, buying new appliances can be very confusing. Factor in a broad selection of colours and styles and it gets even worse. The solution is to do your homework: see what's available from local retailers, subtract outdated notions of standard kitchen configurations, and then add the elements that reflect your own home. There are guidelines to follow, but in the end, you do the math.
A short extension
In the past few years there have been significant changes to standard new appliance warranties, with most manufacturers now offering only one year. The price of a five-year extended warranty for a standard refrigerator ranges from $60 to $100, about the cost of a single service call.
Reduce your energy footprint
An initiative of Natural Resources Canada, EnerGuide helps consumers select the most energy-efficient products. Major electrical appliances sold in Canada must meet minimum standards for energy efficiency and are required to display the distinctive EnerGuide label showing how much energy they consume in a one-year period. An appliance receives a special Energy Star rating if it is significantly more efficient than minimum government requirements.