Peter Hicklin was studying contemporary French literature at Mount Allison University when scientist and environmental advocate David Suzuki came to town to deliver a guest lecture. Suzuki's discussion of the relationship between birds and the environment intrigued Peter so much he was hooked. He went on to study  wildlife management at Acadia and later earned his master's degree researching the semipalmated sandpiper.
Birds have been a mystery to people since the beginning of time. Where do hummingbirds go in the winter? Is it the same robins that return to your yard every spring? How long does a blue jay live? When Peter visited Evangeline Beach in 1974 and saw thousands of semipalmated sandpipers, he wanted to know where they came from, why they were there, and where they went. No one knew. It became his passion to find out. In the process he has discovered the richness of the mudflats of the Bay of Fundy; in the 1970s many people thought they were wastelands. He developed a special trap for catching the birds, and he has found the answers to his initial questions about the semipalmated sandpipers' habits.
It wasn't until bird banding became an organized activity that questions such as Peter's could be answered. The first recorded incident of a metal band attached to a bird's leg took place about four centuries ago. Then, in the 1890s, a Danish school teacher was the first to attach his name and address to bands in hopes they would be returned to him. They were, and valuable information began to be collected.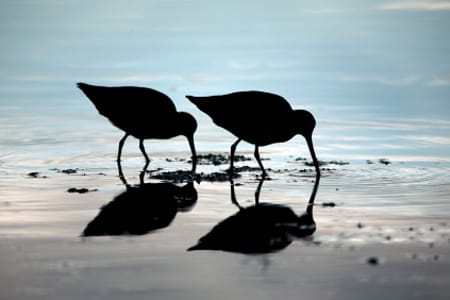 Today birds are captured and banded in many ways. Immature birds can be caught while they are still young and adult birds while they are incubating their nests. Most birds are caught in traps, including a mist net that captures flying birds without harming them. Peter's banding takes place on the beach at Johnson's Mills in Shepody Bay, Bay of Fundy, during daytime high tide periods when the sandpipers roost, or rest, on the beaches. His team uses the Fundy Pull Trap, a net [designed by Peter] that can be quietly and quickly pulled to form a tent over the sandpipers, and which Peter developed specifically for this purpose. The net puts less stress on the birds, and allows for a large capture and speedy banding because they do not have to be untangled from a mist net, the more traditional technique for catching small wild birds.
Once the sandpipers are trapped, Peter and his staff hurry to remove the birds and place them in holding boxes. They rush the boxes back to a nearby banding cottage. There, the holding boxes are covered with towels and placed in a dark room; the darkness keeps the birds calm. Each covered box is then brought to the banding table, where single birds are prepared for banding. One person removes the bird from the box and hands it to another. This person places the band around its leg and passes it to another team member who measures its wing length. Another researcher measures its bill, while still another attaches a small white plastic band in the shape of a flag above the metal band. All the while, workers are calling out numbers and information to other team members for recording. Each bird is handled for less than three minutes, placed back into a box, and soon carried back to its flock on the beach. On average, the time between a bird's removal from the Fundy Pull Trap to its release is about one hour.
It was the little white flags that were first placed on the sandpipers in 1988, in addition to the usual band, that proved it took about a week for the birds to travel from the Bay of Fundy to Suriname, on the northeast coast of South America. In that year, four days after they had started banding and flagging the sandpipers,  Peter received a call from the Caribbean director of Parks, who told him, "I'm sitting here in the middle of mangroves, watching a sandpiper with a little white flag on its leg. Could it really be one of yours?" Peter responded that yes, indeed, it could be. Soon after, reports started coming in "by the truckload," he says.
The information learned from bird banding is important and fascinating. Such things as territorial behaviour, mate fidelity, territory size, and reproductive behaviour, including which bird builds the nest, feeds the young, and how often, can be determined. Thanks to banding, we've also learned where birds migrate and how long it takes them to do it. This is important information for conservation, says Peter. Once you know where a particular species spends time, you know whom  you have to contact to help organize  conservation practices.
Banding has also taught us that some bird species live 10 to 20 years or more in the wild. A black duck was found in Newfoundland that had been banded  20 years earlier. Small songbirds, oftenthought of as frail, may live a surprising length of time; there's a record of a  hummingbird that lived as long as 12 years.
Although Peter has found the answers to his original questions, there are new questions to explore. The semipalmated sandpiper population now appears to be in decline and scientists do not know why. After 25 years of studying the birds, Peter is still passionate about discovering how nature works. "I hope to find out if the decline is actually happening and how to stop it," he says. He hopes bird banding will help him find the answers to these questions.
If You Want to Help the Birds:
Anyone wishing to take part in the Maritimes Shorebird Surveys can contact the Canadian Wildlife Service at 506-364-5058 for information, or e-mail This email address is being protected from spambots. You need JavaScript enabled to view it. The Nature Conservancy of Canada has assisted with  maintaining the globally significant environment required by semipalmated sandpipers in the Bay of Fundy by  purchasing land to be reserved for nature. To find out  more about the organization or to donate funds,  visit their Web site: www.natureconservancy.ca Or contact their national office at:  110 Eglinton Avenue West, Suite 400 Toronto, ON, M4R 1A3 Toll-free: 1-800-465-0029
If You Find a Bird with a Band
If you find a bird with a band call: 1-800-327-BAND (2263). This office is located in Maryland, U.S., but takes calls from all over the world and forwards the information to the appropriate countries.
Or write: Bird Banding Office, National Wildlife Research Centre, Canadian Wildlife Service, Hull, Quebec, K1A 0H3.
Collect as much of the following information as you can: If the band is still on a living bird make note of as much information as you can read from the band. Also note the type of bird and exactly when and where you saw or found it. Do the same if the bird is dead, and make note of the cause of death if known. Check to see if there are any other markings (coloured bands or flags, for example). Include your name and address and forward all of this information to the Bird Banding Office, or call the reporting headquarters' phone number listed above.