Whether you're a new gardener or a seasoned pro with green thumbs and toes, winter is a time of assessment and planning.
Ah, winter. Gardeners tend to regard this season with a mixture of relief, horror, and anticipation. The relief stems from the fact that now we have time to catch up on our reading and the other activities that we may have neglected during the gardening season. The horror is that we're faced with an Atlantic Canadian winter, which is rarely a good thing.
But winter is when we cast a critical eye over the season just past and think about changes and additions we hope to make when spring finds us once again.
Looking out at the various beds around our property when things are lush with flowers and foliage (including weeds, but we won't talk about them right now) gives me the opportunity to plan out some of what I'd like to see next season, and to plan the steps I'll take once snow disappears and new growth begins.
Sometimes we just want a change. Perhaps we decide some high-maintenance or short-lived perennials need to go, to be replaced by colourful shrubs and ornamental grasses. Maybe we just want different vistas from our windows, regardless of the season.
Over the past couple of years, I've been improving the gardens that I can see from my office windows, where I spend most of my working time. The changes mean that a glance out my windows leaves me dazzled by bee - and hummingbird-attracting flowers during the growing months, and encouraged by handsome shrubs, trees and perennials with good winter interest during the months leading to spring. We also planted another bed with Japanese anemones, helenium, and late season grasses, which are still eye-catching when other beds are winding down.
If you're an experienced gardener and are considering changes to your existing yardscape, ask yourself a few questions:
What is the purpose of your garden? Is it for show, a place for entertaining family and friends, or for encouraging wildlife?
Are you spending too much time on fiddly tasks like mowing and trimming?
Do you have areas you want to leave undisturbed, to encourage native plants?
Do you enjoy dividing heaps of perennials in the spring, or do you want fewer maintenance tasks?
Are you interested in adding some hardscaping (arbours, walls, paths, decks) to your property?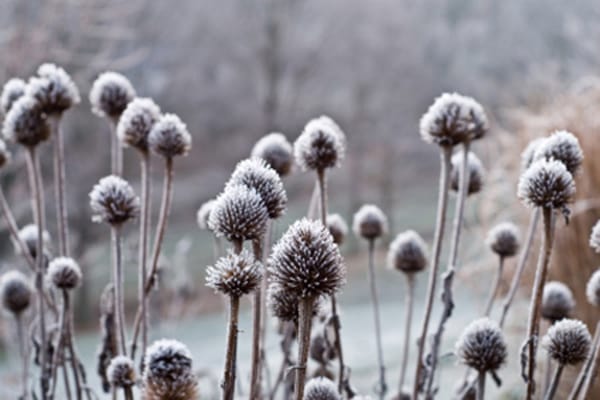 For those who are just beginning a gardening adventure, it can be exciting to look at a bare patch of ground, but it can also be a bit daunting. Don't panic, however. Let's assume that there's already some lawn around your property - perhaps a few trees and shrubs - but otherwise you have basically a blank slate. Here are some factors to take into consideration when planning your spring gardening adventure.
Your time constraints: Anyone can have a nice-looking property planted with shrubs, trees and perennials, whether they're beginners or experienced. You do need to decide whether you have enough time (and energy) to tend to your plantings - and if not, consider having a garden service in every few weeks to do any required maintenance. There are certainly "low-maintenance" plants and gardens, but I debate the existence of no-maintenance plantings. Containers need watering, ground covers need weeding and directing, and most perennials need at least occasional dividing and deadheading, but garden chores can be therapeutic and relaxing, rather than onerous to-dos.
If you're new to gardening and not sure of your interest levels or time constraints, do start off gently, with a small mixed border or containers. You can always add more as your interest and confidence build.
Your budget: There's no getting around it - starting a garden, or re-doing one, is an investment in money as well as time and energy. If you're putting in hardscaping features like rock walls, walkways, or decks, you need to budget for them as much as for high quality plants.
But think of these features as something you can do over a number of years, especially if you're patient and don't have a problem with works-in-progress. Perhaps you can put in a gazebo and firepit this year, a stone walkway next year, a rock wall and water feature the following year. Decide when you wish to develop each feature, and consider planting only annuals, perennials, or vegetables in areas that you may want to develop in future years - these are far easier to move or replant.
Your growing conditions: If you've been gardening for a few years in your present location, you've gained some sense of what your soil is like, and what sort of growing conditions exist on your property. For example, you know that the garage throws part of the yard in shade for the afternoon, or that the southern exposure of your yard is hot and dry, or that the prevailing winds come out of the southwest or northeast, depending on the time of year.
If there are existing trees or shrubs, you need to know what species they are so you can select perennials, bulbs and groundcovers for planting beneath them. If you're in a new site, winter is a good time to watch the way the sun and wind play on your property. During snow-melts or heavy rainfalls, observe where excess water pools without draining away - these will be areas that might cause problems later on.
You can't tell much about the soil's fertility or drainage during winter, but when it comes time to make beds, remember that compost is your friend - a great fertility-booster as well as an improvement for any type of soil.
Are you a collector? Perhaps you're interested in a dedicated bed of hostas, daylilies, iris, echinaceas, dwarf conifers, alpines, roses, or some other type of plant that particularly appeals to you. Depending on your collecting interests, it will be extremely important to situate that collection bed in the right spot. You won't want to put hostas in full sun, for example, nor alpines in a soggy location, or you'll be doomed to disappointment.
Your personal tastes: Colour is a highly subjective topic, and what appeals to one gardener may cause another to go screaming off into the wilderness. Sometimes a mono-chromatic colour scheme, such as a white-flowered garden, is particularly striking and effective, or you may wish to harmonize your plant choices with your house's siding and accent colours.
Your seasons of interest: We used to think of spring and summer as the main gardening seasons, largely because of our need to plant and grow foods during those months. These are still important seasons, but more and more of us are interested in what author Nancy Ondra has named "fallscaping," which is to plant gardens that will look good in the autumn months. To embrace fallscaping, you need to become acquainted with later-blooming shrubs and perennials, ornamental grasses, and plants that display excellent autumn colour, seedheads, berries, or other types of fruit.
You can certainly plant in autumn - I'm always adding new shrubs and perennials to our gardens during September and October, because the warm days and cool nights make ideal conditions for plants to settle in after transplanting.
But autumn is also a great time to design for fallscaping, so you can put in some fall-interest plants in spring and early summer. They'll settle in and grow into a better display by the beginning of autumn than if you wait until late summer or early autumn. You'll also find a far better selection of plants at most nurseries early in the season than in August and September.
You may also want to continue creating four-season interest by planting for "winter interest." In our Atlantic Canadian climate, that means developing an interest in broad-leafed and coniferous evergreens, as well as shrubs and trees with interesting bark, twigs, berries or seedheads. Broad-leafed evergreens such as the so-called English hollies gleam with brilliant scarlet berries against glossy green-black foliage, while conifers come in a dizzying array of sizes, shapes and foliage colours.
Some perennials have evergreen tendencies, particularly ground-covering species like Japanese spurge (Pachysandra), wild ginger (Asarum), bugleweed (Ajuga) and periwinkle (Vinca), but there are other evergreen perennials, including some of the ferns, barrenwort (Epimedium), seathrift (Armeria) and heucheras and their relatives (Heuchera, Tiarella and Heucherella).
The most important thing to remember? Gardening is meant to be a pleasurable pastime, not a stressor. Even those of us with challenges like goutweed can find it cathartic when we go out to whack it with a hoe.
Enjoy planning your garden this winter - new or adapted.