With a little work, owning a pool or a hot tub can be a lot of fun.
For years, I envied friends with swimming pools and hot tubs. Now, I am the fortunate owner of an above-ground pool, but that fortune appears to have come with a bit of a price: I've just spent the morning fishing shot-glasses and rum tumblers out of the bottom of my pool. They were thrown there by the pool's previous owner.
My husband and I purchased this home in December. At the time, the swimming pool was full of black, frozen water. We were full of enthusiasm and fantasies about how much fun our family would have this summer in our new pool.
After we moved in and met some of the neighbours, we found out that the pool hadn't been used—or covered—for four years. In the spring, we had a couple of pool companies come out to give us quotes for cleaning and setting it up. One estimate was more than $3,000.
We were wondering if we would have to get rid of the entire thing—but before doing that, we've decided to roll up our sleeves and do the best we can to clean it up.
Brad Sweet, a partner at Holland Home Leisure, points out that we've started out with the worst possible scenario. "But a little bit of work can add up to a whole lot of fun," he says. "Once you get going with it, it should be fine."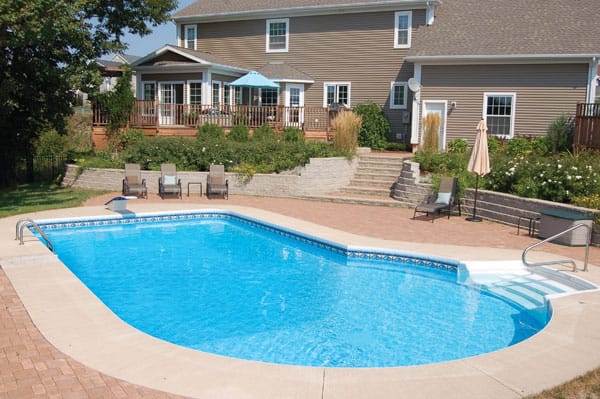 Our experience is—hopefully—an exception to the typical pool-owner's experience; if you're putting in your own new pool or hot tub, not to worry. "Every credible supplier should explain all the maintenance requirements and costs of swimming pool or hot tub ownership," says Sweet. "There shouldn't be any hidden pitfalls."
The truth is that pools and hot tubs do require some maintenance for every week they're open. If our pool's previous owner had invested just 15 minutes a week each summer, we wouldn't be dealing with such a mess. But this person also left an adorable seven-year-old cat behind—so, enough said.
Sweet says customers today are looking for the most convenience at the lowest cost—that's why automatic pool covers have become so popular. "They open and close with the push of a button," he says. "Traditional solar blankets serve some of the same function—they hold the heat in the pool during the summer—but they require more effort."
Sweet says consumers have long had an interest in salt-water pools. "Salt water pools have about one-tenth the amount of salt in ocean water, but it is enough to give swimmers the feeling of additional buoyancy and the therapeutic properties of salt," says Sweet. "They also require less weekly maintenance than a traditional pool."
Once an in-ground or above-ground swimming pool has been installed, you'll have to decide how you want to heat it, if indeed you do. Gas, solar panels and electricity are all options. You must also factor in the electricity required to circulate the water and the costs of balancing, treating and sanitizing the pool. Sweet says it's difficult to put a number on the cost of running a pool since each pool's size, filters, maintenance and heating systems are variable.
If you're more interested in a hot tub, there is an enormous selection to choose from. They range from basic two-seater models to deluxe eight-seaters, fully loaded with turbo deep-tissue massage jets, garden lighting, waterfalls and built-in surround sound.
Chad Brandimore, owner of Atlantic Hot Tub Wholesale, says maintaining a hot tub should only take 5 to 10 minutes a week. "You need to clean the filters, balance your water, wipe the dirt off the sides and so on. Most owners do their own hot tub maintenance but many suppliers offer affordable weekly and monthly maintenance programs." Pool suppliers do the same.
Some of the costs associated with setting up a hot tub in your backyard include pad preparation (generally a concret foundation) or deck reinforcement and labour for the licensed electrician required to hook it up. Otherwise, the cost of running a hot tub is based on the frequency of usage and the amount of time the cover is off.
Sweet says today's swimming pool and hot tub owners are interested in the energy-efficiency of the system they are purchasing. "Five years ago, no one asked how much it would cost to run a pool or hot tub," says Sweet. "Now most of our customers ask."
Once you've done your research and cost analysis, you can make an informed decision about whether or not you are ready for the responsibility of a swimming pool or hot tub.
We may not have been completely prepared for the work involved with our abandoned pool—but even if it's only half as enjoyable as our new cat, it will certainly be worth it.