It used to be that as summer gave way to autumn, cottage owners began preparing their summer residences ready to weather another Atlantic winter. You drained the water system, put away the beach toys and hammocks and chairs, turned off the electricity and locked everything up. Aside from an occasional foray to check on the property during the winter, cottages sat stark, cold and empty in the dark season.
Times have changed, and with them so changes the traditional use of summer cottages. Many people are deciding that winter escapes to the cottage are a perfect anodyne to the seasonal blahs, and are spending winter weekends enjoying their second homes. Others have seen children grown and gone from the family nest, and so are selling their residences and retiring to their former summer homes. Whether opting for occasional winter weekend getaways, or turning summer retreats into year-round homes, most property owners need to improve cottage insulation and heating in order to be comfortable during an Atlantic Canadian winter.
Energy consultant Arthur Irwin, of Halifax, says that before embarking on making their summer homes winter-habitable, property-owners need to decide how often they'll actually use their cottages during winter months. "If the family spends Christmas only at the cottage, it makes a difficult decision to upgrade the energy efficiency," he says, "But if they spend several weekends at the cottage during the winter, the investment becomes more practical." (Such an investment will also pay off should the family decide to sell their cottage.)
The first challenge is how to retain the heat inside during winter. Many cottages have no insulation, having originally been designed for use only during the summer months.
Jeff McMahon owns several cottages that he renovated and rents out year-round in the scenic community of Kingsport, NS. "Like many cottages, our oldest cottage had wonderful cathedral ceilings, but also bedroom walls that didn't reach all the way to the ceiling," McMahon says. "What we did was build a second roof six inches higher than the original one, and then insulate very well between the two with fibreglass insulation. A fireplace insert and wood stove heat the place nicely during winter." A second, newer cottage nearby was built on a concrete slab insulated with Styrofoam panels, and is easily heated with an electric baseboard system and small woodstove.
Donna Cail-Wallace has had a summer home right on the beach overlooking the Minas Basin of the upper Bay of Fundy since 1994. In the autumn of 2006, the retired realtor decided to refurbish the cottage into her year-round home. Wanting to cut down on drafts, have an efficient heating system and more space for family and friends, she hired a contractor who specializes in putting in foundations to raise the nearly 50-year-old building and put a basement under it.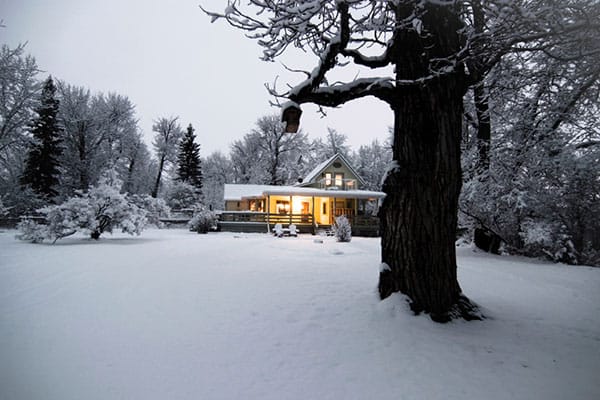 "We were lucky in that the cottage had been well-built originally, and the original structure had been properly wired and insulated," she says. "Because we weren't making the cottage any larger in terms of length or width, an environmental assessment wasn't necessary. We got our permits, the contractors and subcontractors did their jobs, and everything went accordingly." A modern forced-air furnace in the finished basement and a small wood stove in the living room keep the dwelling warm and snug—even when Fundy gales are pounding salt spray at the house's exterior.
With insulation taking care of one aspect of staying warm at the cottage, thoughts turn to how to heat your winter getaway. Heating options vary for cottages just as they do for homes and businesses, and the amount of time you're going to spend there during winter affects what you invest in for a heating system.
Wood heat is a popular choice for many cottagers who like the romance of the wood stove as well as the relatively low cost of fuel. Arthur Irwin advises people to select woodstoves with care. "The biggest mistake a large percentage of homeowners make is oversizing of the wood stove," he says. "Purchase a stove you assume will be too small and it will probably be perfect. A small stove with an active fire will perform very well. An oversized stove will overheat and you must maintain a small fire. If you maintain a small fire in a large stove, the temperature of the gases going up the chimney will not be high enough to maintain good combustion, and you will then get into creosote problems."
For those weekenders who don't want to mess around with firewood and chimney care, electric heating is often the fallback choice. There's no concern about furnace or oil barrel problems, and as long as winter storms don't shut down the power grid, heating is safe and simple (although it can get pretty darn costly if left on when the cottagers are away.) There are dozens of portable electric heaters in a wide range of heating capacities and pricing. Fan type heaters will direct heat flow exactly where you want it, unlike wired-in baseboard heaters. Regardless of the type you use, keep furniture, curtains, luggage and other flammable items well away from electric heaters to avoid the risk of fire.
One lamentation often heard about using a cottage in winter is that it's going to be cold when you arrive. However, for those using anything but a woodstove, there are heating systems that activate with a phone call to the thermostat in the cottage. This turns the heat on so that when you arrive all you have to do is unpack and start making s'mores and hot chocolate. There are various systems on the market, but do make sure that yours has a security code so that someone telephoning the cottage when you're not there can't activate the heating system by accident, costing you money and possibly presenting a fire hazard.
Although homeowners can certainly do some of the jobs required when preparing a cottage for winter usage (such as adding insulation, burying water and sewer lines properly, and caulking windows and doors), it pays to have your heating system installed by properly trained and qualified technicians. Arthur Irwin encounters many heating systems (regardless of fuel type) that don't perform correctly because the installer was not properly trained. "At one time, you and your Uncle Jim installed a new furnace on the weekend. Today's furnaces are more high-tech and require diagnostic test equipment," he says. "Moonlighters do not know how to size piping and pumps and the system will not perform properly. Guess who pays?"
For wood stoves, hire an installer who has Wood Energy Technical Training (WETT) certification. Such installers are aware of all fire regulations and will install your wood stove according to safety codes. "If a homeowner installs a woodstove and the clearances are incorrect and a fire occurs, forget your insurance: there is no coverage."
Although heat pumps are becoming popular for new homes, they're best used on highly insulated structures and tend to be too expensive up front for the average consumer to choose for seasonal heating. Likewise, although the pricing for wind and solar power option has been going down while the efficiency has been improving, most systems are still too costly (in terms of initial purchase and installation) for occasional use.
Fuel Cost Comparisons
Energy consultant Arthur Irwin provides a list of fuel cost comparisons as a handy guide for cottagers looking to use their summer homes during the cold months. These figures are based on comparative prices for fuels as of August 2009, but are subject to change based on fluctuations in price of petroleum, wood and electrical heating sources. They do not include the price of furnaces, stoves, heaters or installation.
Furnaces are rated in BTUs per hour: a bungalow might require an 80,000 BTU per hour heat output. (A BTU or British Thermal Unit is the amount of heat required to raise one pound of water one degree Fahrenheit in temperature.) Each dollar value indicates what it costs to produce one million BTUs.
Heating with mixed hardwood: $15.00
Heating with pellets: $32.00
Propane furnace: $50.00
New oil furnace: $28.00
Electricity: $39.00
High efficiency natural gas: $12.00