Get ready for the holiday season with these easy and inspired holiday crafts
With the holidays upon us, it's time to celebrate with friends and family, but getting your home ready for revelry can bring on serious seasonal stress. Both time and money are in short supply for most of us at this time of year, so adorning your abode for the holidays can seem daunting on top of all your other tasks and expenses. Tackling one small project each day and using natural and re-purposed items to create beautiful embellishments can rescue your wallet and your sanity through Christmas this year.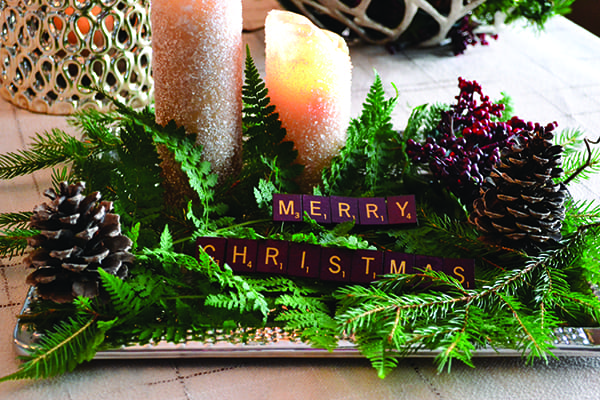 First day: a greeting-card tree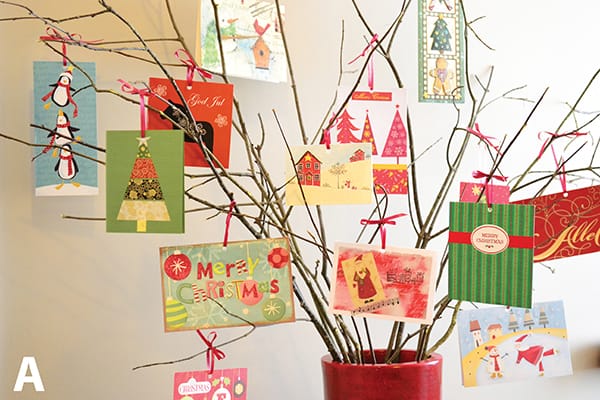 Christmas cards start popping up in mailboxes early in the season. Creating a designated space for them will keep them organized and on display. A basket or a tray works well to corral the cards, but a card tree will help you highlight the prettiest ones. Simply arrange a few bare branches in a vase. You can paint the branches or leave them natural. (See photo A.) Punch a hole in each card, then hang them from the branches with a piece of yarn or ribbon.
Second day: snowy candles light the way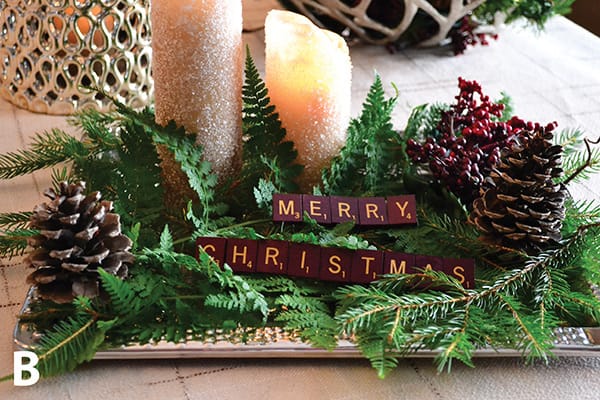 Glowing snow-covered candles will enhance the mood of your holiday fête. You can use candles that you have around the house (even if they're colourful or partially used), or purchase a few inexpensive white pillar candles. Brush on non-toxic white glue, roll the candle in Epsom salts and arrange them on a plate with some greenery. (See photo B.)
Third day: spread the word
A little lettering can go a long way. Try setting out a silver tray with a Christmas message, like Joy or Noel, spelled out in Scrabble letters. Or add your message to the snowy candle display you made on your second day of decorating. (See photo B.)
Fourth day: merry Mason jars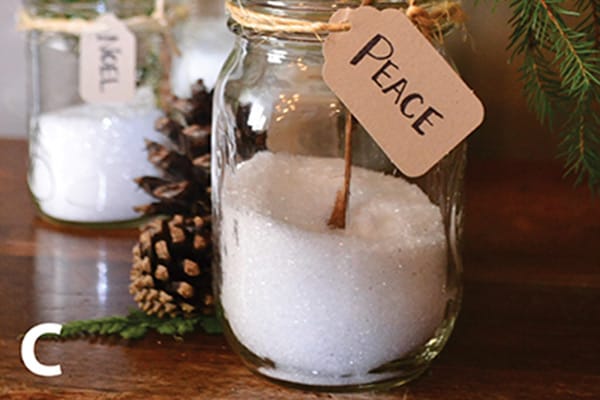 Mason jars are versatile, inexpensive and probably in your cupboards already. Use them to set a festive scene on your windowsill, hall table or even a bathroom counter. Using some of the left over Epsom salts from your snowy candle project, fill the jars about a third of the way, and place a sprig of greenery in the salt. Use twine to affix a tag with a joyful message. (See photo C.)
Fifth day: snowflakes all 'round
Get a few little doilies at a discount store and starch them (using cornstarch, water and a spray bottle) to make pretty little snowflakes to hang on the tree or in a window. String them up using thin fishing line, and they'll almost seem to float. If you have children around who want to get involved in the decorating, give them some safe scissors, white paper and teach them how to make cut-out snowflakes.
Sixth day: sugarplum village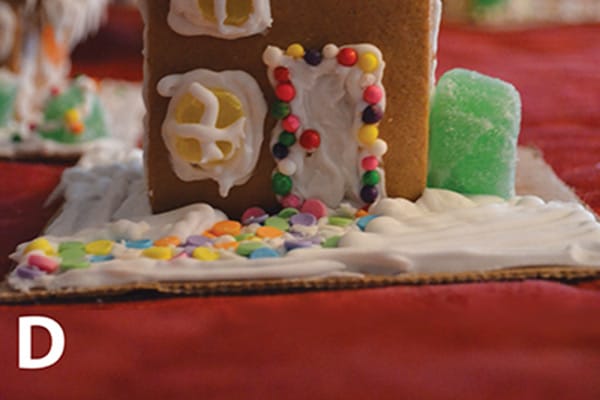 Kids love to be involved in the countdown to Christmas, so spend an afternoon making a miniature village out of gingerbread houses and candy trees. If you're feeling especially motivated, bake your own gingerbread, or you can simply purchase a kit like we did (see photo D).
Seventh day: the kitchen
Give your kitchen a little extra attention when decorating this year. A baby potted fir tree will look sweet on your kitchen table. Liven up your windowsill with a bit of greenery, shimmery baubles and some lights. String a garland of gilt pinecones or glittered seashells.
Eighth day: snazzy staircase
Wind white lights and evergreen boughs on your staircase and mantel, and use florist wire to affix pinecones to the boughs. Use battery-operated lights if you don't have a plug nearby. Keep the look natural and uncluttered so your tree remains the star of the show.
Ninth day: trimming the tree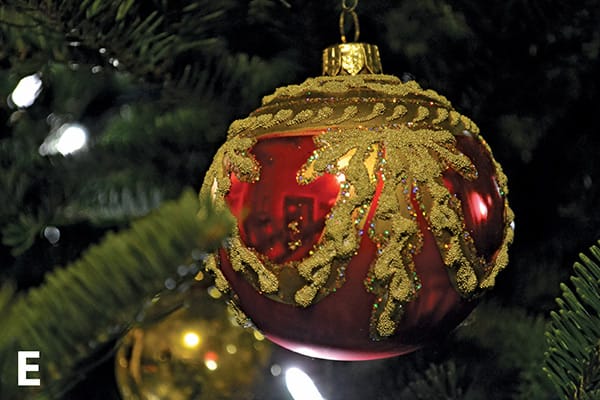 Try adding a few extra embellishments to your tree this year to make it extraordinary. Buy specialty candy canes or sprinkle a little glitter on pinecones, seashells or tired-looking ornaments and hang them on the branches. (See photo E.)
Tenth day: quirky tree scene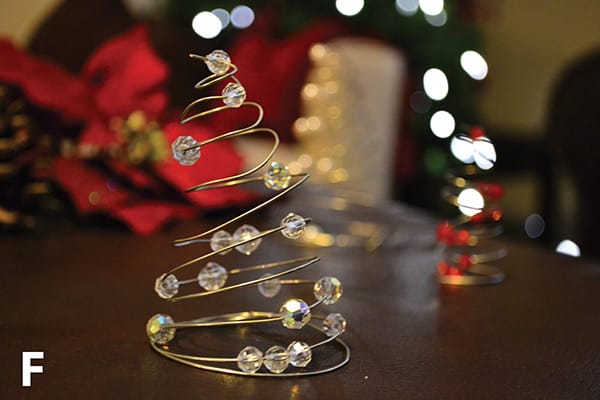 Part elegant and part Dr. Seuss, these springy little trees add a little whimsy to your home for the holidays. (See photo F.) All you need is a Styrofoam cone, wire and beads. String the beads onto the wire and wrap around the cone to shape.
Eleventh day: berry wreaths
Take down one or two pictures you have hanging in your home and replace them for the season with berry wreaths. This works well in bathrooms and foyers, but you can use them anywhere in the house.
Twelfth day: festivities begin
Your home should be all set for the season. Today, finish off any little projects that need completing. When you're all done, sit back and enjoy everything you've created. Turn on the Christmas lights and pour a cup of holiday cheer.
Kimberley Eddy owns Evolve Interior Decorating.