But with gas or charcoal? It's a heated debate
I WAS INTRODUCED to grilling very early in my life. My family always camped and I was in Cubs and Scouts from a young age, so cooking outdoors was natural for me. Whether it was over wood or charcoal briquettes, it was always fun and satisfying.
I'm not sure when we got our first propane grill, but I remember a couple of very basic models. That didn't matter—our tastes were not sophisticated as we ate mainly hotdogs, hamburgers and baked potatoes. Not exactly patio gourmets!
After moving out and into my own home, I soon saw the neighbours' big grills on the back deck and the race was on. How many BTUs could I afford? The fever had taken hold; I began to learn and explore.
Whether you're just starting out, or already consider yourself a grill master, there's always something more to learn. Let's start with some basics.
Fuel options
The most popular fuel for grilling is propane. It's a quick, convenient and relatively clean option for grilling.There are hundreds of models of propane grills, almost all connected to a 20-pound propane tank, which you can easily refill at a local propane dealer.
Charcoal is a traditional fuel for barbecue. Made from wood, it allows you to skip the smoky start up and get right to the efficient, hotter stage. Many will recall charcoal in the form of briquettes, often in a little hibachi or inexpensive, three legged grill. While these made great memories and the greatest burgers, I sometimes wonder if I am the only one who thought they seemed like an ash generator at times?
Lump charcoal is just charcoal with no additives, which is not to say there aren't good and bad brands of lump charcoal. Lump tends to be hotter and definitely leaves much less ash behind than briquettes.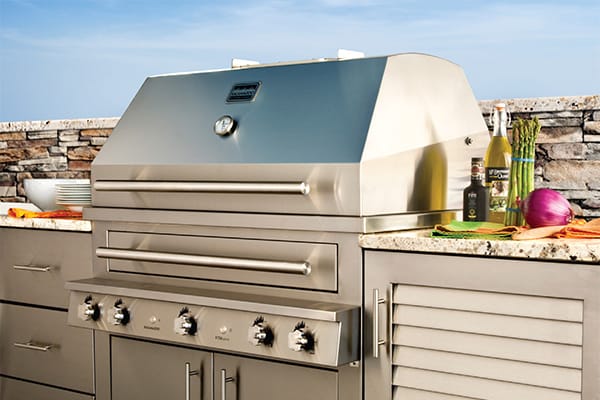 Wood pellets are another relatively new fuel on the barbecue scene. When pellet stoves became popular for home heating in the '80s, a few people realized that this heating system could be used in barbecues. The earliest was Joe Traeger, who invented pellet grills/smokers and has been refining them ever since. Wood pellets are easy to use for smoking foods, just by changing the air and fuel mix, though they generally aren't able to cook at the high temperatures of charcoal. One minor disadvantage of pellet grills is the need for electricity to feed the fuel and air into the combustion chamber.
A number of grills use electric elements for their heat source. These obviously require an electrical connection and would, therefore, be tied to your patio and not something you could take to the beach or tailgate party. They are, however, very convenient, safe and quick. Many are approved for indoor as well as outdoor use, but generally can't reach the high temperatures required by some recipes. And they can often be used on an apartment balcony, where most charcoal or gas fuelled grills are typically banned due to the fire hazard.
The great grill debate
There is no questioning the ease and convenience of cooking on a gas grill but there are definitely some enthusiastic "discussions" between those who grill over gas and those who believe that charcoal is the only real barbecue. Personally, I have a foot in both camps as I own three grills (down from five due to domestic pressure): one propane and two charcoal. I love my propane grill; it's quick to light and I have created some incredible food on it, but I admit its limitations especially in terms of temperature range and flavour.
For the very best barbecue experience, I believe that lump charcoal is able to lift outdoor cooking to a higher level of creativity and flavour.
I often use my standard Weber kettle for quick and easy cooking or as a second grill when I am out of space. The propane grill serves this purpose regularly as well. My primary grill is a ceramic kamado cooker. I was first introduced to kamados in the mid-90s. Today you can find kamados in all types of outlets from building supply stores to high end specialty fireplace dealers, with pricing ranging from $700 up into the thousands.
Prices and options
So what grill should you choose? There are many, many choices.
Gas options run the gamut in terms of price, which can range from less than $100 to models exceeding $30,000. (No, that's not a typo!) Within that range is obviously a huge difference in quality and features. For quality, let's first look at material. Stainless steel is number one but be careful of the grade. You want a non-magnetic grade, which is more corrosion resistant. Carry a small magnet in your pocket when grill shopping; you will be surprised how the magnet will stick to some grills, the lower grades of steel.
Next, check out the burners and controls. There are many types of infrared burners, for example, as well as controls and ignition systems. This can be a dizzying experience but if you check reviews and warranties, along with the dealer's reputation, you will do fine.
For charcoal, there are fewer choices and the price range and technology doesn't approach that of gas. You can certainly buy a charcoal barbecue for less than $50 but the top end can go as high as $10,000. Within the range of charcoal barbecues, the most common categories are steel and ceramic. Porcelain-coated steel, such as in the Weber kettle, is the most popular. In ceramic there is the ever growing range of kamado-style cooker/smokers.
Kamados are related to a Japanese style cooking pot made of clay, dating back almost 2,000 years. These types of cookers were first brought to North America by soldiers returning after the Second World War. In the 1960s, design and material improvements were made and the first ceramic kamado was sold. In the early 1970s the Big Green Egg was created and the category began to grow; now there are dozens of competitors. The average price for a kamado is $1,000 to $1,800 with some lower and a few higher in price.
The key advantage of a kamado grill is you have the ability to control temperature across a huge range; you have the ability to cook for a long time at very low temperatures. I regularly do a large pork shoulder at just over 200°F (95°C) for 16 to 20 hours to create the most mouth-watering pulled pork. Or you can crank up the temperature to 900°F (480°C) or higher for searing steak or making authentic wood-fired pizza in 90 seconds. You can even bake cakes, breads, beans and stews on your kamado. The other attractive feature is how easy it is to smoke in a kamado.
At our house, we regularly do Thanksgiving or Christmas turkeys with just a little maple smoke but we have also cured and smoked our own bacon with a pork belly from a butcher barbecued over maple for up to eight hours.
There are many choices. Start your search by figuring out your budget, factor in the type of food you like and how much time you realistically have to cook outdoors and you will find the right grill or barbecue.
Now go get cookin'!