How to bring harmony to your rustic getaway
MANY OF my clients tell me they can only relax and unwind when their environment is in order—when "to do" lists have been checked off, the house has been cleaned and they are settling down in a room where the elements are harmonious.
If you go to your cottage to renew, refresh and revive, the surroundings clearly need to be calming. A sense of discord can arise if there is a lack of storage space, or if the cottage becomes a dumping ground for items no longer wanted at home.
The good news is that summer is just around the bend, which makes spring the perfect time to take on a weekend project to perk up your retreat.
A peaceful palette
The first order of business is to purge. Identify which of your belongings are either useful or cherished. Be ruthless; do not second-guess yourself. Once you put a piece in the give-away or throw-away piles, do not look back.
Be honest with yourself—how many coffee mugs do you truly use? Furniture, too, should have a practical purpose or be much-loved; if you don't use it or it's broken, it's time to let it go. Your newfound space will be worth it.
Like the tired pieces in our "before" photo above, some of those items that survived your purge may not match the style or colours you want for your renewed space.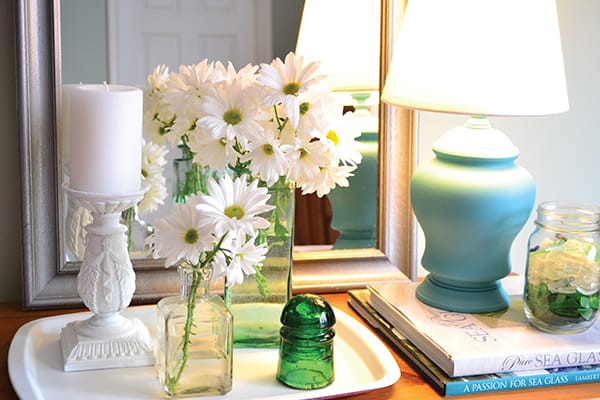 With a little imagination and some elbow grease, you can perk up those pieces and pull together a peaceful palette for your home away from home.
My goal, with the "after" scenario, shown at top, was to give the access-ories a cohesive look—as if they had been placed together for a reason.
I used white matte spray paint to update the tray and candle holder, because white provides a clean slate and works well with the tranquil colour of the wall. The combination of white and blue is a classic cottage colour scheme.
The mirror was given a lighter look with a pounded metal finish. This silvery colour kept the look luminous and cool. The base of the unattractive glass lamp gets a facelift with a coat of blue paint just a few shades darker than the wall. Add a new white shade, and it looks as good as new!
One way to inject your personality into your cottage decor is to display some of your own collections—everything from shells to stones to pinecones can be corralled and placed in a basket, glass or shadow box. Keeping similar objects together unifies the look and maintains the sense of organization.
The beach glass that my family has collected over the years is displayed in a Mason jar, as shown in the "after" photo on page 69.
The glass vases tie in with the polished hues of the beach glass assortment, and are perfect vessels for a handful of fresh blooms.
Hardware primer
One quick and easy way to perk up your cottage is to change outdated hardware. If the metal finishes of your doorknobs, lighting, plumbing fixtures and cabinetry handles are looking a little weary, new hardware can add a finishing touch.
Melissa Price represents a North American importer, distributor and manufacturer of specialty hardware products. She says yellow metals, such as brass and gold, are popular right now, and that one of her company's most popular finishes is polished nickel—a white metal with a subtle warm undertone which reflects this trend. It is also a classic look that works well in a cottage context.
Price says those looking for a rustic patina may want to consider hardware in warm, dark shades; these work well with popular mid-tone natural woods. An aged brass look is a great transitional tone; it lends itself well to a variety of styles, including cottages.
Although most people stick with a single finish for all their hardware, Price says she is seeing more clients mix finishes.
She suggests that we think about hardware as we think of jewellery—for example, it's common to find a necklace that mixes silver, black and gold. To achieve this eclectic look, Price suggests starting with matte black pulls and knobs, then bringing in lighting or plumbing fixtures in a separate finish.
"Think of it as a great pair of classic black pants that go well with other colours—depending upon the style you want to express," she says.