The rebirth of a community centre in Cormier-Village, NB
IN A SMALL village, just inland from the coast of southeast NB, the centre of a small community has been reborn.
In 2005, fire destroyed the Cormier-Village community centre. Now, after years of careful consultation and planning, the people of the community are once again enjoying communal dances, wedding receptions, Tai Chi, card games and meetings at the re-imagined Centre Culturel et Sportif de Cormier-Village.
The story of the building's recon-struction is a lesson in consultation, education and decision-making.
Today, the saltbox-style building, 70 by 100 feet (21 by 30 metres), which was constructed using traditional solar and new alternative energy technologies, stands proudly, as do the villagers who pitched in to make its construction a reality.
Engaging the community
After the original centre burned down, the people in the community were uncertain about whether a replacement should be built.
Eventually, a committee was struck to take a "community inventory" to determine not just whether the residents wanted a new community centre, but what they would like to see included, if one was to be built.
To that end, resident Dan Stote, a retired federal government consultant, along with his fellow committee members, knocked on every door of the 116 homes in Cormier-Village.
A number of concerns surfaced: first, people were distressed about the deterioration of the environment around them—especially their river, the Kouchibougouac, where siltation and declining fish populations were the aftermath of a clearcut near its headwaters; second, the villagers wanted a place where they could meet, hold wedding receptions and especially—dance!
Those door-to-door queries revealed that there were many tradesmen and contractors in the area. Two alternative energy specialists turned up—one with expertise in drilling geothermal wells, the other with experience in installing in-floor radiant heat. Those skills would prove extremely valuable.
Affordability was a big concern for project planners. Files from 2007 showed projected costs for heat, lights and hot water in a new centre at $16,000 for one year. A June 2010 analysis predicted $18,000 yearly, with costs going nowhere but up. At the original community centre, says Laurie McGraw, treasurer of the new centre, "We spent all our time raising money to pay for the heat."
The committee began researching energy efficiency, and found Paul Arsenault, a developer of green homes in Moncton. The committee's next challenge was to determine what would be the best way to introduce the concepts of sustainability and energy-efficiency to a rural community that had little experience with, or knowledge of, concepts like passive solar energy.
The committee, meanwhile, had the use of a temporary meeting place at a historic village schoolhouse, which gave them the advantage of a comfortable three year planning period.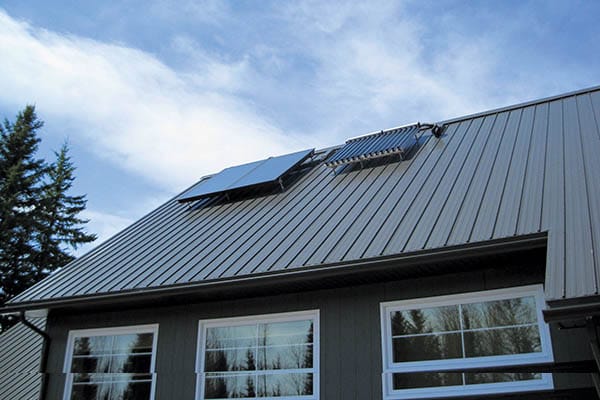 They decided to introduce the new ideas through a series of talks led by local resource people. The topics: traditional passive solar efficient design; durable and long-lasting building materials and techniques; life-cycle costs; and energy efficiency. Workshops on water quality and conservation, and on how to restore the river, were delivered by the local watershed protection and education group.
After all consultations were complete, the committee brought the residents together at a public meeting, where it was agreed the community centre would be rebuilt.
As the project evolved, the new construction committee developed some "sustainable living" tenets to guide the construction process. They included:
Retaining control of all major construction decisions in and by the community;
Maximizing the use of free energy from the sun and the earth;
Hiring local construction contractors, to reduce travel time, and because local workers were likely to have a personal sense of commitment to doing a good job in their own community;
Using recycled materials as much as possible, starting with the concrete pad from the old building, the existing septic field, well, parking lot and utility poles.
Building an energy-efficient community centre
Construction began by reorienting the angle of the original concrete pad to increase the potential for passive solar energy. Next, piping was laid for in-floor radiant heat, over which another six inches of cement was poured.
Walls were constructed using insulated concrete forms (ICF), which create an airtight structure, according to Richard LaChance, retired architect and promoter of super-insulated houses.
Two rows of windows were placed facing south. "Passive solar gain when the sun is lowest in the sky (winter) is much greater than in summer, and the more heat that can be stored in the building structure, the less we have to buy," says Dan Stote.
Heat recovery ventilation was installed to bring in fresh air. "The two-stage heat pumps (with 12 geothermal wells) renders them highly efficient in terms of energy consumption," says Paul Arsenault.
Eight wall-mounted fan coil units, activated by the geothermal system, were installed for cooling. To finesse these systems, a solar wall was built to catch and transfer enough heat during winter to shut off the geothermal pumps until the sun goes down.
Hot water is supplied by two types of roof-mounted solar panels—tubular and flat—both of which are currently being monitored to determine which performs best. "The tubular panels appear to be winning," says Laurie McGraw.
Although the complex currently draws electricity from NB Power, the plan is to buy photovoltaic units to generate electricity in the future.
A place to dance
The community centre is now complete. Heating, lighting and hot water costs are projected to be less than $5,000 annually (without using fossil fuels). Costs are anticipated to go down as the committee monitors energy performance and makes adjustments.
And there are spin-off benefits within the community: many villagers have been motivated by this project to become even more energy efficient in their own homes—improving weather-stripping and insulation, installing geothermal or air-to-air heat pumps and changing windows.
Community organizers are planning to offer workshops on new energy sources; outdoor projects involving native plant landscaping, medicinal herbs, organic growing and composting have already begun.
But, perhaps most importantly, the new Centre Culturel et Sportif de Cormier-Village can now accommodate 300 people for meals, over 450 in theatre-style seating and up to 900 standing—or dancing.