Ideas for a magnificent Christmas table
A small note before we begin: every year I hear them. The Seasonal Moaners. Those people who complain about the holiday season as if it is a test of character to be endured. They moan about it starting too early, about it being too commercial, about how it's all too much. To them I say, look away now because I am about to roll out 1,500 words on THE MOST WONDERFUL TIME OF THE YEAR! Full stop. (Also, I'd like remind them that life, in all its seasons, is a buffet. Take what you like, leave out the bits you don't, and you'll feel better for it at the end of the day.)
With that out of the way, let's talk about setting your holiday table. For someone like me for whom Christmas heralds a time of cooking, get-togethers, feasting and hosting, the table is no small consideration. Every holiday season is an opportunity to push yourself a little further, to try something new and different. Why push it further each year? Because we all wait for the magical evening when, upon entering the dining room and clapping eyes on the magnificent tableau in front of them, the guests are entirely silent. The air has left their lungs as they behold what you have created and they are incapable of even the quietest little "oooooh." They stand hushed, save for your Aunt Velma, who is lying on the floor in a heap, rendered unconscious by your skill with garland.
So, let's embrace the holiday season and dare to do something magnificent with our tabletops. I've chosen four very different styles, so there's a little something for everyone here.
The vintage table
This is the broadest of the four styles I'll discuss here, simply because it can encompass a variety of eras.
1930s – 40s. While the 30s and 40s were times of austerity and sacrifice in people's personal lives, you'd never know it if you watched the most popular films of the day. Filled with glamorous women and beautiful scenery, they were produced for a populace who needed a lift in their everyday lives. We take our inspiration from this in creating a beautiful holiday table. The colours you want to consider for a theme like this should be soft and pretty. You don't have to stick with traditional red and green, if your décor is otherwise suitably seasonable. Opt for a palette in the gold, silver, white and cream range. Use plenty of flowing ribbons and bows, and consider the merits of a good can of gold or white spray paint in turning items such as pinecones or an old tray into something that suits your theme. If you enjoy rooting through vintage shops and yard sales, you can find real treasures for a style like this. Your tableware should reflect the overall colour scheme, and be elegant and feminine. Think of champagne flutes with floral touches, gold flatware (faux is perfectly fine) and white china.
1950s – 1960s. The heyday of the mid-century style, this era moved away from the soft edges and pretty pastels of the 30s and 40s, and went for a bolder, more graphic look. To recreate this era, you can embrace the bright greens and reds of the season, as well as other bold colours. Choose a palette of no more than three main colours for your table, and stick to those. Mid-century tableware is incredibly fun and you can find many great pieces at local vintage shops. Brightly coloured Pyrex bowls and serving dishes would look perfect on this table. Likewise, the glassware of this age of cocktails and smart drinks is a great addition to the table. With the current resurgence in cocktail drinking, it's easy to find reproduction mid-century glasses with beautiful geometric or graphic patterns on them at home décor shops. This was also the period where we decided that fake things looks better than real things, so unfurl that white Christmas tree you always wanted, and bring with it the shiny, coloured garland for your table.
1970s. This was the age when macramé became something that people hung in their homes on purpose. I can't discuss macramé without feeling my jaw tighten just a little bit, so we're going to move on.
The country table
If you like burlap and quilts this is the style for you! A country-style table is warm and inviting and its colours should reflect that. The effect you want to achieve with this is a slightly worn, homey look, so try traditional reds and greens of the season, but try muted tones of these. Incorporating natural elements gives a rustic feel to your table—think clay or metal pots with greenery, small logs or branches, and pine cones. Hunt around for old crates or boxes that can be filled with décor. Farmers markets in the late fall are great spots for finding seasonal crafts made with local products, including garland and centrepieces. Ribbons with traditional plaids and tartans can complement simple table linens in natural tones.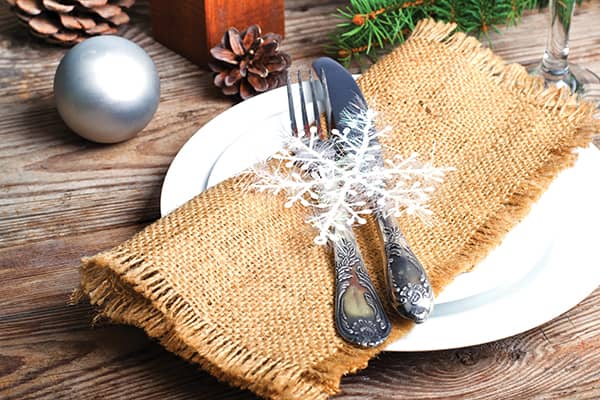 The glamorous table
While the look of the vintage 30s table has glamour, it's tempered with soft colours and angles. For this glamorous table, think of a more contemporary, adult glamour. Start with a palette that can be simple but bold. Something as basic as black and white is a great starting point, but don't rule out a red or green. To this it's essential that you add metals with high shine—they are the building blocks of glamour, if you will. Think gold and silver/chrome rather than antiqued metals or pewters. Metallics are an easy way to inject a bit of chic into your look, so add them throughout your décor. Trays, candle holders, wrapping paper and ribbons should have high shine or glitter to them. Crystal refracts light beautifully so if you have pieces of this or any kind of cut glass, bring these out as well. Be sure to set lots of candles around to get the most of the reflected light. Your tableware can be any colour that matches your palette, and having a bit of gilt on it would also be a bonus. Lay it all on linens shot through with metallic thread, or with a subtle, metallic pattern in them.
Nordic Noël—the Scandinavian farmhouse table
This is not the Scandinavian big box store look that you might be imagining—all hard edges and shiny lacquer. The Scandinavian farmhouse look is a beautiful, natural style that will give you an elegant, understated look for your holiday table. The basics of this look, not surprisingly, mimic a Scandinavian farmhouse: the whites of the walls and floors, the subtle pale shades adding a gentle splash of colour, and the use of wood and botanic elements for adornment. Your palette should have a base of winter white to which you can add pale shades of sage. Contrast this with bright pops of natural reds in things like holly or cranberries. Scandinavian design has a very clear love of clean lines and functionality. Stick to this with your tableware, going for dishes with little embellishment, and flatware that is equally simple in design. Table décor can be brought in from the back yard or local market. Birch logs, white candles and bright, deep green foliage are excellent choices. Napkin rings can be made from greenery, and candleholders can be white or clear glass.
These four looks are all very different, but no matter the style, follow a few tips to make it a success:
Pick your palette and stick to it. I'm not going to give rules for choosing holiday colours because I don't think there should be any. If you're overwhelmed by choices, pick three for your palette and stick with them in everything you do. Try using the 60-30-10 rule. The main colour should be 60 per cent of what you see—so the tablecloth, possibly dishes and some of the décor should be this colour. It's often a lighter colour, but again, do what feels right for you. Your second colour should be about 30 per cent of what you see, so this could be your dishes, or a good portion of your décor. The final 10 per cent can be your brightest or boldest tone. It should appear in small pops around the table.
Start in the centre and work out. Design your centrepiece (hello, Pinterest) then work out what other elements you want on the table. If your centrepiece is very large or show stopping, you may want it to shine mostly on its own. Or you may opt for a décor that flows out from a smaller central piece. Just remember that you will need room for the food on the table!
Personalise it. Names on place settings is a touch that guests remember, especially if you include little nicknames you have always secretly harboured for each person. (Use your judgment on that last one. Referring to Uncle Robert as "Barely Bob" on account of his penchant for streaking during his college days may have unintended outcomes, something a good host should always be on the alert for.)
Like any decorating project, a little planning up front to decide your theme and basic elements like a palette, will pay big dividends in a beautiful holiday table that will make you look like the cool, calm, collected host you are.