Bringing new life to old favourites
The Chair of Shame. We've all got one—that lovely wingback or piece of mid-century modern you either inherited from a family member or found curbside.
"With a lick of paint and a bit of new fabric, it will be fabulous!" you thought. And yet, there it sits in the corner of your basement, staring balefully at your back every time you go down to dig out the seasonal decorations or reorganize the storage bins while pondering how you managed to accumulate so many fondue pots.
"I could have been someone…" the chair hisses at your back. "You promised me."
So rather than pretend you don't notice the Chair of Shame sitting there in the corner, how about we tackle this once and for all and get it reupholstered? The good news is that, in addition to making your old chair beautiful again, upholstery services are one of those businesses that are inherently local, as most people don't typically want to or cannot afford to ship their furniture cross-country for sprucing up. Let's look at some general advice for the why, when, how and what of re-covering your old furniture.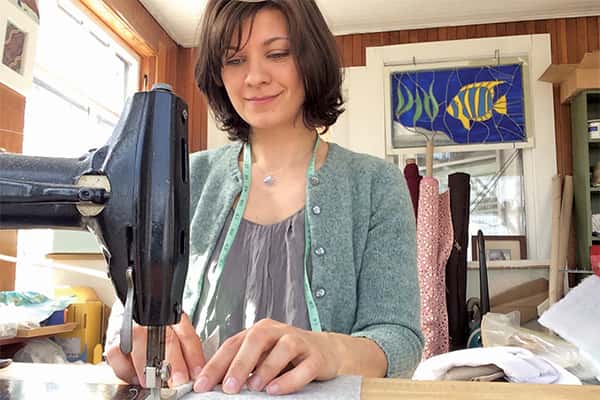 Why reupholster?
Aimee Switik offers a multitude of reasons why reupholstering is a great idea. She has been an upholsterer for more than 20 years and now owns Artisan Upholstery in Bedford, NS, where she provides a full range of upholstery services, runs DIY workshops and sells some of her finished pieces. The quality of vintage and antique pieces is one of the main reasons for reupholstering, she explains. "When you break upholstered furniture down to its main elements—the frame, the spring system and the padding—these are all things that have stood the test of time if your pieces are vintage. Compare that to particle board furniture made today, which is breaking down after two years. That's a big problem for the landfill."
The ability to use a fabric of your own choosing is also a major reason for opting to re-cover furniture. Even a quality furniture store can only provide you with limited options for the colour and type of fabric available for a given piece. With reupholstery, the sky's the limit. You can stick with a traditional fabric that is appropriate to the time and age of the piece or play around a bit with something less traditional. One of Aimee's favourite jobs was her "Release the Kraken" chair on which "a giant red octopus covers the surface, as if ready to give the sitter a squeeze."
In some cases, it's our attachment to an item that is driving the project. Many people want to keep older family pieces that are worn from decades of use but are in good shape otherwise. Or perhaps a roadside or vintage shop find was simply too good a deal to pass up. When you know a piece has good bones, it's hard to resist the urge to hold on to it.
When to reupholster?
Before investing great sums of time and money in reupholstering, consider the general condition of the piece. Is the frame sturdy? Is the seat sagging? If these are both intact and the fabric is in good condition and aesthetically appealing, you may want to simply have the piece cleaned. Perhaps the wood just needs polishing or refinishing, or a quick coat of paint.
Where your furniture has been in its past life also plays a role in your decision making. For example, if it lived for years in a smoker's home, you may find the odour too ingrained to ignore. Also, storing furniture in damp areas can lead to mould—and then there are creepy-crawlies such as bedbugs to consider.
Newer furniture, often purchased at big furniture chains, rarely has a full wood frame and is more likely made with particleboard. If the frame of the piece is not made of solid wood and is just stapled together, it's likely not worth reupholstering. Not sure what the frame of the piece is made of? Take all the cushions off and lift it. A lightweight frame is likely made of lightweight materials, and vice versa.
But if your furniture has a wood frame and a reasonable bill of health, a good upholsterer can repair an old frame, fix sagging seats and wrap it all in a fresh new fabric.
How to get it done?
First, as with any project where you are hiring someone to do the work for you, shop around a bit. You are looking both for the cost of the project and the craftsperson themselves. Google local upholstery shops and take a look at their website or Facebook page for ongoing and past projects. Before and after shots are a great way to get an idea of what is possible for a given piece of furniture, as well as the style and skill level of the upholsterer. Aimee recommends making sure the person has the background for the job, both in training and experience. "You'll be able to see bad-quality workmanship a mile away," she says. "It can be a costly mistake to hire someone who has no proper experience."
Once you have a few shops in mind, get quotes for the job. No tradesperson should balk at taking a minute to talk to you and explain the general cost of the job, and not all of them work the same way. For example, some shops sell the fabrics they use for the pieces and may charge you a fee for bringing in your own fabric. If they do supply fabric, find out what lines they carry to see if any of them work for you, both in terms of style and budget.
Word of mouth is always important for local businesses, and this is no exception for upholsterers. Aimee notes that she has found word of mouth to be "the best source for new clients." Social media makes it easier than ever to keep current with a tradeperson's latest work. For Aimee, Facebook has been instrumental in keeping her in contact with existing clients as well as getting photos of her work out to the public to attract new clients. These days, most small businesses opt for a Facebook page along with (or often in place of) a complete website, and they tend to update it more frequently. By following a few pages, you will get not only a feel for the company and how they interact with clients but also oodles of inspiration from their posts.
Of course, there is always the DIY option. Realistically, DIY upholstery tends to suit most people only when it is something as simple as the seat of a dining chair or a small footstool. Tackling a more complex project that may involve sewing, piping or tufting—not to mention fixing rickety frames and replacing foam padding—takes knowledge and specialized tools. But if you are determined, there are many resources online for DIY upholstery as well as courses, both online and local.
What will it cost?
A common misconception about reupholstering is that it will be cheaper than buying a new piece. "It's usually not," cautions Aimee, "especially if you are looking at [big-box stores]. Unfortunately, furniture has become so cheap—and cheaply made—that it can be confusing to people that reupholstery would cost more than purchasing a new piece." She points out that quality furniture is an investment because older pieces with a solid wood frame will outlast most of us if cared for.
I asked Aimee if she could give us ballpark prices for a few common pieces. She says that without considering fabric, you can expect to pay $600-$800 for a sofa and about $400-$450 for a wingback chair. However, this depends on the amount of labour the piece requires and other factors that affect labour costs everywhere, such as where you live.
With fabric, labour and time factored in, it is true that reupholstering an old piece of furniture is a considered purchase. But if you imagine that this piece of furniture can not only show sparks of your own taste and personality but will still be standing when all of your newer pieces have given way and are waiting by the road for the garbage collectors, it's a purchase certainly worth considering.