Innovation and co-operation fuel phenomenal growth in local brewing and distilling
On a brisk morning in late November, Carl and Lynn Zimmerman watched in excitement as a crane hoisted their new home from a truck and settled it on a slab on their lakefront property near Bridgewater, NS.
"The truck had a hard time getting up our driveway," says Carl, "but everything else in the entire process went very smoothly."
The Zimmermans are among a growing number of Atlantic Canadians to opt for a prefabricated dwelling instead of on-site construction.
Also known as "pre-fab" and "modular," these structures are built in climate-controlled factories in surprisingly short periods of time—sometimes in as few as 15 days. The attraction, in addition to quick, stress-free construction, is no delays due to weather, innovative designs, in-plant quality control, and set prices.
"The price quoted was the price we paid on delivery," says Zimmerman. "We added a few extras to the standard package, but they were written into the bottom line from the very beginning."
The Zimmermans were interested in pre-fab construction when they built their former home in Marble Mountain, Cape Breton, but there weren't as many options as there are today. Carl did some research when they decided to move to the south shore of Nova Scotia, and was delighted to discover a company producing CSA-approved, modular pods and dwellings in a converted warehouse in the former Bowater-Mersey paper facility in Brooklyn, NS.
"Pre-fabs play an important role in meeting the need for affordable and well-designed modern homes and studios," says company co-owner Nicholas Fudge, a Nova Scotia architect. "We're really the slow food of modular construction. Our units are still built quickly, but it's more like three months than the traditional three weeks."
Speed of construction wasn't a major concern for the Zimmermans, but design was high on the list—especially for Carl, an internationally renowned installation/photo artist with a passion for modern architecture.
"We loved Nicholas's buildings," says Carl. "They are so well designed that we were able to downsize to 1,100 square feet and still have all the features we wanted."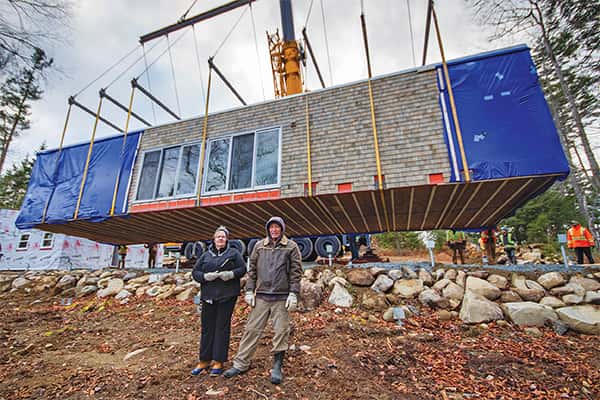 "Pre-fab makes modern architecture accessible," says Fudge. "People, like the Zimmermans, want to spend their time in the beautiful places in this region, but in remote locations it's sometimes hard to find builders and craftspeople who understand what goes into great modern design."
Various companies are filling that gap with a suite of modular designs that range in size from 500 to 2,000 square feet, designed for everything from guest studios and yoga retreats to cottages and homes. Fudge and his team choose everything from door hardware and lights to windows and floor coverings, but they also allow for some custom touches. The Zimmermans, for example, went with the standard Beach Pod package, adding their own touches by choosing special tiles for their kitchen backsplash and stainless steel faucets instead of chrome. They opted for a shower in the ensuite bath instead of a tub, selected their own kitchen countertop and their own light fixtures.
"If the clients happen to like everything we propose, they can sign off on the design and wait for delivery of a finished unit," says Fudge. "The turnkey approach is particularly attractive for people who live elsewhere but want to build in Atlantic Canada."
As a modular homes consultant with a company in Ten Mile House, PEI, Kathy McKay had her choice of dozens of designs when the time came to build a retirement cottage on the south shore of PEI. She was dealing with PEI's exclusive distributor for an established pre-fab producer with its head office and manufacturing plant in Fredericton, NB.
After long hours of looking for a design that would take advantage of their lot overlooking DeSable Bay, McKay and her husband, Marty, chose a new model called the Oasis. Designers at the manufacturing plant helped them make it their own by reconfiguring the design to meet the McKays' needs. The only real limits were the couple's imagination and dimensions that would work for road transportation to the site.
"We love the L-shape design, and the interior layout makes perfect sense for us," says McKay. "The living room, kitchen and master bedroom all face the water and the huge, front vestibule keeps us organized. It's also an important design feature because someone standing at the front door can see straight through the house to the back door and beyond to the far shores of Pugwash, NS."
Unlike the days when Carl and Lynn Zimmerman built in Marble Mountain, pre-fab is a viable alternative to traditional, on-site construction of cottages and homes. There are man-ufacturers throughout the region, including several big names. Architecture buffs will be interested to learn that the Frank Lloyd Wright (FLW) School of Architecture designed one of the new modular studio units. What better evidence that pre-fab has finally come of age?
Why Prefab?
There are more incentives to a modular cottage than cost and convenience.
Excellent design in remote locations
A build free of stress from bad weather, insects, poor quality control, and vandalism
No waste materials left on site
Accurate timeline for completion
Access to eco-friendly technologies, energy efficient building materials, as well as Energuide and Energy-Star ratings
Concentration of labour in one location
Well suited to off-grid installations
Models that correspond with local zoning requirements and that meet or exceed the National Building Code