Alpine or Rock Gardening?
Create a mini, mountainous terrain in a plot—or a pot
Like any hobby or habit, it starts out innocently enough. You see an attractive, compact plant, perhaps in  a container of alpine plants, at a show or plant sale. You bring home that pretty sempervivum or Carpathian bluebell or brilliant dianthus. You find yourself wanting to add unusual species to your collection; you order seeds from far-away specialized nurseries, packages that come carefully wrapped in brown paper, and steal away to the basement to start your plants under lights. Before you know it you're a full-fledged rock gardening addict-I-mean-fan.
Rock gardening, also referred to as alpine gardening, typically involves small, compact  plants, poor soil with good drainage, southern exposure—and rocks. Unlike, say, a lush perennial border, plants are spaced as individual specimens, tied together visually with stones or rocks. This helps to avert the competition they hate, provides good aeration, and allows for appreciation of each plant's diminutive form.
The Appeal of Rock Gardening
Just about any low-growing ornamental plant can be used in a rock garden, including dwarf conifers, heaths and heathers, some succulents and cacti, ornamental grasses. "The appeal of alpines is that many of them are so small and so perfect," says Rosaleen McDonald, a rock gardening enthusiast on Nova Scotia's South Mountain. Once you give them a good set-up, they don't need a lot of care: most of them don't need any fertilizer, they just neatly grow and do their thing, she adds.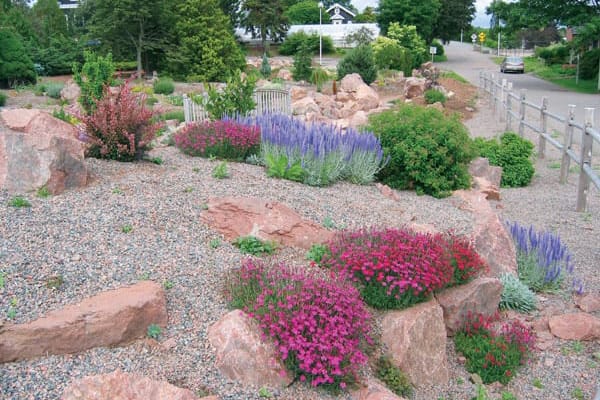 Sometimes the ardour for rock gardening starts with a site in your yard that's an irritation. Rosaleen had a south-facing slope on her property that she hated to mow. "I also had plenty of rocks, living on the mountain," she says, "so I built a rock garden." A trip to Ontario to visit alpine enthusiasts resulted in her coming home with 10 alpine plants, and her fascination went from there. After 15 years of experimenting with alpines, Rosaleen has several hundred varieties of interesting specimens in various plantings around her property.
The Memorial University Rock Garden
Perhaps the best known example of a rock garden in Atlantic Canada is at the Memorial University Botanical Gardens in St. John's, NL. Its designer and creator, Bernard Jackson, now lives in Truro, NS, and is involved in building a large, exciting rock garden at the Nova Scotia Agricultural College. Bernard says that rock gardening is popular because once you know the basics, you can build a rock garden of your own, regardless of the size of your yard.
"A lot of the alpine plants are very small, and fiddly, and you can really get an interest in the individual types," Bernard says. "Take a rock garden just the size of an ordinary dining room table. If you plan it right you can easily have 100 different types of plants, so it's great for small gardens. And you don't have to have a 'rock garden' for rock garden plants, you can just use a raised bed. As long as the soil and the exposure is appropriate, they will be fine."
Siting your alpine garden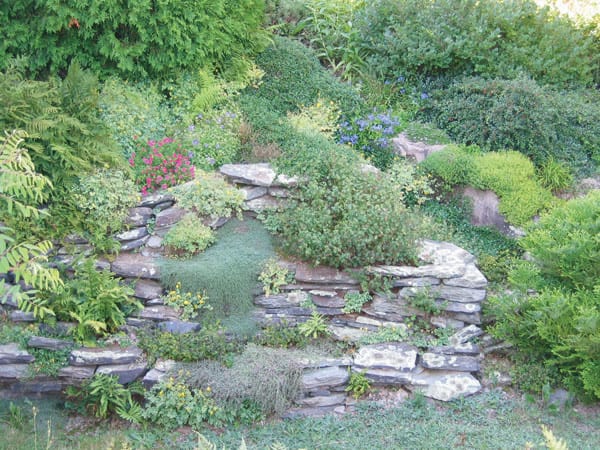 Jamie Ellison is a plantsman with a passion for incorporating choice plants into garden settings. "The biggest problem people have when starting out rock gardening is that they're not quite sure how to set alpines and rock garden plants up in the garden," he says. "Look at your property, look at the site, and if there's an area with good drainage and air movement and full sun, that's what you should be looking at.
"With alpines, many aren't going to be able to be incorporated with perennial borders or shrubs, because they'll get overwhelmed by the bigger plants and they'll look out of scale with that group," he says.
It helps to visit with other rock gardeners to see what their beds look like. Local garden clubs or specialty rock gardening societies are good places to find other enthusiasts, plus many public gardens throughout the region have plantings.
Rosaleen says it helps to have a slope on your property—and indeed, rocks and plants may help keep a slope on your property from eroding—given alpines need exceptional drainage. "You can create one with rocks, of course, but if you've already got the slope you can build into it." She suggests sticking with one particular type of rock rather than a motley mixture; she uses South Mountain granite because she has plenty of it on her property, with a little sandstone for contrast and accent. Rocks need to be buried deeply enough to keep them stable and to prevent frost heaving, which can mean anywhere from one- to two-thirds submerged.
But you don't have to have a slope to build an alpine garden. Todd Boland, an alpine enthusiast in St. John's, NL, has his garden built in a level area. He does say that "it's nice to create hummocks at least" to give some dimension to the garden's design. He too advocates sticking primarily to one type of rock, but suggests using a variety of sizes, grouped irregularly, to give the garden a natural look. "Creating planting pockets among the rocks looks very naturalistic," he says.
Soil for alpines
Because alpines demand really good drainage, your soil is very important. Rosaleen finds her gravely soil ideal for her rock garden plants. "For other types of plantings I have to improve the soil, but for the alpines they're happy with what's here," she says.
If you don't have such ideal soil, you can make what you need, as Bernard Jackson is doing at the NSAC rock garden. "What we do for soil is one-third the best soil we can find, one-third sharp sand, or right now we're using 3⁄8-inch gravel, and one-third leaf mould if you can get it. If not you use shredded peat."
As with any type of gardening, there are dos and don'ts for success in rock gardening. While many low-growing plants (under 12-inches tall) are excellent specimens for rock gardening, be wary of ground covering types that grow fast—they can easily overwhelm slower growing, delicate species. Several to avoid include bugleweeds (Ajuga sp.), snow-in-summer (Cerastium tomentosum) and golden sedum (Sedum acre) as well as some of the creeping phloxes. Todd Boland says that most alpines hate competition, so even though plants are typically small and slow growing, resist the urge to overplant an area. Think of the style as minimalist.
The Importance of  Drainage
The most important thing to keep in mind, Bernard Jackson says, is that "most alpines want good drainage, lots of light, a frugal existence—don't overfeed them or else you'll kill them—and they want good air circulation. Because if you think about it, these plants grow up in the treeline and in poor soils. They don't get pampered, they're used to being tough. A lot of people bring them down from the mountains or get seeds from plants and they think, 'Oh, well we'll coddle them and they'll do much better,' but they don't, they just die."
Something as simple as keeping fallen leaves off plantings is critical, as wet leaves will kill alpines quicker than anything else will. This also means not mulching with organic materials such as leaves, bark or grass clippings; the preferred mulch for alpine gardens is fine stone such as pea gravel, which still helps to keep the soil cool, reduces water evaporation, and helps to suppress weeds. If you need winter protection because of harsh winds or lack of snow, try fir or pine boughs, but put over your garden only after the ground is frozen.
Alpine Selections for beginners
Most gardeners have favourites that they recommend for beginners. Jamie Ellison is a confessed sempervivum collector, with more than 60 cultivars of these charming plants, commonly called houseleeks or hens and chicks, and he recommends them for their gentle ability to spread, their great colour and tidy growth habit. He also suggests sea thrift (Armeria caespitosa), some of the creeping phloxes such as Phlox subulata 'Temiskaming,' and many of the fragrant creeping or wooly thymes. "You can't have a rock garden without a dianthus or two, like Dianthus caesius 'Tiny Rubies' or D. alpina," he adds. Rosaleen McDonald suggests sedums and many of the smaller, neat campanulas such as Campanula pusilla, as well as dwarf evergreens, which add dramatic structure and dimension to plantings. Her personal favourites include the stunning blue gentians, and some of the more compact of the penstemons.
Rock gardening appeals to people with an instinct for collecting, and it's getting somewhat easier to find good alpine selections at nurseries. But to get the really choice plants, you have to either swap cuttings and plants with other alpinists or else grow your own plants from seed. Joining an alpine or rock gardening society opens up a whole world of seed swapping and saving.
The Art of Alpine Trough Gardening
Really pressed for space but wanting to try a few rock garden plants? Consider planting them in containers. "Alpines in containers are a great way to enjoy them up close, as many alpines have small flowers," says Todd Boland.
One preferred style of containers is a stone trough, but these can be expensive and very heavy, so many gardeners are opting to create their own stone lookalikes using hypertufa, a mixture of equal amounts of portland cement, perlite or coarse sand, and peat. Todd recommends perlite because it makes the trough lighter weight; he says containers can be left outdoors all winter but adds "for fuzzy-leaved and succulent alpines that have a tendency to rot in Atlantic winters, I place the pots in a cold frame." If you use clay pots consider sinking them in the cold frame to avoid the pots cracking.
An even quicker and lighter type of trough is to texturize a Styrofoam fish box using a torch at an angle to rough up the surface without putting holes in it, and painting it to resemble stone, a process Rosaleen McDonald calls "making the cheap kind for older people like myself who can't lift heavy planters."
NSAC's Rock Stars
The Nova Scotia Agricultural College, in Truro, is well-known for its excellent horticultural programs. So what better site to feature a splendid new rock garden, especially given there's a world-class alpine expert in the neighbourhood?
Three years ago, Bernard Jackson was asked by the NSAC Friends of the Garden if he would be willing to construct a rock garden at NSAC. The former director of the Botanical Gardens at Memorial University accepted the challenge, and together with the school's grounds maintenance staff and volunteers, has been working on the steadily growing project ever since.
The rock garden takes up almost an acre, encompassing an existing collection of conifers, and to date has used more than 500 tons of Salmon River pink granite from a large quarry in nearby Kemptown in its construction. Bernard estimates another several truckloads of rock will be needed before the garden is completed to his satisfaction.
As Darwin Carr, one of the managers of the College's ground maintenance program says, the project keeps growing, taking the garden to new heights. "We've added a crevasse garden to the limestone courtyard, which wasn't planned, and a couple of wall plantings. We gradually add things as we go—whatever Bernard comes up with."
Bernard has never put anything on paper when designing the garden. He says he has to see the shapes and sizes of the rocks and then he just starts creating. "The only way to learn how to build a rock garden, whether large or small, is to do it; you see the problems and you see how to fix them."
Among the features of the rock garden are a dry stream bed, which looks for all the world like a riverbed where the water has dried up; a limestone courtyard featuring alpines planted in troughs; a viewing platform that overlooks the entire garden; cedar bridges built by students; and of course, hundreds of plants, both common and rare.
"We have a lot of common material, so people will recognize it and say, 'We have that in our garden' or 'I've seen that before,'" says Darwin. "But we have a lot of unusual things in the garden, too, to get people inspired. Then they will start looking for plants that aren't commonly found, so we hope that more garden centres will get into the unusual plants that will grow here."
Much of the funding for this garden has come from the NSAC Friends of the Garden, through plant sales and other fundraising projects; also, the North American Rock Garden Society donated nearly $10,000 to the creation of the limestone courtyard, which was begun in fall 2003 with help from NSAC students.
Bernard is pleased with the way the garden is taking shape. "It will take a few years for the plants to get looking large and mature and hang over the rocks and everything, but people seem to be very pleased with it and we're getting a lot of visitors all the time now," he says. "I'm determined that when it's finished, give it a couple of years and it will be of international quality."