The brightly coloured bandstand (shown left permeating an atlantic mist) provides the home for a seemingly timeless tradition: the summer concert series.
The Halifax Public Gardens has been providing an oasis from the hustle and bustle of city life since 1836. The 17-acre property sits adjacent to the bustling Spring Garden road shopping district of Nova Scotia's capital. Statues, memorials and fountains overlook formal Victorian gardens, making the area a favourite for photographers. Albert Lee has been capturing the charm of the gardens for 30 years. All the photographs on this page are from his collection. They were taken between 1988 and one short month ago.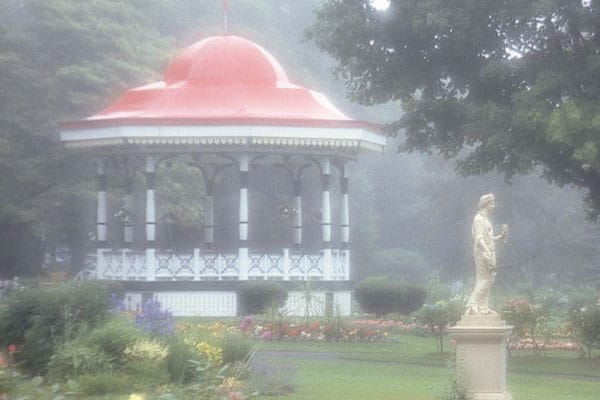 On Sunday afternoons each summer, visitors to the park may while their way along winding paths that lead past duck ponds, flower beds and under the shade of trees while the sound of music floats on the air. The bandstand was erected in 1887 in commemoration of Queen Victoria's golden jubilee. Each season is welcomed at the gardens by a sampling of blooming beauty.