They come by the thousands, from Cape Breton, New Brunswick, Prince Edward Island, mainland Nova Scotia and beyond, dressed warmly with binoculars and bird books in hand. Every January, bird fanciers invade the quiet Annapolis Valley hamlet of Sheffield Mills in pursuit of an avian wonder-the Bald eagle.
In what has become a true phenomenon, Bald eagles have been making their way to the Annapolis Valley of Nova Scotia to ride out the winter and to feast on handouts. Hundreds of the birds come, filling the skies like flocks of seagulls. It's a sight to stir the soul of even the most travelled nature aficionado. Like many solitary creatures, including grizzly and polar bears, these eagles congregate in large groups near a food supply as a winter survival strategy. But in the Annapolis Valley, the plentiful food source is anything but natural. In an ironic twist, the poultry farmers of Kings County, who once regarded the eagles as deadly predators, are helping the birds claw their way back from the endangered species roster. With the encouragement of Acadia University biologists, poultry farmers began the practice in the 1970s of letting the eagles clean up the plentiful supply of dead chickens that large poultry farms are saddled with every winter. The birds relished the free chicken dinners and have come back every year for more.
Popular wisdom holds that eagles are majestic hunters, swooping down on live prey from lofty heights. But the eagles of Sheffield Mills behave more like vultures, eating carrion off the ground-an opportunistic feeding pattern that humans have known about for a long time. In fact, Benjamin Franklin felt the eagle's questionable eating habits disqualified it as an appropriate symbol for the fledgling United States, and lobbied unsuccessfully for the turkey as the new nation's national bird.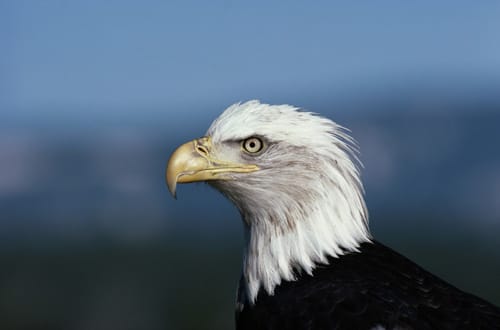 The eagles' free meals in Nova Scotia have had a dramatic effect on mortality rates, raising chick survival to an unheard of 70 per cent. Young eagles, which traditionally wouldn't have survived a difficult winter, are now regularly making it to adulthood and returning en mass to their Annapolis Valley haunts. The result is the largest winter population of Bald eagles in Eastern North America-more than 500 individuals, according to a recent count by the Blomidon Naturalists Society.
Other birds come as well. Hundreds of Red tailed hawks and Ravens follow the eagles, feasting on the same handouts. Still, the eagles garner the bulk of the attention from bird watchers. It's not difficult to see why. The Bald eagle is awe-inspiring in every respect. The largest native bird in the Maritimes, the female eagle has a wing span of more than two metres and has been known to live as long as 50 years in captivity. She effortlessly soars two kilometres above the earth and builds nests that weigh more than a ton. It was only a matter of time before someone realized the tourism potential of this remarkable gathering. The community that did was Sheffield Mills, a pastoral valley town in the shadow of the North Mountain, just off the traditional tourism routes.
The first Sheffield Mills Eagle Watch was held in 1990 with minimal fanfare. After learning that February 5 is statistically the coldest day of the year in the Annapolis Valley, organizers chose the last week of January as the official Eagle Watch Weekend, with the next weekend reserved as a storm date. Since that first event, Eagle Watch Weekend has grown by leaps and bounds every year. It is now touted as one of the premier outdoor winter tourism events in the province.
Organizers recently took over the Sheffield Mills Community Hall as an eagle watch centre, setting up displays created by the Blomidon Naturalists Society and installing a kitchen and washroom facilities to serve birders a pancake and sausage breakfast. The Nova Scotia government pitched in by providing highway signage to guide visitors to the festivities. The people of Sheffield Mills and the surrounding area have responded in kind, volunteering hundreds of hours of time to cook meals, host events and serve as guides.
Today, eagle watchers take part in a long string of church hall breakfasts, baked bean suppers and other warm respites from the cold January winds. Other area communities including Canning, Kingsport and Medford have joined the festival, offering their own eagle watch events and meals.
The eagles are co-operative as well. They usually remain approachable and oblivious to the fuss, as animals often do when they get used to being the centre of benevolent human attention. The spectacle is beginning to garner national and international attention, thanks in part to a documentary made by Canadian naturalists John and Janet Foster. Still, most eagle watchers come from within a two-hour drive of Sheffield Mills. Eagle Watch Weekend organizer Richard Hennigar admits that getting tourists, particularly Americans, to visit Nova Scotia in January will be a tough sell. "The potential is there to turn this into a major tourism event, but it's going to take some capital investment," says Mr. Hennigar. While serious Maritime birders can be found enjoying the camaraderie and hearty breakfasts at the Eagle Watch Weekend, Blake Maybank of the Nova Scotia Bird Society admits that the event is not exactly a magnet for hard core bird watchers from other parts of North America either. Finding eagles in winter is not particularly challenging to anyone who has a general idea where to look. "It's a pretty unaware individual that could go up there this time of year and not find them," he says. Seabirds-Northern gulls, Purple sandpipers and the puffin-like Dovekie-are more likely to be the main draw for southern birders.
The return of eagles across the Annapolis Valley marks a heartening trend across the province. No longer poisoned by DDT or shot by misinformed farmers, eagles have become a common sight in many regions in Cape Breton and northern Nova Scotia. "We're even starting to see them more and more in southern Nova Scotia and even on Brier Island," says Mr. Maybank. "That's very encouraging."
With 85 to 90 per cent of Nova Scotia's poultry producers located in eastern Kings County, the supply of chickens shows no sign of running out. But Mr. Hennigar says that everyone is working to make sure eagles don't become dependent on these handouts. Farmers are careful not to overdo it, giving the birds a chance to forage for themselves on warm winter days.
While the winter food supply remains, however, the eagles will keep returning to Sheffield Mills, and the bird watchers won't be far behind. "Eagles are long-lived birds," says Mr. Maybank. "They have long memories, and they'll remember that the Annapolis Valley is a very good place to spend the winter."