Although the exterior of the Starnes home is ultra-traditional, the interior is anything but.
It makes perfect sense, this house. Its exterior firmly rooted in the traditions and seacoast sensibilities of rural Nova Scotia. Its interior a thoughtful, cool, cultured oasis. As you get to know both the house and its owners, you begin to understand that the dwelling and the people who live here are a lot alike.
The house itself is a unique construction of three "pods" with the look of updated fish shacks connected to one another by two "knuckles." Approaching the house, a visitor is immediately aware of first how the house fits the land and the setting, and then, noticing the rich cayenne shade of the exterior doors, you know somehow to expect the unexpected.
How Colin Starnes, a former president of the University of King's College in Halifax, and his wife Suki, who teaches mediation to people on civilian and military peacekeeping missions, came to live in a house designed to look like the waterfront sheds that dot the shores around Lunenburg is an epic tale. With Colin, a widely respected author and academic with a passion for the classics, there is little in life that is not worthy of an epic tale. "Suki always reminds me that the answer to any question does not have to begin with the dawn of civilization in Sumeria," Colin says. Suki's gentle chiding aside, the story of the Starnes' house in Blue Rocks, NS, does begin a long time ago in Ithaca-albeit Ithaca, NY, where Suki grew up.
Having lived over the years of their marriage in a Halifax hydrostone townhouse, in the lodge at King's, in a Cherry Hill home built by Colin, and in a two-centuries-old farm house renovated by Colin, the Starnes had experienced many lessons in what they didn't want in their retirement home. What they did want kept coming back to Suki's childhood home. "It was a modern house with lovely lines and wonderful light that fit in with the land," Suki says. Although her family was dependent on the single salary of her professor father, Suki's parents made the choice to budget for an architect and cut costs elsewhere. The result was a house with great design that was in the end not more expensive than the "development" houses of the day. Therein Colin and Suki found their guiding principles for the home they planned to build: light, lines, simplicity, design, affordability, and relationship to place.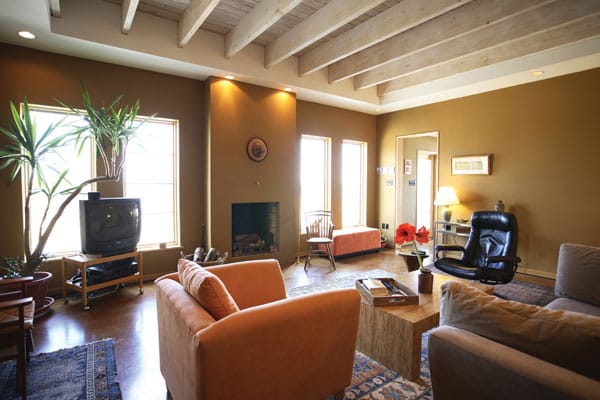 Finding that place became a greater challenge than either had anticipated. The Starnes knew they wanted to be on the ocean. And, Colin says, expressing a sentiment many men will appreciate, "We had to be close enough to town that Suki could have a life in the world and far enough away from town that I could go outside to pee." Finding an affordable piece of property that fit those parameters proved to be a quest worthy of Jason and his Argonauts.
The couple searched from one end of Nova Scotia to the other. They saw beautiful properties well beyond their budget. They found reasonably priced lots that just didn't sing to their souls. Discouraged, they discussed the agonies of property hunting with their friends Liz and Agar Adamson, who were searching for their own place to build on. The Adamsons and Starnes happened upon 22 acres of untouched land with almost a full kilometre of oceanfront just five minutes from Lunenburg. The property was outside the budget of each couple, but it was within their means if the couples pooled their resources. With a "don't try this at home" caution, readers should recall that Suki is a conflict-resolution mediator. Resources were pooled and the property secured, then divided amicably. The result was shared land with a jointly owned boathouse and two four-acre building lots.
Having a structure that was "not an affront to the land" was of utmost importance to the couple. Their house would be in the vernacular-no turrets or towers-and would require little or no paint if possible. The architectural design that Colin and Suki had promised themselves came from Roy Willwerth and Tom Leung of Duffus, Romans, Kundzins and Rounsefell Limited in Halifax. Roy, who had done some work for the University of King's College during Colin's term as president, agreed to take on the Starnes project. Roy took the Starnes' original Y-shaped design and created three living pods with knuckles and different angles, creating a sense of space and community of structures. Once Roy had completed the overall design concept, he handed the project over to his colleague, Tom Leung.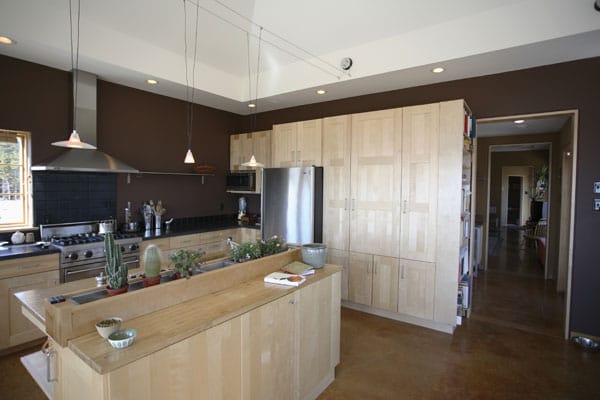 Leung's final design resulted in a clever house with plenty of living space. In 2,400 square feet, there are two full baths plus a main floor powder room, a master bedroom, two guest bedrooms and a study that can double as a fourth bedroom, a pantry/mud room, plus a comfortable living room and spacious kitchen and dining area. The trick, says Suki, was to get the size just right - not too big and not too small. And given that the Starnes intend this to be their home for their twilight years down the road, three-foot doorways and single-level living to be able to "roll in and roll out" were priorities. Tom Leung was up to the task of having form meet function with a fine aesthetic. There are particular elements of Tom's design that still visibly delight Colin and Suki even after living in the house for more than two years. The exterior with its weathered shingles and white trim speaks of working sheds, including a reference to the second-storey doorways used to haul nets and traps up for storage, but Tom placed stainless steel runners on each pod, breaking up the shingles so they aren't exactly fish shacks, but more a respectful nod to the real thing. Inside, Tom's signature is also found in the varying ceiling heights that create either coziness or airy height depending on the purpose and layout of each room.
With a design that pleased them to the core, finding a contractor proved to be easy and entirely satisfactory. Robert G. Craig was recommended to Suki and Colin by a friend. Robert, known to friends and clients alike as Gordie, came billed as a contractor who provided excellent quality and good value. And with years of experience building homes in Lunenburg County, he well knows the idiosyncrasies of seaside construction. He won Colin over immediately when they discussed the need to consider rain. "Rain," says Colin, "is not something that falls gently from the sky in a downward motion. Here it comes driving in sideways - completely horizontal. Gordie gets that."
Having lived in homes with rattling, double-hung, six-over-six windows, casement windows that would withstand the wind - and rain - off the water were a must. "The design of the windows came from Suki's family home," Colin says. The windows are simplicity defined - no trim, just plain lines. The goal was to create what had existed in the Ithaca house - a relationship with the outdoors so "that you never felt the house was in the way of outside," says Suki. But managing the view was important. Their home in Cherry Hill had huge picture windows and the glare off the water was simply overwhelming at times. "We didn't want to be confronted by the view all the time," says Suki. The windows of this home are one of its greatest strengths. Whether standing alone or "ganged together," the windows seem to frame the masterpieces of natural artwork that surround the house.
The words that Suki keeps coming back to to describe their vision for the interior of the house are simplicity and clarity. "We were aiming for one piece of furniture per room," Colin quips. They have succeeded in creating an atmosphere that is both spare and relaxing. There are few embellishments save a repeating note of recessed relief around doorways, windows, some cabinetry, and indeed even the headboard in the master bedroom that Colin built and gave to Suki for Christmas. The colours chosen by Colin provide a rich backdrop for the artifacts and artwork on display, much of it of Asian influence.
Choices in design and materials reflect the Starnes' mission to maximize their budget where it mattered. Inside, for example, the Ikea kitchen system that Colin installed at a cost of $5,500 instead of the $35,000 quoted for a custom kitchen gave them room in the budget for concrete countertops and a stainless steel stove that was on Suki's to-die-for list.
The couple consider the question carefully when asked to reflect on the house they have built together. "We paid a lot of attention to light," Colin says. "I would pay as much attention to sound if I had it to do over." He explains that the concrete floors create a slight echo in the rooms with high ceilings. And Suki says she would have liked more room upstairs to give guests and visiting family a greater sense of privacy. But other than that, as Colin grabs the binoculars to get a closer look at a passing cape boat and the late afternoon sun enhances the warm tones of the kitchen and the tenor of the conversation, it is clear that, for the Starnes, this house makes perfect sense indeed.