My personal gardening style-or lack thereof-is what I usually refer to as "ruthlessly eclectic." Shrubs, annuals, perennials, herbs and trees grow in an exultant hodgepodge of colour, shape, texture and heights. There is some order among the chaos, and there's always something flowering, but not for me the stiffness of formal beds.
One day a fellow gardening enthusiast came to visit me and talk about our mutual passion. She told me I had a wonderful cottage garden. Bemused, I said this wasn't our cottage but our home. She laughed, and explained that she meant the style of garden was very much in the English cottage garden design. Intrigued, I set out to learn more.
When we think of cottage gardens, we often have a pastoral vision of a Turner painting, with a quaintly thatched cottage surrounded by tall hollyhocks and lush rosebushes, perhaps a few fruit trees and beehives. The early cottage gardens were not nearly so lovely, but were functional gardens planted to help feed the family. As life became somewhat easier, flowering plants were added to the mix of vegetables, fruits and herbs, and over the years the name "Cottage Gardening" came to focus more on the romantic esthetic of growing different plants together in a carefree abandon of colour.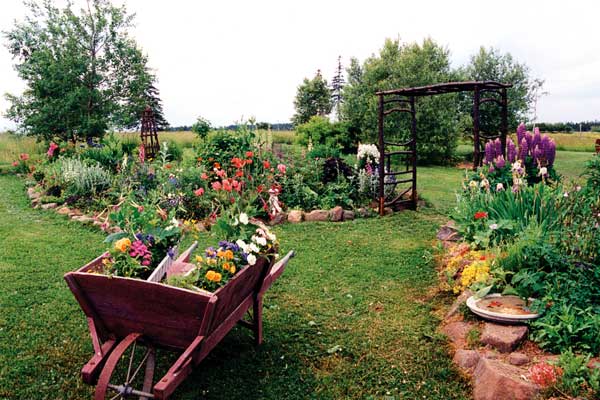 The term cottage gardening can therefore mean two different things: the gardening you do at your cottage (or cabin, or bungalow or trailer, or other summer escape home) or a style of gardening. For our purposes, the actual style of cottage gardening works ideally for gardening at the cottage. Most people who enjoy the pleasures of a cottage do so with limited time, perhaps primarily on weekends with a couple of weeks of vacation. Gardeners may want to extend their plantings to the cottage but are challenged by lack of time and perhaps limited soil and water for use on plants.
This is where the actual style of cottage gardening can be such a boon. Planting a wide variety of annuals, perennials, herbs and other species in close proximity helps to crowd out any competing weeds. A dense planting also helps to shade the soil, reducing the need for watering, and making use of what available ground there is for gardening.
The carefree display of flowers, herbs, fruits and vegetables may take a little planning before planting, but with that planning you're pretty much guaranteed to have something in flower from the first flourish of spring bulbs until the last rose has turned its lushness to a scarlet rosehip.
Because you're not creating a monoculture of particular flowers, fruit or vegetables, pests tend to be kept to a minimum, making a cottage-style garden especially appealing to organic gardeners or others wishing to refrain from using chemicals in their gardening pursuits.
As with any gardening, some forethought is needed. If you're starting from scratch, this is often easier than converting or work with an existing garden to get the look you want. You can amend the soil with plenty of compost and well rotted manure so that you have good drainage and rich soil, and then begin planting your choices. Knowing your soil's pH is helpful in determining what will grow well, and of course most gardeners know their hardiness zone as well as they know their address.
Traditionalists will say that a cottage garden needs some sort of structure defining it, such as a fence or wall. But rules of design are not for everyone to follow. If you do choose to have a wall or fence around your garden, that's terrific, but you can also opt for a hedge of flowering or evergreen shrubs, use accent features such as arbours or trellises or simply a skillful use of plants to define your boundaries.
Self-seeding plants can be a cottage gardener's dream, so long as they don't mind a profusion of seedlings popping up wherever there's a bit of welcoming soil. We tend to refer to the self-seeded sunflowers, poppies, nigella and larkspur in our gardens as "free range flowers" and welcome their bursts of colour wherever they show up. If you want to have self-seeded plants, you may have to go easy on mulch, and thin out seedlings if they are too profuse.
Container plantings have a role to play in the cottage garden as well. They can provide a burst of colour especially in the times when perennials or flowering shrubs are either not yet in bloom or are resting before a second show. A recent craze for incorporating large potted tropicals into the garden setting sees some gardeners bringing their houseplants outside for the summer months and adding them to the garden setting.
While some cottage gardens will have every kind of plant jumbled in together, you'll find you have a better effect if you plant what the great English gardener Gertrude Jekyll called "drifts" of plants-several of one particular kind and colour planted in one area. A drift of sea holly or delphinium is far more striking than the occasional plant punctuating here and there among a sea of other colours. Instead of a soup of colour where nothing stands out, you'll have larger blocks of individual colours that are striking in appearance, yet still casual.
Selecting the plants you want is the most fun of planning and planting a new garden, or adapting an existing one. Ask yourself whether you'd like to have a few tomato plants, peas and beans winding among your garden. Are you interested in growing fruit, perhaps several shrubs of highbush blueberries and a few canes of raspberries? What about herbs? Shrubs can provide a backdrop for your garden, and depending on your choices, can bring four seasons of colour, what with spring foliage, flowers, fall foliage, and fruit such as rosehips that stay on well into winter.
A few favourite traditional flowers of the cottage garden
Perennials and Biennials
Bear in mind that perennials will grow to form large clumps, so check the planting recommendations for spacing. The first couple of years while the perennials are not yet at their mature fullness, you can fill in the space around them with plantings of annuals, vegetables or containers of plants. Do be careful of those that can be invasive, such as the notorious goutweed (Aegopodium podegraria). Many common perennials are actually biennials, growing vegetatively one year and flowering the next. Plant such species as Canterbury Bells, hollyhocks, wallflowers and sweet William two years in a row, and you should have a profusion of bloom every year following.
Hollyhocks: Tall stalks of rose-like flowers sometimes need staking, but are worth the effort.
Foxgloves: Some foxgloves are perennial such as the yellow flowered Digitalis grandiflora, but many foxgloves are selfseeding biennials.
Forget-me-nots: A mist of soft, blue flowers is the perfect camouflage for ripening foliage of spring bulbs.
Perennials
Campanula: Be aware that several commonly offered campanula can have a tendency to be invasive, including C. takesimana.
Lupines: A Maritime favourite, lupines dazzle in just about every flower colour imaginable.
Sea holly: They have it all: dramatic foliage, good height, a penchant for growing in most any soil but very soggiest, and a host of spectacular, longlasting flowers.
Delphinium: Some find that newer cultivars are only good for 3 or four years, so you may want to replant occasionally.
More favourite flowers
Annuals
Think beyond the old standards! There are hundreds of exciting, easy care annuals that are wonderful additions to any garden.
Nigella: This self-seeding annual is also known as Love in a Mist, boasting jewel like flowers in shades of blue, rose, mauve, and white among lacy foliage. Varietals include 'Persian Jewels', 'Miss Jekyll', and the unique, yellow flowered 'Transformer'
Morning Glories: These well-named beauties like a soil that's not too rich or they'll put on great leaf growth with minimal flowers.
Poppies: Try the peony-flowered varieties of Papaver somniferum, including 'White Cloud' and 'Paeoniflorum Black', or the dreamy pastel Shirley poppies (Papaver rhoeas)
Sunflowers: With variety of colours from a pale green to terra-cotta to deep burgundy, ease of growing, and the bonus of seeds for birds and wildlife, and you see why sunflowers are stars of the cottage garden.
Shrubs
Roses: To the purist, old-fashioned roses are a must-have for a cottage garden, preferably the type that climb or ramble and intoxicate with their fragrance. We don't all have the ideal climate for some of those, but there are certainly plenty of hardy roses that will do well in a cottage planting in most of Atlantic Canada. Try 'Stanwell Perpetual' or 'Charles de Milles' for remarkable fragrance; 'Harison Yellow' for a dazzle of yellow blooms, and 'Snow Pavement' for a salt-resistant rugosa hybrid with exquisite colour and fragrance. Several good climbers in the Agriculture Canada Explorer series of roses include 'William Baffin', 'John Cabot' and 'John Davis.'
Lilacs: Another of those plants that is instantly thought of when you mention cottage gardening, lilacs say spring to most of Atlantic Canada's gardeners. For something different, try the variegated purple and white flowers of 'Sensation', or the pale yellow blooms of 'Primrose.'
Quince (Chaenomeles speciosa): These relatives of apples and roses show off their charms with dramatic blooms in shades ranging from delicate salmon to deep crimson.
Butterfly Bush (Buddleia davidii): If you can grow these, you'll make butterflies, hummingbirds and other creatures very happy. The fragrance of butterfly bush is wonderful to human noses too. They can be questionably hardy in zone 5, so some gardeners prefer to plant them in large containers and overwinter them inside.