The latest trend in porches keeps insects out and adds and extra room for much of the year.
Chalk it up to harmful ultraviolet rays or marauding insects, but after decades of social prominence, the sun deck is out and the screened porch is in. And it's not the same screened porch that we knew in the first half of the 20th century, either. This new incarnation is as well suited to quiet reflection as it is to lavish entertaining, with luxurious outdoor furnishings and sophisticated decorating schemes that run the gamut from shabby chic to sleek teak. There may still be room for a comfy old rocker, but only if it's upholstered in a fabric that coordinates with window coverings and table linens.
Renowned Nova Scotia architect Brian MacKay-Lyons has seen the demand for screened porches and enclosures increase to the point where half of his clients now ask for them. MacKay-Lyons describes the screened porch as a place for entertaining or quiet retreat. "They're only critical in a bug-infested swamp," he says. "Otherwise, they're just nice to have."
The new screened porch on Peter and Jane Nicholson's Colonial Revival house on the main street of Annapolis Royal, NS, is very nice to have. Divided screen panels mimic the geometry of the muntin bars on the long expanse of windows in the adjacent sun porch. Painted spruce floorboards pay homage to an Atlantic Canadian tradition and echo the green colour of the house's exterior trim. Furnishings include a homey wicker rocker, a wrought iron porch set and a painted bureau that's used as a buffet server.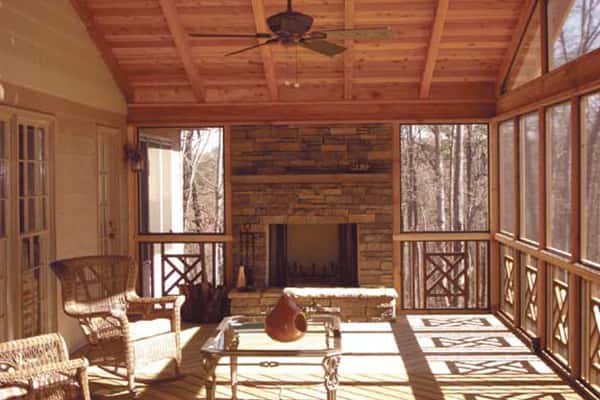 Jane Nicholson, who has a special interest in old houses, runs Mrs. Nicholson Inc., a business that restores historic properties like the abandoned railway station she recently tackled in Annapolis Royal. Her husband, Peter, has a special interest in their old house. He grew up here, his family has lived here for 50 years, and his father was the local member of the legislative assembly for more than half that time. For both Jane and Peter, maintaining the 80-year-old home's architectural integrity was a guiding principle in the design of the screened porch.
Jane had initially considered adding an open veranda, but her good friend Sheila Martin-late of 24 Sussex Drive-urged her to make it a screened porch. "Sheila had grown up with screened porches," says Jane. "She said that we would love one, and she was right."
The Nicholsons built their screened porch on the site where Peter's mother once had her clothesline. At almost 200 square feet, the space can accommodate everything from an intimate gathering of friends to a large family dinner. "There's enough room to set two tables if we want," says Jane. "One for the children and one for the adults."
Doors open to the backyard, a wide stoop that has already become a favourite setting for family pictures, a knot garden, an old elm, rhododendrons, and a view of the Annapolis Royal Historic Gardens, land that was once Peter Nicholson's backyard. Like most houses of the 1920s, the Nicholson house was designed with an eye to the street. The screened porch turns the attention to the back of the house, where Jane and Peter have added gardens and where they can escape the summer traffic. "We spend all our time here," says Jane. "From late spring to early fall, it's where we go to eat and drink and read and play cards."
The Nicholsons' contractor Ron Porter designed and built the screened porch. There are companies like Halifax's award-winning Archadeck of Nova Scotia that specialize in constructing unconditioned spaces like porches, sunrooms and decks. Other options are to build a screened porch yourself, from a kit or from scratch, or to hire a builder to work with either a kit or a prefabricated unit. Whether the screened porch is built from the ground up or by adding a roof to an existing deck, a building permit is required in most cases.
As with any room, there are three components to a screened enclosure: the floor, the roof and the walls. When building on an existing deck, additional support is required for both the new roof and its potential snow load. To prevent insects from entering between the deck boards, cover the deck with a solid material, carpet it, or crawl underneath and staple long strips of screening to the underside of the deck boards. For new construction, coloured concrete is easy to maintain and in the same price range as ceramic tile. Treated wood flooring in such water-resistant varieties as larch is also an attractive option. Whether the floor is decking or a solid material, water will get in and it needs to get out. Ideally, the floor should be sloped away from the house.
Roof design is a function of personal preference, the need for wind and weather resistance, requirements for either shade or light, and a design that will work with the rest of the house. The pitched roofs and single-pitch shed roofs of fish houses and barns have been standing up to Atlantic Canada's worst weather for centuries. Cover them with lightweight materials like translucent sheeting and galvanized aluminum, or solid roofing materials like shingles.
Screened walls are made by attaching insect mesh to wood-either a removable wooden frame or a structural wood frame made from either studs or timber posts. The screening itself has come a long way since the days when people made insect barriers out of coarse strands of horsehair. Today, most screening is made from aluminum or vinyl-coated fiberglass, although some high-end products are manufactured from copper, stainless steel, bronze and brass. Fiberglass is the least expensive screening material. Unlike aluminum, it doesn't dent when it's bumped, but it's more opaque, which reduces light and darkens the external appearance of the screen. Another shortcoming is that it will tear-especially when a Golden Retriever sticks his nose through it.
No need to banish the faithful hound from the screened porch-specialty screening products like Phifer's heavy-duty PetScreen are the solution. At seven times the thickness of regular screening, PetScreen is a fitting opponent for the family dog or cat. Some of the other specialty screen products on the market are designed for specific dangers like minuscule insects and harsh sunlight; other specialty screen products, like the new EZ Screen system, use a high-profile hook tape that makes it a snap to screen in everything from the boat house to the lodge.
Despite all these mod cons, the screened porch, like its predecessor, continues to exude an air of romance. It may be the new deck, but it's a "deck" with pedigree and has the ability to evoke the illusion of a slower, gentler time. If that's not enough, it's a place to enjoy wildlife without being eaten by it.