Sweet, flavourful raspberries take the cake (and they're good in savoury dishes, too)
If rubies stand out in the world of gems, surely raspberries are the darlings of the fruit world-they're juicy and packed with flavour; they're also high in dietary fibre and vitamin C. With modern transportation they're usually in grocery stores year-round, but nothing compares to berries picked at the height of maturity, which haven't travelled thousands of miles to get to your table.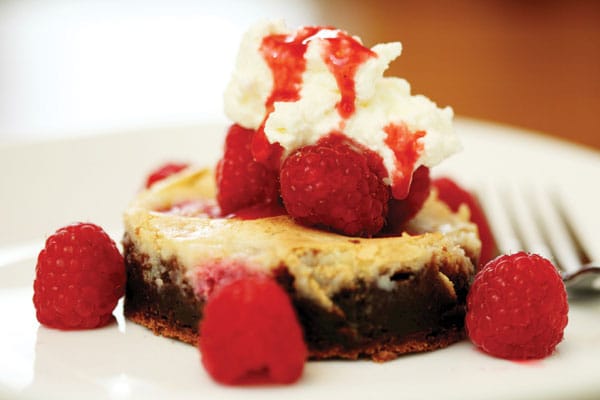 British Columbia produces a whopping 83 per cent of the country's commercial raspberry crop. A significant proportion of the BC harvest goes to frozen fruit and processed products (eg, jams, jellies, drinks), whereas approximately 70 per cent of Atlantic Canada's crop is sold fresh in grocery stores and farmers' markets, and 30 per cent at U-picks.
The main season runs from June to August, but there's a smaller crop of fall raspberries, in September and October.
I recently talked to Ron Turner from Nova Agri, an agricultural production, packing and marketing company in Kingston, NS. Nova Agri comprises some of the largest fruit and vegetable producers in Atlantic Canada.
Ron, who has worked in the production side of berries for 21 years, says fruit production is never boring; Mother Nature is the biggest variable in his line of work. A few years ago he and his colleagues set up an ad campaign with a local grocery chain. The flyers had already gone out when Nova Scotia was hit with four days of hard rain, and most the crop was lost.
Nova Agri has 10 acres of canes that yield 60,000 pounds of raspberries annually, from mid July to mid August. The most common variety grown, called 'Nova,' was developed by Agriculture and Agri Food Canada in Kentville, NS, in 1980, to withstand our winters. It's available to home gardeners as well, and in fact is popular beyond the Atlantic region for its general dependability and taste.
Ron believes that the raspberries growing on old homesteads are a wild variety that may have been here since natives inhabited our shores.
Of course, Nova Agri is one of several producers in Atlantic Canada, and when I asked Ron who his main competitors were, he pointed out that Atlantic Canadian growers "don't compete, we complement." He went on to say that greater dividends are paid when you help each other: if one grower needs a certain quantity of berries to fill an order and another grower has ripe berries, they will work together.
Both parties are helped-harvesting raspberries at just the right time is the key to a successful crop. Raspberries must be harvested every day or every other day, depending on the variety. If berries are picked before they have a chance to fully ripen, they are too tart; too late, and the shelf life will not be sufficient to carry the fruit through to market.
From the time a berry is picked it has five days from transport to selling time. The first thing that happens after picking is cooling. At Nova Agri, berries go from field to refrigeration in one hour or less-taking the sun's heat from the berries helps them last longer.
Growers are constantly looking for ways to improve their annual yield; Nova Agri is currently experimenting with the use of hoop houses in their fields. These tunnel rows could be mistaken for greenhouses, but their purpose is to protect the raspberries from rain. Fields can always be irrigated but nothing can be done if they are too wet. This year Nova Agri is offering U-pick in a field with hoops.
I wondered if birds were a problem, but Ron said they don't seem to have the same taste for raspberries as they do for other fruits, such as blueberries. A huge oversight on their part.
Raspberries work well in either the sweet or savoury end of the spectrum. While we enjoy them in muffins or as a sauce on pancakes, they are also a good complement to meat such as pork, and are my all-time favourite accompaniment to lamb.
Recipes