What would you give to have a few extra hours in the day, especially leading up to the holidays? Christmas is one of the busiest times of the year-days are filled with recitals, gift wrapping, decorating. Most of us wouldn't change any of it, but we can make it a little easier on ourselves.
Generations of women used to prepare sweets well in advance of December-and indeed some women and men do today. Fruitcakes are soaked in liquor in October; cookies, squares, pies and cakes are baked in November.
We're taking the notion a step further and applying the principle to main-course meals to make ahead, to take the sting out of last-minute scurrying - so you have more presence of mind to relax with friends and family. The following recipes are versatile and keep well in the refrigerator, ready to use pre or post holiday.
My grand-mère Bossé was of Italian descent, and I've been making a large vat of her recipe for spaghetti sauce for years. It freezes well; you can leave it chunky, which I prefer, or purée it, depending on the preferences in your household. We serve a quarter of the sauce with pasta; the remainder is turned into a meat sauce for lasagna, filling homemade calzones, or pizza pockets, and stuffing into pasta shells, served with a béchamel sauce.
Another time-saver is bone-in ham. At my house the day it's cooked-made lovely and sweet with mustard and molasses-we eat it with garlic mashed potatoes and root vegetables. After the meal we remove the bone, which has a generous amount of meat left on it; this gets turned into hearty pea soup. The leftover ham can be eaten with scalloped potatoes or fluffy French toast, or used in quiche. Ham is also good to have for sandwiches, cold or Western. It lasts up to a week in the refrigerator or up to six months in the freezer.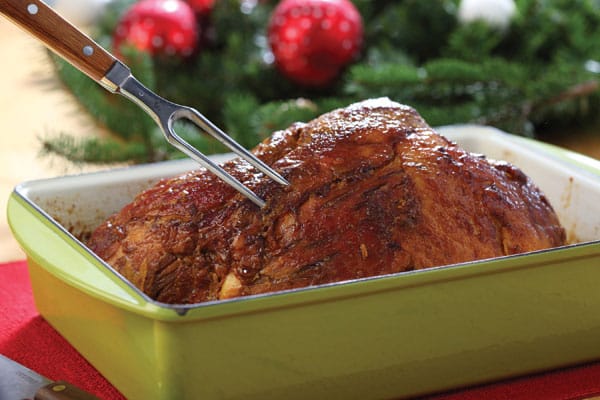 Having hamburger on hand is another versatile time-saver. It can be used in a number of dishes, including my favourite cabbage rolls; they freeze well and require little more than a loaf of crusty bread to round out a comforting meal.
Recipes featured in this article: