To showcase the food of our four Atlantic provinces - in turn appreciating the many communities within those four provinces - is a big job. And so it is that every year, our recipe contest provides an opportunity for a Saltscapes delegation to explore a new county or community.
Here's the proverbial fork in the road: we experience local cuisine and culture first-hand, and invite local representatives to judge the finalists of our annual recipe contest.
Last September we travelled to Northern New Brunswick, a place near and dear to my heart, to judge the 2010 Potluck-theme Contest. In fact the judging was held in Edmundston, which is where I grew up. While some of the group flew to Montreal and then drove to New Brunswick, experiencing the trek like other rubber-tire tourists coming from central Canada, I drove there from my home in Pictou County, NS, spending time with my mother and siblings prior to their arrival.
The contest judging took place where my passion for all things culinary became entrenched, at New Brunswick Community College, Edmundston Campus. I met with two of the culinary instructors, Don Thibeault and Stéphane Tesson, and after catching up on local news, we got down to the business of preparing the recipe finalists for the judges to sample and evaluate the following day.
That evening I met the Saltscapes crew - Linda Gourlay (co-publisher), Heather White (editor), Kerri Slaunwhite (senior sales manager) and Sylvia Ernst (recipe contest co-ordinator) - at Auberge Les Jardins Inn for supper, where we sampled liberally from a fiddlehead menu. Then I took them on a down-memory-lane tour of Edmundston, before resting up for what my predecessor, Marie Nightingale, had fondly dubbed "judgment day."
The next morning we met with the judges: Pauline Banville-Pérusse, active in cultural development; Bernard LeBel, a Radio-Canada journalist; Mayor Jacques Martin; and Guy Delorme, a true New Brunswick food and beverage ambassador, having mentored many students (including yours truly). Although they were a disparate group they all had an appreciation for food, rating each finalist on taste, suitability for a potluck, creativity and ease of preparation for the average household cook.
That afternoon we said farewell to Edmundston and our fast friends, continuing on our tour for the next few days. Highlights included Le Village Historique Acadien, in Caraquet, the Île Miscou lighthouse, and the Bathurst and Miramichi City waterfronts. Although we didn't eat our way across as many communities as we might have liked, what we did see definitely increased an appetite for more.
Our thanks to everyone who entered the contest, and congratulations to each of the winners.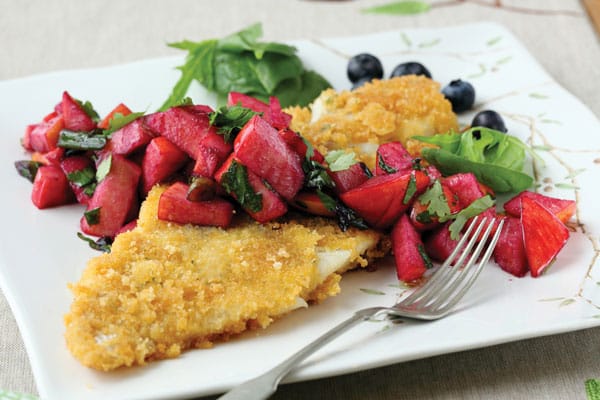 Grand Prize Winner
Ski Cake
You can hear the excitement in Roseanne MacIsaac's voice when she speaks of the joy that cooking brings to her life.
Roseanne's passion for food began early. She grew up in Larry's River, NS, surrounded by aunts, a grandmother and mother who were well known in the community for their exceptional baking and cooking skills. By the age of 10, Roseanne had joined them in the kitchen, beginning her love affair with food.
Soon after marrying, Roseanne and her husband, Hughie, moved to Truro to begin their lives together, he as a law enforcement officer with Nova Scotia Department of Natural Resources and she as a nurse. The couple had three children; birthdays were a special time, and Roseanne made her so-called ski cake for all of them, a tradition that she continues with her five grandchildren.
The cake's unusual name refers to patterns drawn in the icing to resemble ski tracks. The recipe, which was passed down from Roseanne's mother, has never failed for her, but she says the trick is to fold the egg whites into the batter very gently.
When asked whether she prefers baking to cooking, she is quick to say that she shares an equal passion for both, and she is never happier than when she's hosting dinner parties. Roseanne notes that this cake is often requested by friends, and has been a part of many church suppers and political functions.
Although she has an extensive repertoire of tried-and-true favourite recipes, she doesn't shy away from experimenting with new ones. She feels very blessed to have her three children and their children close by, and they often frequent her dinner table.
Roseanne put her love of cooking to great use when she became a founding member of Kane's Kitchen, a soup kitchen in Truro. She was an active member there for 10 years, and has just recently retired.
She says that after more than 44 years of marriage, she still gets immense pleasure from the smile she gets when she sets dinner down in front of her husband. Her trick for keeping mealtime special? Even if it's just the two of them, she cooks with the same care and exuberance that she would if company were coming.
View this recipe in our recipe index.
First Prize
Chicken Lasagna
Donna Lock first encountered what would become her Chicken Lasagna recipe at a gathering of Beta Sigma Phi, a women's social, cultural and educational organization, in Amherst, NS. She says members brought only their very best dishes to these luncheons, and this lasagna fit the bill. The woman who brought it graciously shared the recipe, and it became a fast favourite in the Lock household.
Donna admits she became a cook by necessity; she and her husband, Alan, have four children and a large extended family, so there was always a group to feed.
In 1995 the couple moved to Rothesay, NB, where Donna's husband was employed as an engineer. Anxious to make new acquaintances, she brought the chicken lasagna to a meeting of a social group known as "newcomers." It made an impression and to this day, whenever there is a gathering involving food, Donna gets requests for the dish.
She doesn't prepare it as often as she used to, now that the kids are all grown - it makes a large pan and is very rich. She does note, however, that it tastes even better the next day.
e says she prefers to use canned asparagus rather than fresh because the latter can be stringy, affecting the beautiful, smooth texture of the dish. She also points out that, although the preparation appears time-consuming, it isn't - and the results are worth it.
These days, Donna loves to try new foods - particularly East Indian, Thai and Mexican, but whenever the children and grandchildren visit, they always request Mom's Chicken Lasagna.
View this recipe in our recipe index.
Second Prize
Rum Ribs
Grace Burtt-Dykstra, of Cheverie, NS, has two passions: cooking and hunting. Her Rum Ribs recipe combines both loves into a powerhouse of flavour. Grace prepares her ribs using deer meat, although pork or beef ribs also work well.
Grace is an avid hunter. She and her husband, Pieter, who is retired from the navy, have a hunting camp in the back woods of Nova Scotia. Grace says it is a true camp; located seven kilometres off the main road, it's accessible only by ATV. It has no running water, electricity or indoor plumbing, but that doesn't stop Grace from staying there for the month of November.
The semi-retired bookkeeper also loves to cook, and says she learned this skill from her mother early on. She notes that, although they were not well-off, her mother could turn almost anything into a delicious home-cooked meal. Her mother didn't actually use recipes; she worked just with the ingredients she had on hand, but the results were always wondrous.
Grace says she likes to give recipes her own special touch. A friend gave her this rib recipe a few years ago, and she has since made a few changes to call it her own.
View this recipe in our recipe index.
Third Prize
Burnt Grapes
Jeanette Farthing's Burnt Grapes recipe first caught my eye because of its unique name, but it captured a prize because of its fabulous flavour and ease of preparation.
Jeanette found this gem while leafing through a community recipe book from Tennessee, in her sister-in-law's collection. She says she had it for a while before giving it a try, but once she did she was hooked, and has used it many times since. Last Christmas, Jeanette took it to a potluck dinner, where she gave the dish a festive appearance by portioning it into small plastic wine glasses, and tying red and green ribbons around the stems. It was a big hit.
Jeanette picked up her knowledge of cooking and baking by watching her grandmother and mother work in the kitchen together. She admits that she prefers baking to cooking, and as the mother of two grown boys and the wife of a retired minister, she's had many occasions to put those skills to work.
Jeanette worked for 31 years as a part-time international tour leader, leading groups in more than 50 countries. She and her husband, Albert, retired to New Glasgow, NS, in 1993, after 30 years in Ontario. One son still resides in Ontario and the other in Saskatchewan, so the couple has plenty of excuses to hit the open road with their travel trailer.
Jeanette, who just turned 70, recently took up golf and was able to spend an impressive three days a week this past summer on the golf course. She is also a very active volunteer with the Pictou County Health Authority.
View this recipe in our recipe index.
Honourable Mentions
This year, instead of having the usual two categories in our recipe contest-covering sweet and savoury foods - we went with a single potluck theme. As a result, we awarded a grand prize, as well as first, second and third prizes. In order to share more reader recipes with you, however, we are also publishing the additional three finalist recipes that the judges evaluated-and also rated highly.
Bok Choy Salad
This salad came to Tanya Moxley and Duane Myers all the way from Australia. When Duane's sister, Dawn, came home for the couple's wedding, she told them about this fantastic recipe, and they've been enjoying it ever since. It's been shared many times over the years, so much so that the couple often comes across it at community dinners, and at friends' homes.
Tanya and Duane live in Hammonds Plains, NS, with a very active one-year-old named Jack who is all about noodles - but they are huge seafood fans, and particularly enjoy experimenting with seafood on their barbecue. Tanya readily admits that she is the queen of one-pot meals.
View this recipe in our recipe index.
Savoury Cheese Crackers
These fabulous Cheese Crackers come to us via Ruth Miller of Sackville, NB. Born in Montreal, Ruth moved to Sackville to attend Mount Allison University. When she was offered a job there as a librarian, she jumped at the opportunity to raise her daughter in this small Maritime community.
Ruth is very clear about the fact that cooking and baking are not her first loves. This cracker recipe, which is almost no-fail, has served her well over the years. It's her "go-to" recipe for potlucks and luncheons - people are always eager to know if Ruth has brought along her crackers. Ruth's grandchildren love them, too, and often race to get them before the adults have a chance to try them.
View this recipe in our recipe index.
Lemon Tart
Freelance writer and editor, Rachel Cooper, makes her home in Delhaven, NS, in the Annapolis Valley. She lived for many years in Ontario, but attended Acadia University, in Wolfville, where she immediately felt at home. She knew that she would return someday.
After graduation, she spent time in France, where her love of food began, then later moved to England, where she developed her Lemon Tart recipe.
Rachel notes that her tart is particularly loved by men. Her theory is that women have an affinity to chocolate while men are drawn to lemon. She may be on to something!