DASH is an acronym for Dietary Approaches to Stop Hypertension—by reducing the salt in your food you'll lower your blood pressure, which in turn reduces the risk of heart attack and stroke.
Two Atlantic Canadian books provide inspiration.
Hold the Salt! is written by Maureen Tilley, a registered dietician who is passionate about lowering salt content without sacrificing flavour. The book contains more than 50 quick, tasty recipes—including Creamy Sweet Curried Sea Scallops and Topless Turkey Apple Burgers—proving that it can be done. Her recipes also include nutritional information.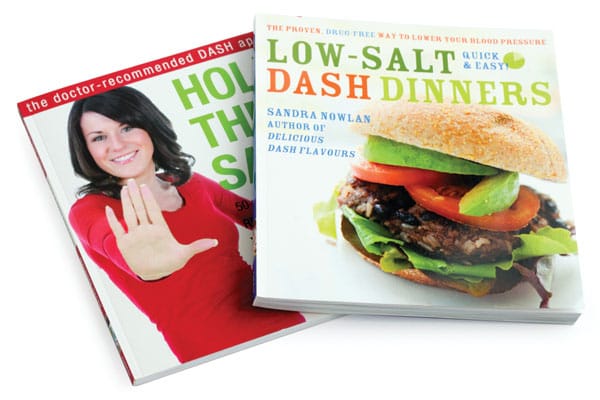 Low-Salt DASH Dinners, by Sandra Nowlan, offers 100 delicious selections in a follow up to Delicious DASH Flavours. Some recipes are her own—she's an award-winning cook and food scientist—and many are provided by some of Canada's favourite restaurants. Highlights include Pecan-Crusted Trout with Orange-Whiskey Sauce, from La Perla in Dartmouth, NS, and Grilled Striploin with Butternut Squash, Cumin and Lime Condiment, from Keltic Lodge in Ingonish Beach, Cape Breton. Both books are published by Formac; $24.95.